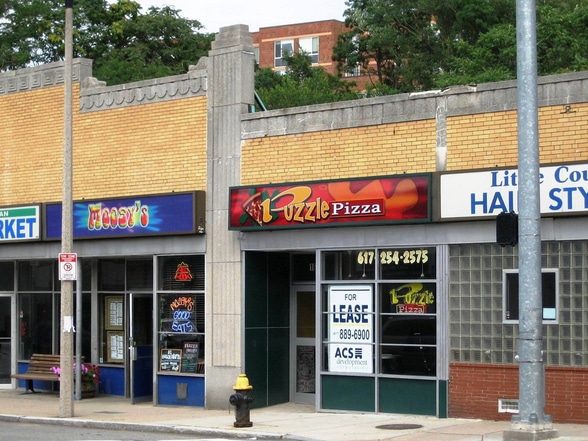 Allston/Brighton
by nabewise
Allston/Brighton, a set of two interlocking nabes that are traditionally considered one because of their fuzzy geographical boundaries, has a lot more to offer than cheap food and watery beer. Although Allston does have that gritty, PBR soaked reputation, there is a thriving arts scene and Brighton has some charming areas that are quite livable for those seeking a quieter existence. Want the best of both worlds? Live in Brighton, play in Allston. Whether you're looking for the cheapest pitchers in town and a fun crowd to share them with, affordable apartments, or just a little nabe to call your own, Allston/Brighton is the right place for you. Allston/Brighton is acessible by several stops on the Green Line T.
Allston/Brighton Data
Hipsters
8.8
Students
8.8
Singles
8.5
Public Transportation
8.5
Nightlife
8.0
Lowest Attributes
Clean
3.6
Families
3.3
Quiet
2.9
Seniors
1.9
Income
1.5
Allston/Brighton Articles and Reviews
Many neighborhoods in one
Although it's always referred to as Allston-Brighton, don't be fooled that it's all the same. Allston and Brighton are two very different, distinctive neighborhoods and even within them there are a ton of different enclaves.
Allston: Yes, there are loud student parties, run down apartments, and skinny hipsters in this neighborhood. There are also award-winning ethnic restaurants, craft beer bars, and a great local music scene. Really great place to live for people in their 20s or anyone who craves a truly urban setting. Close to buses and trains, and a huge grocery store, as well as a Super 88 Asian grocery.
Lower Allston: Not near a train, but convenient to buses, which around here generally means more reasonable rents and quieter streets. L.A. has a beautiful library and a reputation for being hipster heaven, especially for up and coming bands. They struggle with nearby Harvard University which has bought lots of land in the area and isn't developing it the way the neighborhood hoped they would.
Brighton along Comm Ave: Because the train that runs along Commonwealth Avenue runs to both Boston College and Boston University, there are a lot of students that live along Comm Ave. There are also some absolute hidden gems of condos in buildings that are quieter than they appear. When you tell people you live on Comm Ave in Brighton they respond with "oh.", especially if you're over the age of 30. Their loss – many of my friends live in brand new, modern, amazing condos and apartments. You'll have to look hard, but they are there and worth finding. The corner of Washington and Comm has a small and friendly Whole Foods and Tasca, one of my top ten favorite restaurants in the city. It's also a few blocks in either direction to Brookline (Washington Square in Brookline hosts many of the other restaurants on my top ten list) and Brighton Center.
Brighton Center: Not near a train (don't believe the people who tell you it is) but there are at least 5 buses that run through here that can get you wherever you need to go, including two weekday express buses that make commuting to downtown a breeze. Often dismissed as just another bar scene, everyone but locals miss out on some seriously awesome local businesses like a creperie and cafe (where I'm sitting as I type!), a barbecue and blues joint, a vegan cupcake bakery, and homemade ice cream shop to name a very few. Washington Street is the main street through town, but just a block down any side street keeps your home life quiet while still being convenient to night life, restaurants, and gyms. Lots of triple decker homes in Brighton, with wood floors and more often than not a built in cabinet in the dining room. Stop and Shop (groceries) can be accessed via bus, but if you don't have a car it's easier to get a Zipcar membership. That way you can include a trip to Target, just one town over in Watertown.
Oak Square: Between Brighton Center and the ever-so-fancy city of Newton. Lots of families and young professionals (and me!) live here. Many people here have cars, and there's plenty of free street parking and driveways so it makes more sense than in Allston where most street parking requires a sticker. I don't have a car and between buses and Zipcar I do pretty well. Oak Square is the quietest neighborhood I've lived in since moving to Boston, with friendly neighbors and lots of community goings-on. It's also the only place on this side of the river where I've found a large two bedroom with a porch and laundry room for less than $1600. There's a really cool local YMCA, and while the restaurant scene is a little lacking (please not another pizza takeout restaurant!) it's not far from Brighton Center. There's also a bus that goes through Oak Square to Central Square in Cambridge.
Allston-Brighton can have a bad reputation, but all you need to do is scratch the surface to find the true value of living here. It's much more affordable than many other parts of the city, convenient for commuting to anywhere, and full of unique and amazing local businesses.
Jennifer S
Perfect College Town for Grown-Ups
There is a lot to be said for the fact that nearly every long-term Bostonian has paid their dues in Allston or Brighton at some point; it has every amenity necessary for the post-grad who isn't quite ready to give up Tuesday night trivia and pitchers for the real world of baby strollers, dinner parties, and (gasp) lawns. Most Allstonians have at least two other roommates with whom they explore the perpetually-changing international food scene of Harvard Avenue, or tag-team one of the many grocery or liquor stores down Commonwealth Avenue. Apartments here are cheaper than in most of Boston, and are usually funded by the parents of BC and BU students or by the local barista or cocktail slinger (or, in Allston's case, can-tab popper). As you head into BU Terrier territory, apartments are much more expensive, but residents are a short T-ride from Back Bay and its upscale shopping and dining.
Though most of the popular establishments are in Cleveland Circle or on the B-line, it is worthwhile to take a trek every so often to Brighton Ave or Brighton Center to avoid the rabid Boston College prepfest that invades each fall. Brighton Avenue offers shockingly tiny and delightful hipster eateries, such as Deep Ellum, which offers a Manhattan menu that could make even the most devoted skinny jeans aficionado put down his PBR for an evening (the bar also features a gourmet menu in addition to their hangover-killing soft pretzels and burgers). Brighton Center is a bit more upscale, with authentic Irish pubs (with real Irishmen!) and large apartments with porches, parking, and ever-elusive free laundry machines. Those who choose to commute from Brighton Center can pick up the Express bus or the 66; however, it is one of the few neighborhoods in which a car is actually an asset rather than a hassle.
Angela W
Allston Rat City
I've lived on both the outskirts and innards of this epicenter of Boston's hipster mecca and I can say with confidence that this is the place to live for 18-25 year-olds. With a decent nightlife and slew of delectable eateries, it's difficult to get bored. There's plenty of cheap eats, showcasing The Avenue's Monday $1 burger nights and $6 burger-fries-beer and The Draft. There's no shortage of bars, with a venue to cater to all tastes. Whitehorse Tavern and Tavern in the Sqaure (TITS for the locals) features your typical college night out scenes while The Silhouette and The Model are for the more alternative crew. It's worth it to spend at least one year in this hub.
As far as Brighton goes, the area is a much more low-key older crowd. The bars are tailored to young professionals and locals. It's not uncommon to see the same people patronizing the same breakfast spots. Residences are much less frat-y and exponentially more suburban. Rent is cheap and residents are given more of a community feeling. Cafenation and Jim's are two hotspots for food, often with a line out the door at peak hours. Public transportation isn't as easy to rely on, but time it right and it's a 20 minute ride to either downtown or Cambridge.
What's awesome
The Sil, The Avenue, allston christmas
What's not so awesome
strash, homeless
Jessica R
Lovable
Ahh Allston-Brighton. What is there left to say about Rat City that hasn't already been said? Yes, Allston is chock full o' hipsters and PBR and ethnic eats, and yes Brighton is like the mature older sibling. Having lived here for several summers, I will say that it's hard not to become fond of this area the way you would of a one-eyed cat or a broken toy. It's nowhere near perfect, but it's lovable and you can easily feel at home here. Plus, the transportation links to downtown and Cambridge and Somerville are pretty fantastic too, if you need to escape the gritty charm once in a while.
Heather V.
22, fresh out of college and loving it
That first year out of college can be rough. You want to grow up but yet feel that breeze of college throughout the lonely winter. You want maturity yet never forget the easiness of college responsibility. With a tough dichotomy we are forced to battle, it seems the Allston- Brighton area is a safe place to lay your weary head.
Surrounded by BC and BU college kids, the area is filled with the things you probably miss most about college- late night pizza, dive bars, unbelievably cheap take out, live music venues and somewhere to gather and watch weekend sports. However, there are also opportunities to get out of the college craze and make way into this thing called adulthood. With classier restaurants, higher quality grocery stores, an excessive amount of laundromats, open parks and religious centers, there are places to escape the rowdy group and find an older crowd. Don't get me wrong there are still college kids roaming but Allston-Brighton gives you a taste of each lifestyle.
Besides enjoying a mixed genre of living, Allson-Brighton is by far the best way to experience all uses of the T. Whether it's bus lines or green lines, the T will get you in and around Boston. Sure after a few trips you'll see the B Green line has more stops than ever possibly needed but if you're moving to a new city, it's important to test the waters and sightsee on your commute.
Fun, hip and filled with a mix of young aged semi-responsible adults, Allston-Brighton is the place for your early 20's. Fresh out of college and fresh to the city, you'll find the area welcoming and easy to call home.
st g.
The mullet of neighborhoods (business in the front, party in the back).
Allston-Brighton is perfect for those twenty-somethings ready to graduate from keg parties to entry-level jobs. Rife with dive bars, hipster bakeries and hole-in-the-wall eateries, this neighborhood and its residents subscribe to a work-hard-play-hard mentality.
Close in proximity to Boston University, Boston College and Harvard, the educated droves gather en masse, post-graduation, for affordable rent, weekend nightlife, and a straight-shot to Boston via the grand old 57 bus (those closer to Allston than Brighton have the luxury of Green Line "T" access as well).
Mostly quiet during the work week, Allston-Brighton weekends are a sloppy, drunken mess. Because of this, the neighborhood may lose its charm for anyone over the age of 30.
The Oak Square area holds some appeal for family living, close to a YMCA, the library and one of the few grassy knolls the area has to offer, this is one of the lower-key sections of Brighton.
This neighborhood is crawling with gems to discover (my favorites include a used bookstore called Diskovery, breakfast at the Oak Square Cafe and the dive bar of all dive bars, the Silhouette). It may take some time and patient exploring to find your favorites, but it is well worth the effort.
Overall, a nice place to live and spend the day, especially Brighton Center, but the neighborhood starts to lose its charm the closer one gets to BU.
This neighborhood is a dream come true for bright young things, new to the working world and still looking to have a good time.
Nikki C.
Allston-Brighton Hipster Central
This neighborhood was still a little gritty back in the late 90's, but has since become a haven for hipsters aged 18-24, the younger crowd, and has experienced some significant gentrification in the past 10 years. As it is close to Boston University, it has always been populated heavily by students, making it one of the better neighborhoods for single young adults. There are many dining establishments. Sunset Grill & Tap is popular among students and boasts an extensive beer selection, though they lack a full liquor license and only sell cordials (no regular liquor). The Paradise Lounge is one of the better venues for seeing a live concert in Boston, thus it becomes apparent why Allston is a hipster hang out. Great Scott is another good place to catch some local live music with a full bar, as well as Harpers Ferry. Bar-wise, the Model Cafe has the cheapest PBR on tap and attracts hipsters in throngs. Silhouette Lounge is another good bar, a good place for young single people. With open Green Line MBTA access, the area is unbeatable for getting to other areas of Boston with ease.
Tyler D.
Allston-Brighton Means Young and Fun
Allston-Brighton is like the Lower East Side of Boston. Trendy, a bunch of tattoo parlors, great nightlife, and mohawks, skinny jeans and Converse Allstars as far as the eye can see.
But it's a great place to be if you're young and want to be surrounded by people looking to have a good time. Apartments are relatively inexpensive compared to other parts of the city, so you get a nice mixture of students from colleges all over Boston. I personally knew a kid from Northeastern who lived in a house with someone from BC, someone from BU and someone from Suffolk.
Harvard Ave on a weekend night is always a good time. Even the bars that look really trendy and hipsterish usually have a good mix of different types. And if you're goal is to find someone to bring home at the end of the night (and why wouldn't it be?) this area, in my opinion, is the your best bet in the city. A good way to put it is that the people in Allston-Brighton are very laid back.
Overall, if you like diversity and relatively inexpensive living in a neighborhood that has everything you need and a few things you've never seen, Allston-Brighton is a great choice.
Justin M.
Mashed Up like Ratatat
I lived in Allston from August until December while I was a student at a nearby university. Before living in Allston, I spent plenty of weekends there roaming around looking for parties.
Allston's an odd place. It's hard to really get a read on who lives there. You'll see families here and there and the occasional senior citizen, but it's mostly college students. College students in Allston range from the hipster who longboards around to the college Republicans who take limos downtown to party. Obviously along with the college students comes a lot of college parties — frat parties, apartment parties, house parties, whatever type of party you're looking for you can find in Allston. I'm not quite sure who would be looking for a frat party, though.
In terms of shopping and restaurants, you're not going to find anything high-end in Allston. There's fast food, dive bars, and mediocre bars. Personally, I'm a big fan of Anna's Taqueria. Once you have Anna's you'll never want to go back to Qdoba or Chipotle. You can find clothes to buy in Allston but they've probably already been worn by someone else; there are a couple vintage stores around town. I think the most mainstream retailer in Allston is Urban Outiftters. There's a cool shoe boutique on Harvard Ave. too. It's not quite Bodega but they have some good looking gear.
Allston's not a very clean place. There's graffiti all over the place and you'll definitely spot beer cans and red cups on front lawns after parties. Despite all the partying, the noise level isn't too bad — as long as you don't have a neighbor who plays techno all night (yes, it happens). On weekends you'll hear groups of students walking by but it's definitely bearable. My roommates and I once got yelled at by a woman in the neighboring apartment building for yelling too loud while playing video games.
Getting downtown from Allston is somewhat of a hassle. The T doesn't have a set schedule and there are way too many stops going inbound on the BC Green Line. During the winter, the T is packed with college students and other commuters. Having a bike is definitely a good idea. If you need to get somewhere in a pinch it's pretty easy to find a cab on Commonwealth.
Adam R.
Hodgepodge Brighton/Allston
With Boston College to its south and Boston University to the north, Brighton/Allston may seem like it caters to the collegiate. Yet a collection of sports bars, affordable apartments, and a sundry of ethnic restaurants along main street, Harvard Avenue, makes this neighborhood far from one-dimensional. Young professionals, students, ethnic groups, make the residential demographic as energetic as a Sox game at Fenway. Shepherd Fairey hasn't missed out on the art scene, as a handful of his notorious portraits can be found alongside brick walls. Affordable and diverse, the Allston/ Brighton area is an exciting stepping -stone into the surrounding Boston metropolis, just a few T stops away on the Green Line.
Meggie