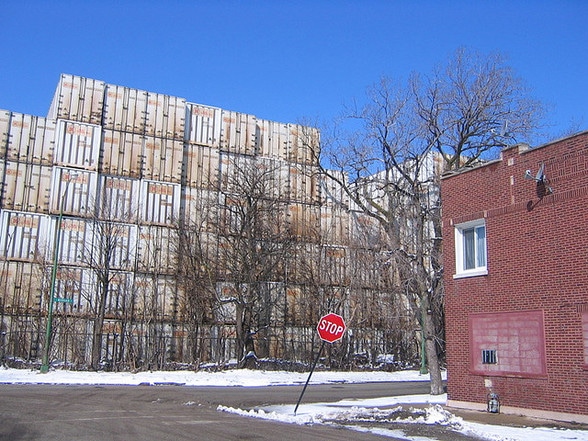 Back of the Yards
by nabewise
Infomation
Once famous for being an industrial powerhouse, and then for getting one of the hardest hits during the Great Depression, Back of the Yards steadfastly un-slummed itself and evolved into a clean and quaint residential dwelling place on Chicago's southwest side. A diligent neighborhood council here works hard to create new events and venues for its residents (think traditional folk dance classes and community gardens). For green space, visit Back of the Yards' Sherman Park, complete with pond and geese to feed. Though closed, the namesake Union Stockyards (once responsible for manufacturing railroad parts and meatpacking) still stand here as well.
Back of the Yards, Chicago Data : Neighborhoods & Travel – Score out of 100
TOP ATTRIBUTES
Gentrifying 80
Public Transportation 65
Blue Collar 60
Community 60
Dining 58
LOWEST ATTRIBUTES
Parking 38
Shopping 33
Seniors 28
Empty nesters 21
Income 5
Back of the Yards, Chicago Reviews
Back Of the Yards, My Home for Most of My Life
This neighborhood is a family oriented place, full of ethnicity and culture. It is a predominately latino based environment. However, over the past 5 years many different races and people in general have moved in. It's a relatively cheap neighborhood to live in and it is also very family oriented. There is a very large park, Mckinley Park, located just north of this neighborhood that has a lovely pond and plenty of open space. I often go there with old bread to feed the many geese and ducks that inhabit its very large pond. I have lived in a house on 45th and Western for almost my entire life, and i have never been more at home than in the Back of the Yards neighborhood. There are plenty of shops of all kinds around the neighborhood, including several different grocery stores, a few thrift stores, and many different Mexican restaurants. Being that Western Ave. is right there on the corner, there is 24 hour bus services, and the
CTA
Orange Line is only a few blocks away. The highway (55) is merely a 5 minute drive away as well. Easily accessible by public transportation and car alike, this neighborhood is ideal for all kinds of people. Back Of The Yards is an amazing, culturally rich neighborhood with great people and lots of cool things to see and do. It is one of Chicago's oldest and best neighborhoods and has a great reputation. Whether you are a young college student, or a middle-aged mother with 2 kids, it's a great place to live and stay for a long time.
Gabi N.
Stockyards to Slum to Just Sketchy
The former home of the Union Stockyards, forever immortalized by Upton Sinclair's novel, "The Jungle", BOTY is now just a gritty, unsafe neighborhood populated predominately by Mexican-Americans. There are frequent shootings and violent crimes.
Liz M.
Like its nearby neighbor Pilsen, Back of the Yards is a history-rich, majority Hispanic nabe on the near-south side that is experiencing an influx of young artists because of the inexpensive rent. My friends have experienced the effects of racial tension in this nabe, so it's always important to be aware and be respectful of the people who grew up here. In a few years, the near south side may be as trendy a place for hip people as the near northwest side is now.
Michael
Back of the Yards
Community organizing as we know it was born in Back of the Yards, so you can imagine that this neighborhood has a huge sense of community. It's not a wealthy community, but it is vibrant. The busy commercial strips of Ashland Avenue and 47th Street cater mostly to Back of the Yards' Mexican-American residents, and there are street festivals every summer.
Back of the Yards' name comes from the now-defunct Union Stockyards, once the center of the nation's meat industry. The Stockyards have been closed for forty years, but the neighborhood is still bordered by the rail yards that once supported it and Chicago's other industries.
Buses are your best bet for transportation.
Ellis C.