Barron Canyon ontario Day Trip
by nabewise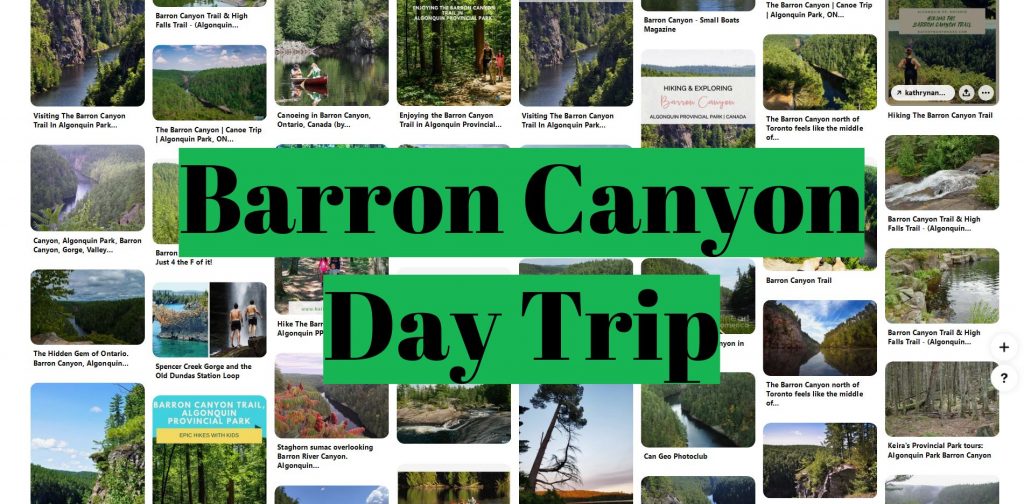 A brief account of trips made to the beautiful Barron Canyon in Algonquin Park.
A trip to the Barron canyon in Algonquin Park in Ontario will provide a breathtaking look at a canyon created over the last 10,000 years since the glaciers receded in this part of Ontario, Canada. I have visited the canyon four times in the last 30 years or so and I have to admit to being impressed each time. The canyon is one of the most spectacular sights in Algonquin Park that is reasonably accessible.
One of these trips was with a friend and involved the use of a 17 foot aluminum canoe in order to see the canyon from the river. The shortish first (and only, in our case) portage of 420 m was near the beginning of our trip and was not bad to negotiate with our light load as this was only a day trip. The portage allowed us access for canoeing the next 3 or 4 km to make our way towards a cliff face about 3 or 4 km up river. I had wondered about how this area of the canyon looked from river level for several years since I had walked the trail a couple of times years before, once in winter and once in summer. We were fortunate on the day that we chose for this venture for three reasons.
First, we were blessed with almost perfect weather with lots of sun and a slight breeze to help cool us and keep the flies away. Secondly, the current was not so strong as to completely exhaust us after the distance we needed to paddle (although, for me, it was a pretty good workout). And thirdly, when we arrived at the location beneath the main cliff, we were surprised to see two or three people rappelling down the rock face. We saw this as a great opportunity to take a breather while we were entertained by these adventurous rock climbers as they made their way down the 200+ foot, almost-vertical cliff face. Unfortunately, neither of us had brought a camera with us (major mistake) and so have no record but our memories of that day. It was several years before digital cameras hit the market so it would have had to have been the 35 mm camera. I didn't really know what to expect that day and so had left it at home. The trip back down river was much less work but no less enjoyable, being a beautiful, untouched piece of Ontario. Good memories were made that day.
Years later, and a couple of years ago, my significant other and I hiked the 1.5 km trail once more to refresh our memories. This time, we had a digital camera with us, and we were able to capture a few photos that give some idea of the natural beauty of the canyon as seen from the trail. I must say, though, that as I have aged, so has my nervousness increased at certain parts of the trail. I find that even though years before, I had ventured out to peer over the edge of precipitous rock edges, now I felt too uneasy about the danger, and enjoyed the wonderful views from several feet back. The canyon is kept as a natural area and so there is no man-made protection or fencing to prevent a person getting into trouble by being too bold and approaching the edge too closely. This should be kept in mind if one is to visit the area with younger folk.
I am not sure if one would be allowed to visit the canyon trail in winter these days. I haven't checked. I did visit with a friend about 30 years ago and I must admit, it was as beautiful in winter as in summer. There is an added advantage in winter. There are no black flies or mosquitoes. However, the trail needed to be negotiated very carefully as it was difficult to tell exactly what was underfoot. After some sight-seeing, we eventually decided on a great spot for our lunch and hot coffee. There, we spent a relaxed hour or two, chatting and in awe of the sight before us. There is a wonderful calmness that invades you when faced with such an experience. While there, we noticed cross-country skiers far below us traversing the river, now frozen and covered in a thick blanket of snow. Two sets of tracks extended behind them, barely disturbing the virgin surface. It is difficult to convey the feeling that one gets in the beauty of a sunny winter day in January looking over the surrounding country with the canyon below.
It is my hope that the natural beauty of the Barron Canyon can be preserved for generations to come so that more may experience it's unique offering.