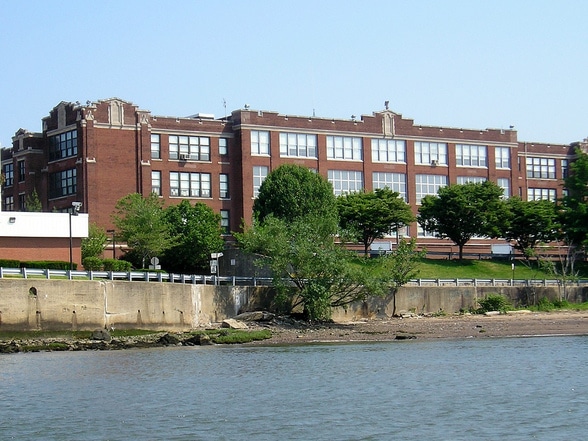 Infomation
Bayonne is a nabe on the rise with an eclectic feel that is not yet over-saturated by trend setters. Here you will find pizza, real people, and the story that inspired Rocky Balboa. There is ample shopping to be done on Broadway, a rehabbed naval base with condos and small businesses, and a teardrop memorial that overlooks the NYC skyline.
Top Votes – Score out of 100
Safety 83
Gentrifying 75
Families 74
Seniors 71
Clean 71
Lowest – Score out of 100
Pet friendly 50
Shopping 46
Singles 33
Nightlife 29
Income 12
Top Reviews from Travel Rentals Neighborhoods
A good alternative to Jersey City

Bayonne, a peninsula facing Manhattan on one side, is a place that many Irish, Polish and Italian immigrants settled in the early 1900s….and stayed because it was such a great, family-oriented, community minded place to live. Over time, high taxes drove people in the younger generations out to the burbs for more land for the same or lower taxes. The main shopping center deteriorated and is now comprised of lower end retail stores like Mandees or Joyce Leslie. But things are improving! There are 3 great supermarkets and a new shopping center equipped with a movie theater and a Houlihans – and a Loew's and a Wal-Mart ar on the way. There are newer "luxury" housing options like the Alexan which faces New York City on the waterfront and offers free shuttle service to Bayonne's light rails and to the Jersey City Path Station. If you are looking for more space at a reasonable price than Jersey City's trendier areas, than Bayonne is a great option. It is far safer than Jersey City's less trendy areas. If you drive or shuttle to the path in Jersey City, your commute to midtown is 70 minutes max, less for Wall Street. There is also a light rail to Jersey City, but it is slow and will take you a lot longer. There are also numerous buses that take you to Jersey City or Manhattan, but again, these can be slow. There are tons of other housing options in Bayonne and you can get a great three bedroom apartment on a very nice block for as low as $1400. There are some solid restaurants and parks, but I'd say overall, the main reason you'd live in Bayonne over a place like Jersey City orHoboken (which both have some nightlife and a better commute), is the price.

Stephanie C.
Good place for commuters to NYC

Bayonne is a city that has a suburban feel to it. It has plenty of open space and is generally a quiet crime free place to live. There is 1 movie theater in the city and a few shopping plazas. The newest has a slew of chains and big box stores (Lowes and Walmart) that provide a conveinance to be able to do everything in town.

Im not sure how the school systems are but as a parent that is an important aspect of where you live.

What's awesome

Access to mass transit and NYC

What's not so awesome

An older crowd lives here so generally its quiet. If you're looking for someplace to party there's not a lot of nightlife besides your corner bar.

Michael P.
Bayonne is cool

Bayonne is a big little city south of Jersey City with an Italian feel, but also sizeable Irish and Polish influence. It's out on a peninsula and pretty far down, so probably not the best place if you want to commute to Manhattan a lot. But it is driveable. Then again, surrounded by water it has some pretty nice views and lots of parks and greenspaces. Also, it is pretty laid back and cheap, especially compared to the more trendy boroughs.

Rick W.
Bayonne

Bayonne is safe and suburban, nice and quiet, and convenient to Jersey City by car or on the HBLR. Also, it is separated from Staten Island by the Kill Van Kull, which sounds pretty metal. But I think kill just means creek in dutch, so it's not that gnarly – i've seen signs upstate that say "Mother Kill" or "Landlord Kill." Anyway, Bayonne Park and the section of the Hackensack Riverwalk that goes through here are chill places to hang out, listen to waves, play basketball or baseball, go jogging, etc. All in all its not super exciting in terms of night-life or anything but it seems like a decent place.

jon d.
Bayonne, NJ is a nice small town which has lots to offer – there are many stores and a variety of places for dinning. This town is within easy commuting distance intoHoboken, West New York, and Weehawken which makes it a very convenient place to live.horace washington