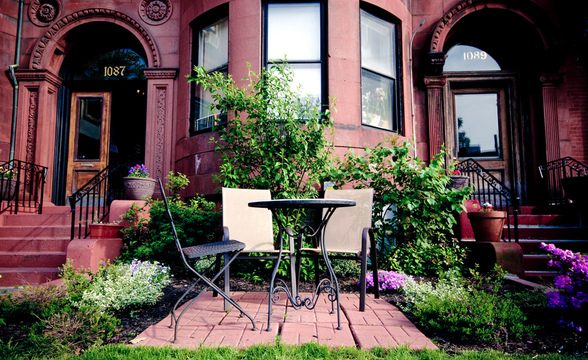 Brookline
Infomation
The town of Brookline lies just outside Boston, but is slightly more suburban and quiet. The area boasts large Victorian houses, but also offers many great restaurants, shops, clubs, and bars, despite its more suburban feel. Coolidge Corner is Brookline's trendiest spot, and the best place for students. The town also has many public parks and playgrounds, and a number of green line subway stops and MBTA buses that provide easy access to nearby Kenmore Square in Boston, as well as the rest of the city
Brookline, Boston Data : Neighborhoods & Travel – Score out of 100
LOWEST ATTRIBUTES
Shopping 65
Community 62
Singles 57
Nightlife 45
Parking 38
Brookline, Boston Reviews
Cute, residential, but a bit snotty
I usually can't even believe I'm still in Boston when walking down of Brookline's huge, tree-lined streets with gorgeous houses and mini-mansions. It's just 5 minutes away from the concrete bustle of Comm Ave., but so quiet and peaceful and just a really lovely place to live or to take a bike ride. Coolidge Corner and Washington Squareare two major centers of Brookline, with tons of places to eat and shop and this neighborhood loves their independent, local stores—Papa Ginos had to fight to open a store in Brookline last year.
I love Brookline, but I can also get fed up with its stuck-up, rigid rules and bizarre laws. For instance, Brookliners are very particular about their parks. There are many of them, and they are all very well kept and clean, but then they don't allow you to play sports without a permit at Amory Park. Please, it's a park, gimme a break. And the parking—Brookline is notorious for its stringent 2-hour ONLY street parking laws. It's like they have these vulture-like parking cops who swoop down and ticket you if you're in a spot for 2 hours and 5 minutes. Be prepared to include parking ticket fees in your budget if you don't have an off-the-street spot.
That being said, this is one of my favorite places in Boston. The Jewish delis could compete any New York ones and there are so many other ethnic eats—sushi, Mexican, Korean, Spanish tapas. Definitely not a lot of bars or places to go out, but that's why you can head downtown or to the many Allston bars and come back to idyllic Brookline. Or you could just go to Coolidge Corner Theatre, arguably the best independent movie theater in Boston, for one of their midnight showings or special features.
What's awesome
Shops, parks, restaurants, movie theaters
What's not so awesome
Heather V.
Great for Car-less Adults
The key to living here is to not be a disturbance to your neighbors. Brookline people are very proud of their neighborhoods' cleanliness and peace, which sets you at an immediate disadvantage if you even look like you're of college-age. If you look under 30 and are unmarried, make sure you pick up every ash from your cigarette and turn off your radio alarm clock immediately.
When I lived there, our neighbors all assumed we were hooligans – even though everyone in the house was mature, financially stable and never partied. The neighbor didn't hesitate to call the police when one of my roommates had a cigarette on the outside steps, because the smoke was drifting up to the neighbor's floor and inside his home. It was a "disturbance".
You WILL get picked out, so be on your best behavior. But if you can handle really snotty neighbors, you've got yourself a beautiful, clean place to live.
Annette A.
Close to the City Without Being Right In It.
I absolutely love Brookline. When I moved to the Boston area to attend graduate school almost 6 years ago, I had my heart set on Beacon Hill. But when I realized how much more I could get for my dollar in Brookline, I quickly changed my mind. No, it's still not cheap (by any means), but the apartments are definitely larger than you'll find in Beacon Hill. Plus, Brookline is SO close to the city with super awesome transportation, you never feel far.
Brookline is an incredibly eclectic neighborhood. On the one hand, it's a wonderful place to raise a family as the schools are good and community is close. There are families everywhere. But since it's so close to the city and some of the big colleges, there are also lots of students. The good thing (in my opinion) is that the students tend to be older, grad school level students. Why? Brookline is more expensive than the surrounding Brighton and Allston and the nightlife isn't quite as bumping.
Brookline is really happening during the day. There are lots of quaint little shops, including clothing boutiques, gift shops, book stores, and gourmet food stores; as well as grocery stores, larger chain stores (like the Gap), and more. There are restaurants of just about every ethnicity you can think of and lots of little parks to hang out in. When the sun goes down, things tend to get a bit quiet, as there are only a few bars worth hanging out in. Of course, this all depends on what area of Brookline you're in (Washington Square has more night-life options than Coolidge Corner, but Coolidge Corner is more happening during the day).
My favorite area of Brookline is Coolidge Corner because of how much there is to do. Washington Square is smaller, but with some fabulous night options. Brookline Villagehas plenty of good restaurants, but not as many "necessity" stores, like drug stores and grocery stores. But really, all of Brookline is pretty walkable and many areas of parking (some stores have lots and there is metered parking everywhere).
Also, the Green Line of the T runs right through Beacon St. in Brookline, so it's super easy to get to downtown Boston in no time at all. There's plenty of bus service, too. One thing that's a pain in the butt? There's no overnight street parking in Brookline. So if you live here and have a car, you'll likely need to buy a parking spot as well.
Overall, I think Brookline is the perfect place to live for anyone who wants easy access to Boston without being right in Boston. I think it's a little quieter, tamer, and more like a home. But you definitely won't feel like you're in the middle of nowhere.
Susie A.
Brookline, a collection of cultures and great food!
Brookline is the kind of neighborhood that seems ideal for starting a family. It is mostly quiet, safe, green, clean, spacious, charming, and entertaining. Additionally, it a place where various cultures and religions meet. People from different parts of the world end up in Brookline, giving it a very liberal and tolerant atmosphere. It has a relaxed and calm vibe even though there's always something going on. Even though Brookline is so close to Boston, there is no need to go into the city. Brookline is that kind of suburban nabe that feels urban and has all that a city has to offer at a more reasonable price.
Worth highlighting is Brookline's food. Every place that I've been in serves delicious food, and there are a lot of varieties and cuisines. Most restaurants here maintain their roots and are not americanized as usual, therefore tastes and dishes feel like out of this world! Coolidge Corner is the place to be, with one of the few independent art film theaters, a Trader Joe's, and many many cafes and places to grab a delicious meal or beer. With more students moving to Brookline I think this nabe will begin trending soon. However, one of the most frustrating limitations is that there is no overnight parking.
Roberto G.
Suburban Cityscape
One of those rare little pastoral pieces of suburbia right here in Boston, Brookline is a little neighborly village formerly known as the hamlet of Muddy River. That's right, a hamlet. Walk a couple of miles out of downtown and the houses will quickly get bigger, green lawns will begin to roll, and bam, you're in the middle of the country. But wait! Look to your right and there's the Pru Center…wait, no, that can't be right, can it? Oh yes it can. Not only are you in the middle of a bona fide, Leave it to Beaver neighborhood, you're also still in the city and that means you've still got all of those creature comforts you city slickers can't live without. Coolidge Corner boasts some of the most famous (and phenomenally delicious!) Jewish delis, hip and trendy bars are popping up all along Beacon Street, and there are more green parks than you can shake a lawn chair at. Sounds too good to be true, right?
Mallory C.
Really great place to live
I lived here when I was still in School. The neighborhood had a fair amount of food options but almost every single one was stellar! If you're in the hood, you MUST check out Rod Dee and Anna's Taquiera. I used to patron these two places daily and that was a decade ago. They're still there and expanding to other areas in the Boston area.
The houses are beautiful in these parts. If you have an opportunity to drive around, it's a real treat.
The T runs right through Brookline. The green line is particularly slow. Best way to travel is by car if you can.
Jeffrey N.
Charming Brookline
Working behind the counter in a popular Brookline food establishment has given me some insight into the kinds of people who live here or come through regularly. There are families, students (Boston University is right near by), elderly people, and rich people who seem to have a lot of time on their hands but are (mostly) very nice and friendly. It's a whole mix in this neighborhood, which skews to a slightly more upscale demographic.
You'll find tons of local eateries in Brookline, which makes it a great reason to visit.Coolidge Corner is filled with adorable retail stores that make for a very fashionable shopping trip that you can punctuate with lunch or a substantial snack. Lots of business is done in Brookline, which means you'll see many people out and about on lunch breaks.
It's easy to get around Brookline on the T. The C Line runs directly up and down the main street to Cleaveland Circle. And if you don't feel like taking the T the streets of Brookline make for a very pretty walk. So there's no excuse not to get yourself to Brookline and check out this very cute neighborhood!
Kit S.
I'm going on Brookline living for 4 years, only 1 of which has been in Coolidge Corner, but that's been the best one so far. I don't own a car and love how easy it is to get around. I walk most everywhere (Trader Joe's, work, Fenway!) and though the Green Line and 66 Bus can be frustrating, it's there when I need it. While the nightlife is severely lacking (even with the relatively recent addition of the Regal Beagle), the dining options are almost endless. You can get almost any kind of cuisine you want within a couple blocks of each other. It's very family oriented around these parts, so on the weekends the sidewalks are overflowing with strollers and the all the parks are filled with energetic kids. Luckily, there are enough green areas in and around Brookline that even adults or singles can find some quiet spots to hang out. It's not really the least expensive place to live in the city, but a lot of times rents include heat and hot water which cuts down on monthly costs. Unfortunately, if you have a car, that could be a deal breaker. There is no overnight street parking in Brookline and parking is hard to come by. If your house/apartment doesn't come with a parking spot, be prepared to shell out no less than $150/month for a place to put your car.
Kim Z.
Best place in the world…
I love Brookline (granted I am from the Boston area originally) and have lived in NYC, Chicago, Seattle and a few other metropolitan cities as comparison. Brookline has a few different nabes and I lived in Coolidge Corner (CC) for years. CC has everything I ever would ever need w/in short walking distance—literally everything (grocery store, bank, electronics, convenient stores, dry cleaning, boutiques, bars, restaurants, etc.).
Except maybe bars. Yes, the nightlife in Coolidge Corner is so-so. But two things make that okay. 1) Washington Square (5 minute walk) has a number of bars and so does Brighton/Allston (5 minute cab ride) and 2) it's super easy to get downtown. Especially if you live near the C or D train lines. Downtown Boston has a bunch of bars.
Brookline has a terrific school system as well. There are many family's that support the school system—families who live in the more suburban part of Brookline. But do note, that Brookline is the perfect match between urban and suburban. You can find a great inexpensive apartment, you can buy a condo, you can buy a house, or you can buy a mansion. It's a great mix.
I would move back to Coolidge Corner in two seconds. While it is totally a family spot, this keeps it quiet and comfortable. Brookline is quaint and unique and has just about everything you would need within walking distance. Do note, if you rent/buy here, you will probably want a spot to be included—the visitor and street parking is almost non-existent overnight.
Jonathan C.
All Aboard the Green Line!
Brookline is a cozy little neighborhood with all the comforts of home (trees! sidewalks! parks!) and all the benefits of a real metropolitan niche (shopping, culture, people-watching.)
Trader Joe's anchors the neighborhood of foodies, recent college grads, young families and a vibrant international population. You'll find plenty of trend-setters who flock to the neighborhood for its (relatively) reasonable rent, good shopping and excellent dining. Tourists are rare, but that's probably a good thing.
It's an easy ride from the green line (which has several stops up and down Beacon St. in Brookline) into Boston, and plenty of people commute this way. Overnight parking options are few, and almost all are paid spots. If you're visiting, avoid the hassle and use the T. If you're looking to live here, keep in mind you'll probably have to pay a couple hundred a month if you want to park your car in Brookline.
As far as food goes, you'll find everything from fine dining to falafel and fro-yo to french fries. There are lots of great ethnic restaurants, as well as some traditional American pub-style places like the Publick House, which has an awe-inspiring beer list. If you make it to Publick, all I can say is try the pumpkin ravioli and prepare to have your mind blown.
Megan S.
I'm going back to Brookline, Brookline, Brookline.
Brookline owned my heart for two years and I must say, there was lots of handholding on the sidewalks, lots of stumbling, public dancing, running to the greenline, and lots of attractive men. There is one of everything for everyone.
Coolidge corner is the place to be with Panera, Starbucks, Good Vibrations, JP Licks, Mint Julep, Paris Crepes, Coolidge Corner Theatre, and Brookline Booksmith taking over.
Into porn but you hate how trashy most stores are? NONSENSE. Good Vibrations is the best porn shop for the ladeez. It's displayed like an Apple store! (iPorn? iVibrator?) The employees are very knowledgeable about whatever kinky shit you're into. They offer help and allow you to see every device available. Plus, they have vintage toys for display that show you women have been playing DJ for a lot longer than we thought. (Like that Mad Men episode!) There's a variety of condoms, gels, lubricants, and vibrating cockrings. Give it a chance—you'll spend hours in there. (Which is more than you can say in your own bedroom.)
Brookline Booksmith has the best variety of books, magazines, and even an accessories section. Also, the sale section carries gems and is worth checking out. The atmosphere is comfortable with chairs in each aisle, so you can sit and hang out before you commit to that self-help book you heard so much about.
Coolidge Corner Theatre offers the best viewing for all new indie films. At times there will be midnight sing-a-longs, i.e. R. Kelly's trapped in the closet.
The B, C, and D line all run through (or are close to) Brookline. Bus 66 takes you over the Charles River to Harvard Square easy. Bike lanes are also on major roads.
Tracy F.
nabewise