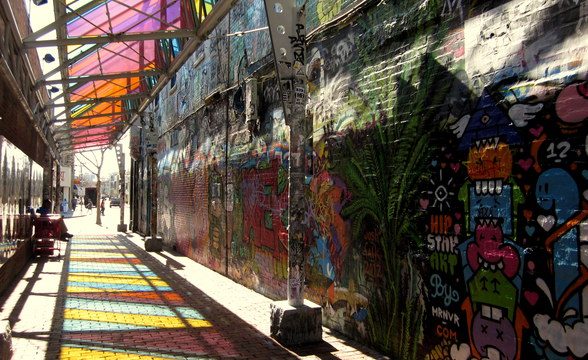 Central Square
Infomation
Centered around Bennington Street and Meridian Street in East Boston, Central Square is a small harbor side nabe. Which isn't to say it's not bustling—the entrance to the Sumner Tunnel that zips commuters to downtown Boston is located here and keeps the neighborhood moving. When it comes time to slow down though, there are parks and the HarborWalk and great, cheap coffee shops and ethnic eats. Like much of East Boston, Central Square has an industrial feel with gridded streets and triple-decker houses. It's connected to downtown Boston by the Maverick Station on the Blue line.
Central Square, Boston Data : Neighborhoods & Travel – Score out of 100
TOP ATTRIBUTES
Dining 92
Public Transportation 83
Nightlife 80
Singles 75
Shopping 70
LOWEST ATTRIBUTES
Green space 33
Families 25
Empty nesters 23
Seniors 10
Income 7
Central Square, Boston Reviews
Welcome to the People's Republik of Cambridge
Gritty, sketchy, edgy; adjectives commonly uttered by first-time visitors as they emerge from the Central Square T-stop and enter the "Square" which, like all other Cambridge Squares, is a deceptively small and densely packed commercial and entertainment strip with nearly all the action on busy Mass Ave. Central Square is indeed the slightly gritty and unpolished heart of the People's Republic of Cambridge, as it's jokingly referred to, although the effects of ongoing gentrification are obvious here. There are many reasons to come here: a great variety of ethnic restaurants, a large Blick art store, a few choice coffee shops and bars, theaters, and all the basic amenities in between. The nabe is certainly a hub of the city (being equal distance from Harvard University and MIT) and is thus very convenient for Harvard and MITstudents, along with the other diverse groups that Cambridge is known for. There are lots of bus routes and a dedicated bike lane on Mass Ave, which, like in much of Cambridge, makes having a car more of a burden than a necessity. Surprisingly, the surrounding residential streets are relatively quiet and clean, with a nice mix of housing types from New England Triple Deckers, tall Victorians, and small non-descript apartment buildings.
Naturally the best way to get a feel for the nabe is walking the wide brick sidewalks lined with benches and, as of late March, blossoming street trees. If you walk a couple of blocks towards MIT you will find the popular Toscanini's, which serves up delicious ice cream as well as a good selection of coffee and teas. If you're looking for something more edgy, the perhaps ironically named Middle East is a popular venue for live music acts in its cramped basement space. For more literary types, there are a few cozy independent used bookstores to pop into-Rodney's, charmingly cluttered, being the most well known, although the selection is hit-or-miss.
Lastly, the area is relatively safe and very busy, nevertheless there is a very visible homeless problem (although most are harmless) and some sketchy characters. However, there is almost always a police presence. All in all, Central Square is certainly worth a regular visit any time of the day or night.
What's awesome
food, atmosphere, convenience, nightlife
Brett M.
I first encountered Central Square on my way to have brunch with a friend. A non-native (I'm a New Yorker) to Boston, I felt surprisingly at home. It felt like the perfect neighborhood to walk around after work or on a weekend afternoon; it was teeming with businesses, people, and energy.
Bike lanes are fairly prevalent, but it is also accesible by the Red line to Central Square Station and a large number of buses. The architecture is varied, but it leans towards a more edgy feel.
I will definitely visit this nabe again and again.
What's awesome
Good Eats and Deals
A quick search on Yelp will lead you to Cafe Luna, a charming cafe that serves delicious food and has a delightful wait-staff. College students are given crayons and paper to occupy themselves with as they wait for their food, and children plead with their parents for some more pancakes (try the lemon ones). The wait is not great, especially on a weekend morning, but it is definitely worth it.
Walking down Massachusetts Avenue, I encountered at least two vintage shops, a book store and some quirky stores. Definitely worth checking out and who knows, perhaps you will come home with a neat purchase in hand?
Yana A.
My first time walking through Central Square, I was quick to brush off the place. I didn't like the vibe and thought it lacked charm. But oh how wrong I was! Since moving close-by, I feel myself constantly drawn to its grittiness and awesomeness. Simply put, it has GREAT nightlife, a diverse crowd, awesome restaurants, and conveniently close to downtown Boston and Harvard Square. Some cool thrift stores are around and I feel like I discover some place new every day. Inman is not too far, which is another favorite nabe of mine and great to walk to on weekends.
What's awesome
Sandwiched between MIT's Kendall Square and Harvard Square in Cambridge, Central Square sometimes gets overlooked. But with its many ethnic eats, trendy bars, music venues and awesome used book stores, it should be a destination in Cambridge, not just a stop on the way to some other square.
The Middle East, T.T. the Bear's Place, ZuZu and All Asia are just three Cambridge music institutions, with local and national acts stopping by every night of the week. Trendy places like the Enormous Room, Middlesex Lounge and Phoenix Landing also boast awesome music, chill vibes and 20-something hipster crowds. One of the best restaurants in Boston, Craigie on Main, is in Central Square and is known for pioneering the local, seasonal food movement in the area.
I was surprised by how many book stores there are in the area—Rodney's, Seven Stars and more—and it's home to one of my favorite record shops, Weirdo Records, a hole-in-the-wall kind of place with the nicest owners around.
The crowd is, well, a lot of homeless people and some druggies, but also hipsters, students and young professionals. It is definitely grittier, dirtier and more of a homeless hangout than Harvard Square, but it's worth spending an afternoon or night here, or even finding a permanent place.
What's awesome
What's not so awesome
Gritty, somewhat sketchy
Heather V.
nabewise