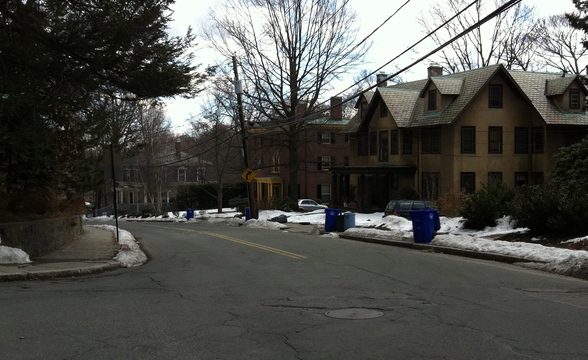 Central Village
Infomation
Central Village in Brookline is a pretty little nabe located just a short walk from the commercial hub ofBrookline Village. Residents keep tidy gardens next to their front doors and enjoy the recreational activities offered in several nearby parks and playgrounds. Housing options here range from single to multi-family homes and condos. Parking is a bit of challenge, but public transit isn't: the Brookline Village T stop is within close walking distance.
Central Village, Boston Data : Neighborhoods & Travel – Score out of 100
LOWEST ATTRIBUTES
Parking 42
Shopping 42
Nightlife 42
Singles 42
Income 31
Central Village, Boston Reviews
Central Village rules, OK?
What's more to be said? Central Village is quiet and residential, like the rest ofBrookline, with winding streets and homes that are older than dirt (fyi: dirt in Boston didn't arrive until after WWII). Moreover, because the layout and architecture hasn't changed purpose in a while, this nabe is a picturesque chunk of Brookline for the rest of us. Most families in this community are a safe middle class, and any couple with a college degree should be able to move in here to start raising a family. It's safe, comfortably small, and historic—what more could you ask for?
Ryan B.
Old School Residential Bliss
Central Village is a sweet little neighborhood nestled between bustling Coolidge Corner and Brookline Village. Central Village itself is very quiet and low key; it's the real residential part of Brookline (which is already pretty residential!) where families live in rambling victorians, elderly couples walk little dogs, kids walk to school and people sit out on there porches in the summer (yes!! There are porches!) There is a very intellectual feel to this area; many local professors call it home and it feels rich in culture and knowledge. I used to walk through this neighborhood often when I lived inCoolidge Corner and would frequent one of my favorite Italian restaurants (Pomodoro) in Brookline Village.
I loved this walk: I would meander down the sidewalks, crunching Autumnal leaves, winding my way through the little park, cooing at babies in strollers and admiring the houses. The houses in this neighborhood all seem to have strong character, as if they've taken on the appearance of their owner's creativity. Some are painted in crazy outlandish colors, others wrap around corners, taking on the organic shape of the road. This nabe doesn't boast restaurants, a hopping night life or even a grocery store. What it really offers is a little gem of old school residential bliss, a stone's throw away from Brookline Village and Coolidge Corner where you can find just about anything you could possibly need (Particularly some of the best bagels in the world!)
Although it is near lively areas, I wouldn't recommend this neighborhood for the younger, hipper crowd. Instead I would recommend this neighborhood for families, or older couples. It is a very quiet area and most of the real estate is single family homes instead of apartments. This being said, when I grow up (oh no, not that!) and can afford it, this is my ideal nabe to raise a family.
Mallory C.
nabewise