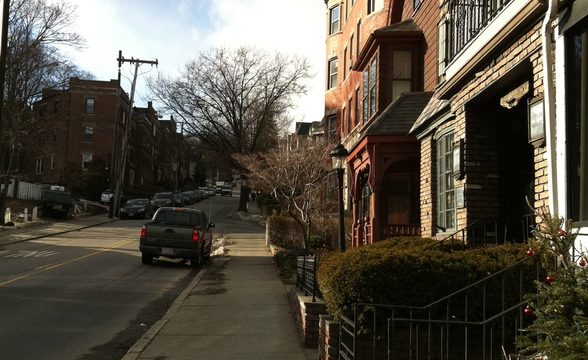 Corey Hill
Infomation
Corey Hill is one of those great little vertical neighborhoods so rare in Boston, you feel like you're in San Francisco. Wedged between Brighton andBrookline, Corey Hill is sandwiched between two lively main boulevards: Beacon Street and Commonwealth Avenue, that both boast a T Line, the B and C lines, restaurants, bookshops, you name it. The hill erupts from from the flat boulevards, creating a hilltop nabe with a serious view that spreads outward at the summit. At the top, there is a quaint little park, complete with surreptitiously placed park benches, ideal for a picnic or a romantic view of the breathtaking cityscape.
Corey Hill Data : Neighborhoods & Travel – Score out of 100
LOWEST ATTRIBUTES
Singles 50
Parking 50
Income 48
Shopping 44
Nightlife 38
Corey Hill, Boston Reviews
Top of the Summit
Once, when I was innocently exploring Brookline's back streets, I came upon Summit Ave. and made the mistake of trying to bike up it. I'll spare you the calf-aching agony now and say it's probably a better idea to walk up here.
The views from the top of Corey Hill Outlook are astounding though, and there's a great little park where you can spread out a blanket or do cartwheels down the hill. Sledding is also highly recommended in the winter.
It's a peaceful neighborhood (perhaps because others are equally scared of the summit?) with interesting houses and some condos, too. There's not much for shopping or eating directly in the neighborhood, but just a 5-minute walk will bring you to Commonwealth or Beacon, which are loaded with ethnic restaurants, cute independent shops, and grocery stores like Trader Joe's.
Like most of Brookline, it's a pet friendly neighborhood—there are always dogs romping around Corey Hill Outlook and the other little parks. Rent isn't the cheapest, but it doesn't mean you can't find something reasonable. It may just require a little more digging.
What's awesome
What's not so awesome
The hill of Corey Hill truly is the backbone. Streets wrap around it like garlands on a Christmas tree, and its unique terrain attracts people for all kinds of reasons, but typically to head to the summit of this big ol' hill that overlooks Boston.
Athletes frequently jog or march up to the top of this five-hundred-foot hill for strength building. Others drive to the park for a game of frisbee or picnic. Trust me, once you visit Corey Hill, you'll want to come back, and you'll hesitate to tell any friends about the gem you've discovered.
Ryan B.
A Nabe for all!
This really is an adorable neighborhood suited for all. Corey Hill, literally is a very large hill lined with all sorts of funky houses that are lived in by everyone under the moon. When you're huffing and puffing you're way up the hill you're likely to walk by families, students, older people walking dogs (and yes, they huff and puff up that hill sometimes faster than me!). When I was a student in the city, I knew professors, fellow students, people I nannied for, even my friends grandparents who all lived in this little piece of Boston. It's friendly, everyone says hello to one another and it's a great location.
For many years, I lived on the Commonwealth Avenue side of Corey Hill and took the B line that was very conveniently located right outside my door. I frequent the Beacon Street side of Corey Hill now that I live in Brookline, and take the C line. Transportation could not be more conveniently located in this neighborhood, if you were any closer to the T, you'd be living on the tracks. Also, located right smack dab in the middle of Corey Hill, or on the summit, if you will, is a great little park. It's small, to be sure, but it has a play area for the kids, plenty of room to spread out a blanket for a picnic or to study, as I often did. People bring their kids, their dogs, their significant others and although everyone is very friendly and neighborly, everyone pretty much sticks to their own thing, making the park a very pleasant and relaxing place. Although Corey Hill itself is lacking in restaurants, markets etc, there are a number of both on either side of the neighborhood, with more on Beacon Street. There is a diverse array of cuisine and markets, from sushi to kebab, and a gourmet Russian market to Trader Joe's, all in walking distance. Other bonuses include a fabulous dress maker, florist, nail salon and a puzzle store that will blow your mind! (yes, I said puzzle store)
Although the neighborhood tends to offer more single family homes, it is possible to find a condo and while prices aren't astronomical, they aren't cheap which is understandable considering the area. It truly is a wonderful place to live for singles and families alike!
Mallory C.
nabewise