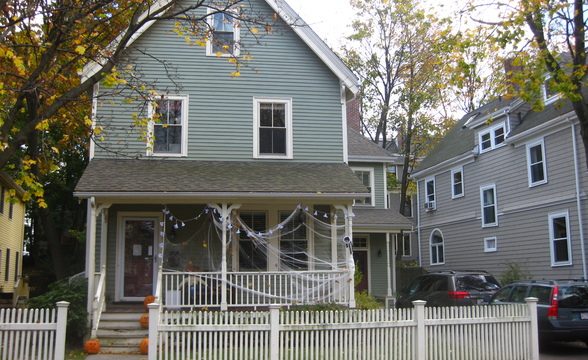 Emerson Garden
Infomation
Named for and characterized by a lovely park at its center, the neighborhood of Emerson Garden is a sweet respite from the rest of heavily traffickedBrookline Village. A mix of 2-3 family homes, mansions, and colonials surround the park where dog owners, ball tossers, and stroller pushers congregate daily.Technically a part of Brookline Village, residents of Emerson Gardens have close access to schools, shops, cafes and a T stop on the Green Line.
Emerson Garden, Boston Data : Neighborhoods & Travel – Score out of 100
LOWEST ATTRIBUTES
Income 48
Dining 44
Shopping 38
Singles 38
Nightlife 31
Emerson Garden, Boston Reviews
Garden of Eden
Even among the many beautiful parks of Brookline, Emerson Park is a beauty of a green space and is reason enough to reside in this neighborhood. Not that there's not loads of other reasons too—there's a great school system, independent shops and cafes and all of the other amenities Brookline offers. The houses are large with those lustrous wrap-around front porches made for rocking chairs and a glass of lemonade (or beer, depending how your day went). It's mostly families that live here, as houses and rent are not cheap. It's a very quiet neighborhood, aside from the odd yelping dog, and a wonderful place to raise a family or settle down.
What's awesome
What's not so awesome
Great nabe!
Emerson Garden really is the best of all Brookline worlds. Like the description says, it's got a happy mix of real estate: large houses, small houses, single family etc. It's also got the quietness that the best of Brookline has but it's just a hop, skip, and jump away from Brookline Village which, even though it's not the most hopping of downtown nabes, has got all you need to be happy. With a bunch of locally owned restaurants, the post office, a couple of independent coffee shops, a barber shop that has been around for decades, some charming boutiques, and bookstores (to name a few), what more could you need?
With its quiet little sidewalks, homes for all budgets, neat little pocket park, warm, friendly community, and proximity to Brookline Village, Emerson Garden is a little piece of Boston paradise!
Mallory C.
A Beautiful Park Makes A Great Community
A beautiful green hideaway tucked inside of Brookline, Emerson Garden is a painting-worthy, picturesque area. The historic namesake park that marks the center of this neighborhood is one of the most pristine in Boston—beautiful lawns, flowers, trees, plus kid-friendly amenities (the coolest one being the spray pool, the envy of many adults). The park itself creates strong community: it's a place where Emerson Park residents bond and congregate while raising their children. In their very suburban way, Emerson Garden residents truly know how to have a good time—they've even organized a soup crawl (yes, with soup instead of booze) to bond with neighbors, raise money for charity, and sample delicious slurp-friendly food.
Amanda M.
Shhhhh! Brookline's Emerson Gardens Neighborhood is a Secret Gem
Who knew that places like this existed in Boston? Just one wrong turn off the main Street in Brookline Village and you'll end up in a nabe so quaint it puts Mr. Rogers and his people to shame.
Emerson Garden is a public park, complete with clearly labeled trees and shrubbs lining a meandering, circular pathway. There's an open lawn for wrestling with your fetch-challenged retriever or chasing after your wily tot, and a playground with a spray pool where you can teach both your kid and your dog a lesson or two about dominance and the order of the world.
Beautiful early 20th century homes border the park on all four sides and most enjoy ample garden and lawn space of their own. In the summer, residents enjoy open-air concerts every Wednesday night just a short walk from their homes, amidst the pleasant greenery of the park. The park itself is listed on the national and state register of historic places, so don't count on any Dunkin Donuts or Walgreens popping up in its shadows. If box store conveniences are your jam, Brookline Village is but a stone's thow away, so residents certainly don't go without.
Those lucky enough to live in Emerson Park enroll their kids in the nationally rankedBrookline School system, and enjoy the safety provided them by the Brookline Villagepolice station which borders the nabe.
caite m.
nabewise