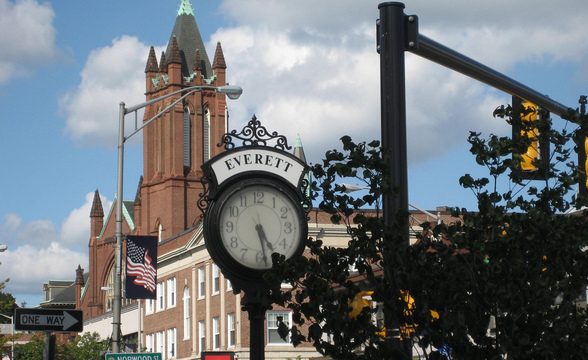 Everett
Infomation
Sandwiched between Malden and Chelsea, Everett is an affordable and culturally dynamic nabe just north of Boston. Real estate here ranges from single and multi-family homes to apartment buildings. Homes here may be close together, but they promote a tight-knit neighborhood setting that residents celebrate. Everett is served by the Orange Line T and several MBTA bus lines.
Everett, Boston Data : Neighborhoods & Travel – Score out of 100
TOP ATTRIBUTES
Blue Collar 98
Families 75
Public Schools 67
Dining 67
Community 67
LOWEST ATTRIBUTES
Nightlife 50
Seniors 50
Quiet 50
Singles 42
Public Transportation 38
Everett, Boston Reviews
What was a strong Irish and Italian community grew into a diverse nabe with families hailing from many continents of the world. Portuguese, Puerto Rican and Brazilian influences have sprouted up in Everett over the last thirty to forty years, with a wide number of flags flying from the balconies of homes and awnings of small businesses.
The diversification took root likely because of Everett's low tax rate for homeowners. Now this suburb celebrates a cohesive and safe environment that's perfect for families with children. It's public schools are great, and many residents say that they feel safe enough to walk their dogs in the earliest hours of the day.
Everett is certainly a treasure within Boston Metro for families looking to make a start in this city as a stepping stone for their first generation Bostonians.
Ryan B.
"City of Pride, Progress, and Possibilities"
Everett is a working class, blue collar, ethnically diverse suburb of Boston. In fact, it's about as suburban as Boston gets without actually leaving the outskirts of the city. Their city motto is "City of pride, progress and possibilities" and they mean it. Although the nabe is very diverse, it's full of Boston pride that comes from multiple generations of Everett residents. The community is also quite tight knit and they do work together to make there home a better place—you really can't argue with that.
Mallory C.
nabewise