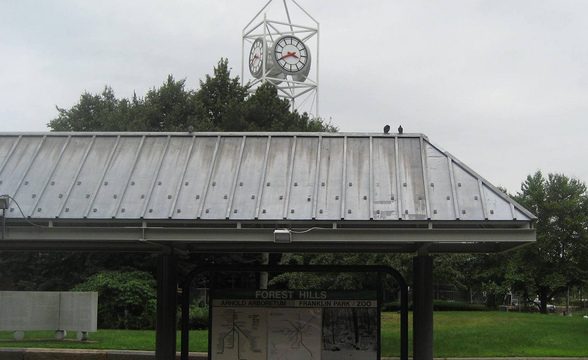 Forest Hills
Infomation
This wooded, hilly nabe within Jamaica Plain is most known for its namesake park and cemetery. Though a few businesses operate along Hyde Park Avenue, Forest Hills is mostly residential: a mix of well-kept single family homes, triple deckers, and converted condominiums. Easy public transit (Orange Line T and MBTA buses) to Longwood, Museum School, Mass Art, Northeastern, and downton make the nabe especially appealing to students, medical professionals, and anyone seeking more space for less money.
Forest Hills, Boston Data : Neighborhoods & Travel – Score out of 100
LOWEST ATTRIBUTES
Dining 50
Shopping 50
Empty nesters 45
Nightlife 38
Income 17
Forest Hills, Boston Reviews
Forest Hills Cemetery, just where you and your dog belong.
The interior of Forest Hills, the arboretum and around the cemetery, are nice and quiet. However, while it's not exactly Mattapan, the busier areas around Washington St. pose a bit of danger to pedestrians in the evenings. The further north you go toward 28, the sketchier the environment becomes.
Ryan B.
Must go to the Arnold Arboretum!!
I mostly visit this nabe for the arboretum which is really quite beautiful and has an amazing lilac festival in the Spring-really, it's breathtaking, the smell of lilac and all of the trees in bloom is something you must not miss if you live in the area. It also boasts some great walking trails, a few sledding hills and lots of green open space perfect for picnics, tossing a frisbee (which seems to be a very popular past time here) and lounging during the warmer months In terms of living there, it's not the easiest nabe to reach by public transportation but the rent is inexpensive, apartments are fairly spacious, the area is clean and there are some great food/bar options in neighboringJamaica Plain. The area consists of mostly students, post grads and young professionals seeking a nice place to live with a low cost of living (and some great scenery in their back yard!)
Mallory C.
nabewise