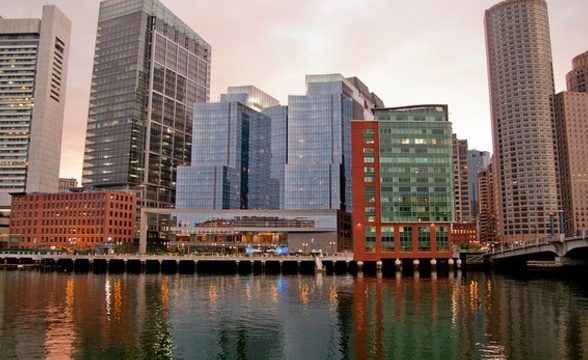 Fort Point
Infomation
Located on Boston's waterfront, Fort Point's once-empty industrial buildings are now enjoying their new lives as condos, lofts, galleries, and office space. Fort Point is emerging from that pock-marked and greasy phase of adolescence into a vibrant, dynamic, and well-proportioned adulthood. Reachable by bike, foot, car, or public transportation, Fort Point is home to several acres of parks with harbor views, and a number of public museums and private galleries. Fort Point is served by the Silver Line T and the 221/222 buses.
Fort Point, Boston Data : Neighborhoods & Travel – Score out of 100
LOWEST ATTRIBUTES
Public Transportation 42
Green space 40
Families 39
Shopping 25
Seniors 16
Fort Point, Boston Reviews
Boston's Next "It" Nabe
Fort Point is quickly becoming a hip, new and up and coming downtown nabe. As the description said, the harbor front high rises are finally being populated with both residential and commercial spaces, attracting a young crowd. The condos are large, modern, and have some truly stunning views of the harbor. While prices are high, they're not as high as they're going to be in the coming years-this nabe is still being discovered and you can probably find some good deals. When I say good deal, however, I mean for a professional with a good job.
This nabe really started rising when the Volvo Ocean Race came to Boston and set up camp. The nabe was busy, busy, busy every day and this was a great opportunity to show case the land—which I think it did. The nabe is ideally located with South Station just around the corner and the Financial District and Downtown Crossing within walking distance. There are a couple of great restaurants in the nabe and I'm sure more will be popping up in the next year. For you art lovers, the ICA is also right on the harbor and is one of the best places to visit in Boston during the summer (or all year round!) when they have outdoor dance shows literally hanging over the harbor. Have a boat? There are slips in the nabe to park your yacht!
If I had the money, I would be living down here in a heart beat. While it does lack the charm of other Boston nabes because it is primarily built up with modern high rises, it's hard to argue with the waterfront property and views.
Mallory C.
Fort Point's Art Community
I have visited Fort Point twice and produced a news package on the future of the art community. Fort Point is a beautiful and charming community of budding artists, photographers, filmmakers and creatives. Located on Boston's waterfront and a short walk from Downtown, Fort Point must be a fairly easy place to find artistic inspiration. Personally, I was easily inspired and swayed by the mouthwatering sandwiches and cookies at Flour Bakery, Fort Point's pastry mecca. Right around the corner from Flour Bakery is the Fort Point Arts Community Store, a great place for avant-garde art enthusiasts to discover the latest trends in Boston's local art scene. Although I've never lived in Fort Point, the neighborhood is a fascinating place to visit, especially for those Bostonians who rarely make it it past the waterfront.
The last time I visited Fort Point in the March of 2010, many of the buildings were undeveloped and empty, providing for a very somber and melancholy mood at times. Confused by its past as an art-centric community poised on the brink of desertion, Fort Point was certainly facing an identity crisis. All in all – great place for artists to work around other artists.
Lori S.
Close to Downtown, Artsy and New
If I were an artist with a vision and a need for light, space, and inspiration, I would join the Fort Point Artist Community and move my fantastic self—along with my boot and record collections—into my own studio loft apartment.
I'd wake up late—the light doesn't peak till after 10— drink espresso in my smock, and have to borrow sugar from the handsome sculptor living down the warehouse hall.
I'd paint till 2, run out for lunch at Flour Bakery where they'd know me by name and neurotic, soy-based order, and eat it in the park overlooking the working harbor.
The afternoon would be spent with my best friends, a lesbian couple named Susan and Terri. They'd be drinking whiskey based spirits out of homemade mugs while they construct a tile mosaic, homage to their late Cocker Spaniel, Fitz, on their loft's dining room floor.
By 8 I'll be hungry and craving male attention, so I'll treat myself to a dinner in low level lighting at Lucky's lounge. Maybe it's Sunday and somebody will be singing Sinatra. Serenade or no, a dirty martini it is if I'm to paint with any kind of conviction into the wee hours of the Fort Point night.
Pearla M.
Life's Sexy Again in Fort Point
Fort Point:
So you wake up in the morning and you don't remember the last time you felt sexy. You eat the same beige colored breakfast every day; you get entirely too much pleasure out of your novelty sock collection; and you've resigned yourself to the fact that you are becoming your own mother. It's time to get out of dodge. Leave your work emails, your Lactaid pills, and your car payments where they are and cross over the Fort Point Channel and into Fort Point, an the artsy, dynamic nabe that's reinventing itself…just like you probably should.
Once in Fort Point, you'll notice former factory buildings reincarnated as artist spaces and lofts with high ceilings, large windows, abundant light and views of downtown Beantown and its bustling harbor. Imagine living in one of these spaces. Makes you want to liberate yourself from your khakis and sock dance in front of a large, harbor facing window, doesn't it?
The still active Fort Point Artists Community was founded in the mid 1970s; its members sought to provide Boston artists with affordable, legal living and work space. In the organization's early years, nearly 500 artists lived and worked in each other's midst. Today, Fort Point's residential population has doubled, and plans are in the works to convert still more factory buildings into homes, offices, retail, theater, and green spaces.
A few fantastic eateries have popped up in and around Fort Point in the past few years. Barbara Lynch's Sportello is enough of a reason to day trip to the area, but an even bigger reason to move there. A hip, modern take on the lunch counter, this place is the stuff of dreams for a diner regular with dollars to spare. Handsome waiters take your order from behind the sleek white Formica counter and return with Italian trattoria inspired dishes like the turnip salad, so herbaceous and fresh, you can taste the late summer sunshine in its locally grown ingredients. For those who work within walking or biking distance to Sportello, there is a bag lunch option you can order at the bakery and coffee counter. Eat your heart out PB&J; this aint the bag lunch yo' mamma used to pack.
A trip to the Institute of Contemporary Art (or ICA) is in order if you are to reawaken your time and grind-dulled senses. Located directly on the water, the building's design plays with concepts of interior and exterior space, providing views of the water from various galleries throughout the museum. Contemporary art exhibitions range from the controversial and prolific pop art of Shepard Fairey, to the whimsical and painstakingly crafted miniatures of Charles Ledray. Keep an eye on the ICA website calendar for news on upcoming film screenings, performances, and gallery talks.
The Bank of America Pavilion and the Boston Convention Center draw lots of traffic to the Seaport side of Fort Point, but few venture far from the unimaginative interiors and parking lots of these giant, venues, rather geographically removed from the rest of Fort Point. If you're really trying to turn your life upside down—in the best way possible—you might think about an evening spent outdoors at the BOA Pavillion listening to some young, big name pop artist. Go into the evening with set intentions to tongue kiss at least one person (whose age is within 10 years of your own) and sneak out before the encore to the local dive, Lucky's Lounge. The beer's cheaper here. And nobody will judge you for your penchant for holiday socks or your habit of French kissing college kids.
caite m.
nabewise