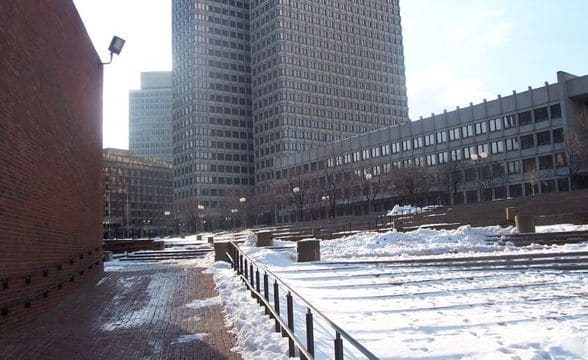 Government Center
Government Center is a bustling weekday nabe located smack in between Beacon Hill and the North End. While it's not the most aesthetically pleasing area of town–rather sad, institutional concrete buildings make up City Hall Plaza–it's the home of Boston City Hall, two Suffolk County courthouses, several state and federal office buildings, and a major MBTA transportation interchange.
Government Center Data
Public Transportation

9.8
Lowest Attributes
Government Center  Reviews
Government Center and City Hall take a page or two from brutalist architectural style. Put more bluntly: it's ugly, really ugly. But I guess you can only have so many majestic, historic buildings in Boston before you run into some blocky, concrete ones.
But enough has been said of the concrete desert of Government Center, so I'll try to focus on the good stuff. Like transportation—get off the T here and you're only 5 minutes from the North End, Faneuil Hall and Beacon Hill. The plaza is also host to some pretty terrific concerts and festivals, like the Scooper Bowl (an ice cream bonanza) and it's filled with hundreds of lit jack-o-lanterns come Halloween. And skaters love this place for its rails, so you can probably catch some pretty good wipe outs and/or tricks now and then.
There, I did it. Government Center may be ugly, but it does have some perks too.
What's awesome
What's not so awesome
A Good T Stop
Government Center is often considered one of the uglier parts of Boston but I've come to appreciate the stark, bleakness. It's not historical, it's not charming, it's basically just some cement and brick but it represents the solidity of Boston, and to tell the truth, the geographic heart of Boston so I can't say anything too mean about it.
Ok, it's pretty much a block of strip mall and some brick. But, it's really close to some of Boston's finest and is a very convenient stop on the T. Live on the green line and want to go to the North End or Faneuil Hall? Get off at Government Center and walk for about two minutes. It's also close to the old State House and the Aquarium. Ok, it's not pretty, you can't live here, it's highlights are a CVS and Breugger's Bagel, but hey, every city needs a Government Center, right?
Mallory C.
Government Center: Important, but ugly…like your liver
Important things happen in Government Center— it's where the esteemed and jowly Mayor Menino checks his email each day; where Suffolk County prosecutors wrestle out felonies and misdemeanors; and, perhaps most importantly, its City Hall Plaza Steps are where some of the best parcoursing happens in all of Boston.
Despite Government Center's significance on the federal and foot levels, the place as a whole is SOME ugly! Boston City Hall, for instance, was built in the architecural style of 'Brutalism.' I'll admit to possessing an aesthetic sensibility that favors classic lines and symmetry, but I can jibe with new-fangled concepts so long as they're beautiful. As its name suggests, Brutalism is to beauty as Britney Spears is to grace. (SAT prep companies be advised: I charge $10/analogy)
In fairness, Government Center is forced to contend with a politic of antagonism by virtue of its geography. The charming and classic Beacon Hill nabe sits to its East; The quaint, old-worldy culinary adventure that is the North End sandwiches it from the North; And Faneuil Hall, every tourist's favorite mix of history and kitch, borders it from the South.
So what's Government Center to do but to keep on keepin' on? It's a place of utility, a place to switch trains, to go to trial, to run a stair workout. Like the liver, it's an ugly, but important organ in the anatomy of the living, breathing organism that is Boston,
caite m.
The Infamous Pitied Plaza
Oh, Government Center. It gets picked on so much that I almost want to defend the place. And then I remember what it looks like. Next time filmmakers need a sad, bland, deserted stretch of urbanism in a flick, they should head here. The desolate nature of the place tends to go away during the plaza's summer concert series—largely directed at tourists, but still, there's people in it. My favorite way to think of City Hall Plaza is its initial intention to mimic an Italian piazza—at least it began as a good idea. Still, maybe there's hope for this uber-boo'd Boston neighborhood. If city planners could figure out a way to sync with the awkward architecture and fill the vast open space with some color and love, this could one day be a well-trafficked and happy place.
Amanda M.
Government Center
Before I sat down to write this review, I spent about an hour walking to and around Government Center from the picturesque early autumn Boston Common trying to decide whether to highlight its overwhelming cons or its undeniable pros. It seemed as though every step I took was another one further from a central decision. As soon as I thought I made up my mind that the area's pervasive grayness was just too much for my eyes to take, I suddenly got thirsty and realized how fortunate I was to have at least 35 options within immediate walking distance to get myself a cold drink.
So let me put it this way: if Government Center is as ugly as it is aptly placed, then it's downright grotesque.
The area, often called "the brick desert," is characterized by its oddly shaped City Hall building, which evokes strong images of a prison (think Shutter Island). City Hall is the anchor of City Hall Plaza, 11 acres of brick and crude pavement (hence the nickname), and offers about as scenic a view as the most forsaken alleys in the unreachable crevices of Boston. It seems as though every surrounding building has its back to the plaza, leaving only the peculiarly round Center Plaza building and a distant mirage of the waterfront to look at through the thick forest of dreary architecture.
But as aesthetically hideous as Government Center is within its official boundaries, the countless resources and entertainment options immediately outside the plaza easily bring a refreshing storm cloud over anyone wahttps://web.archive.org/web/20120512062811/http://nabewise.com/boston/beacon-hillndering around the brick desert. It is right across the street from Fanuiel Hall and Quincy Market, one of Boston's most historically rich and busy areas. Here one can find all the shopping anyone could ever reasonably ask for, all kinds of dining from Pizzeria Regina to Cheers, and the charm of street performances on centuries-old cobblestones, a charm only a city as historic as Boston could offer.
In other words, Government Center would be a miserable place to live for anyone looking for a beautiful skyline view. But those less aesthetically inclined will find that City Hall Plaza is just a small obstruction in the way of the beating heart of Boston's historical pride and one of the city's most notable and beloved shopping centers.
Mike F.
nabewise