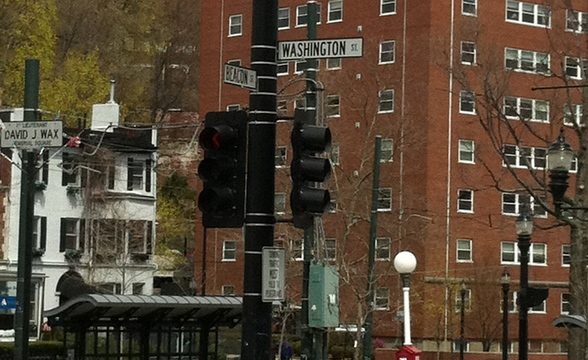 Washington Square
Infomation
Washington Square is the best of Boston's two worlds: this nabe has the great restaurants and hip watering holes of downtown and the clean, quiet streets of residential Brookline. A mix of old Victorians and tidy brownstones line the leafy streets and many restaurants offer outdoor seating during the summer. With its own stop on the green line T, Washington Square is the ideal nabe for young professionals and recent grads ready to leave the Allston lifestyle behind…almost.
Washington Square, Boston Data : Neighborhoods & Travel – Score out of 100
LOWEST ATTRIBUTES
Communit 63
Shopping 55
Parking 55
Green space 55
Seniors 50
Washington Square , Boston Reviews
A little bit Allston + Coolidge Corner = Washington Square
Whenever I visit my friend who lives in Washington Square, I have to stretch my calf muscles because the hike up some of these hills can be strenuous. Or I'm just really out of shape, but we'll go with the former. Because the area is so hilly, it has a really nice secluded feel and the large Victorian houses with wraparound front porches are drool worthy.
It's not a huge square, but you have bars like American Craft and Public House, which are perfect for after work drinks and there are your standard Starbucks, ice cream shops and liquor stores too.
Families do live here, but it's mostly young professionals, so the area is quiet but not stoic. The C line runs down Beacon Street and there are buses to the Kenmore and Longwood areas.
Heather V.
Hidden Gem
There are three types of people that live in Brookline's Washington Square. There are the young professionals that can't (or don't want to) afford pricier Coolidge Corner. You'll also find graduate students that are tired of Allston's Boston University undergraduates and barely-legal hipsters. Besides the affordability, Washington Square hosts a lot of young professionals and graduate students because it is directly on the T. The third group that calls Washington Square home are the upper-middle income families. When I lived in Washington Square (2006-2007), it felt 50/50. Fifty percent <35-year-old professionals and graduate students and 50 percent families with grade school-aged children.
I don't know much about the third group, being as I'm in my mid-twenties and barely paying the bills, but for those of you reading that fit into the first two categories, here is a quick need-to-know guide to what I like the call "the hidden gem" of the Brooklinearea.
In my opinion, Washington Square is probably most know for its dining options. My two favorites are Super Fushion and the Publick House. Super Fushion is some of the best sushi I've ever had in Boston. In my opinion, it rivals Coolidge Corner's Fugakyu and Back Bay's Douzo. But beware, it's a hole-in-the-wall that's probably best for take-out. The Publick House has Boston's best beer menu, and it's not just me that thinks that. It won Boston Magazine's Best of Boston 2010 Award for Best Beer List. At the Publick House, it's an inclusive environment for everyone who loves good beer. Don't come here and ask for a Bud Light, please. The Fireplace and the Washington Square Tavern are also prime dining spots, although a bit more expensive than the first two I mentioned. If it's a special occasion or you just feel like dressing up for a night on the town, The Fireplace and the Tavern are great options, even if you don't live in Washington Square.
Another great thing about Washington Square is its relation to a lot of Boston's hip nightlife. Washington Square is directly on the T between Coolidge Corner and Cleveland Circle. Coolidge Corner offers great, trendy bars such as the Coolidge Corner Clubhouse and the Regal Beagle. Cleveland Circle has Cityside. Head inbound on the T and it'll bring you straight to Kenmore Square and Fenway. Any Bostonian will tell you that the nightlife and dining options here are endless.
The only negative to Washington Square, in my eyes, is that there is no overnight parking on the street (this is standard for all of Brookline, not just Washington Square). There is a one-hour limit for parking on the street from 2 a.m. until 6 a.m. daily and, trust me, you will get a ticket. There are a select number of overnight guest passes for Brookline but note that buying a pass does not guarantee your guest a spot — it's first come, first serve. Passes can be purchased for $10 at select multi-space meters in the area.
So all-in-all, Washington Square is great option for those of us trying to afford to live in the city we love without the high rental costs of the more prestigious areas like Coolidge Corner and Back Bay.
Elise D.
Brave next stop from Allston..
After having lived in Allston for my first two years of college, I decided it was time to move up in the world and get the hell out of there. I had seen my fair share of walks of shame, smelled enough stale beer to last me a lifetime and lived in enough rodent infested apartments to give me a lifelong fear of "scampering." I was still on a student's budget but ready to live like a grown up…sort of. With this criteria I headed out, bypassing anything below Harvard Square and struck gold in Washington Square. I found a charming apartment in a perfectly scenic ivy covered brick building, that was barely higher than my Allston rent, had a coat closet (how grown up is that?) and a brand new dishwasher: I was in love.
The neighborhood was lovely and perfectly keg free. In fact, I was the only college student in the area—all others were young professionals who were quiet (although there was an occasional cocktail party on Saturday) and respectful of neighbors. One of the best parts of the apartment was that it was just a block away from Whole Foods where I could go and blow my entire monthly budget on a week of groceries! What can I say, I just can't resist overpriced organic food goods.
The restaurants in the area are also some of the best, in my opinion, in Boston. They're all low key but have delicious food and are also great locales for just a drink or two. In the years since I've moved further up Beacon into Aspinwall Hill, several more restaurants have opened up and I continue to frequent all of them.
Now, I've never been one who wants to live in a bustling downtown but I will admit I love having restaurants and fancy grocery stores at my fingertips. It's hard to find hot bars, yummy food, cheap rent, tidy sidewalks and grassy patches in a city but Washington Square is where you'll find it. Yes, it's still a little bit grubby (I had a pet rat named Francis living under my patio and no, he did not help cure my scampering complex) but trees and plants thrive in Washington Square unlike in Allston where the the dirt and grime won't allow anything other than fungus to grow.
If you're looking to take the brave next step from Allston, this is the place for you. With its own stop right on the C line, Washington Square is ideal for those who want the city at their beck and call.
Mallory C.
nabewise