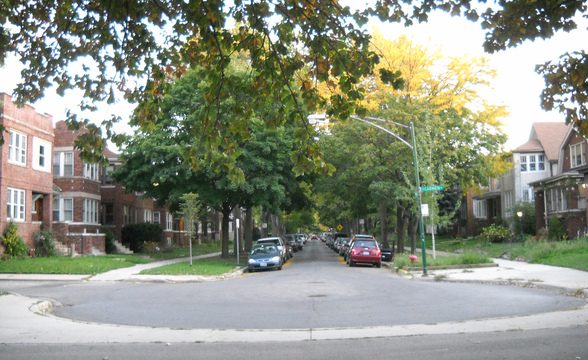 Albany Park
Infomation
This northern Chicago residential nabe may be one of the most well-traversed of its kind: Chicago residents are known to flock here from all over the city. Why? Although they're certainly charming, it's not to see Albany Park's classic-Chicago bungalows or its two libraries. It's because folks are hungry for unique cuisine. Most well-known for having its very own Koreatown, Albany Park is often referred to as the "Gateway to the World." In terms of food, the name surely fits. If you have an urge for other-worldly eats, chances are you'll find a restaurant or grocery store in Albany Park that's sure to satiate. This nabe's served by both the Brown Line and the Blue Line, so getting into central Chicago is a breeze. Along with Koreatown, Albany Park houses the pocket nabes Mayfair, North Mayfair, and Ravenswood Manor.
Data : Neighborhoods & Travel – Score out of 100
TOP ATTRIBUTES
Dining 80
Public Transportation 70
Ethnic 65
Blue Collar 65
Families 57
LOWEST ATTRIBUTES
Clean 44
Shopping 42
Nightlife 35
Singles 30
Income 13
Albany Park Reviews
Michael
Albany Park is great place for working families to live and for all kinds to visit. It's less bustling than it's neighbors to the Southeast and the sheer scale of its ethnic diversity is a big plus. The "Koreatown" aspect is way overstated, as many of the Korean residents have taken their business to the Suburbs, although they haven't disappeared entirely. At least along Kimball, the primary influence is Middle Eastern/North African with long stretches of Arabic script. Good food abounds, of course.
Kerri K.
Albany Park is a culturally diverse neighborhood that incorporates modern conveniences with traditional expectations. Arranged conveniently next to the brown line Kedzie-Fransisco-Kimball stops, Albany Park is about a 35 minute commute from the downtown Chicago area making it an affordable option for those trying to save pennies.

Although not the most aesthetically pleasing community it does boast an abundance of housing and fast-food options.

One of the best features of Albany Park is Horner Park that is located at California &Irving Park roads. Horner runs parallel to the Chicago River and has a multitude of options for sport leagues & local fun. Horner Park even has an annual dog Easter egg contest!

Albany Park is home to many hard-working individuals that value family over amenities. To find a great spot to call home I would recommend anywhere West of Horner Park – this allows for a 5 minute walk to the train or decent parking options.
Ellis C.
Diversity abounds

If you take the winding CTA Brown Line all the way to its terminus, you'll find your self in Albany Park. Bordering the North Branch of the Chicago River, Albany Park is one of the most ethnically diverse neighborhoods in the city, second maybe only toRogers Park. On a single block you can see signs in Korean, Serbian, Arabic, and Spanish. Simply walking around the neighborhood can be endlessly interesting.

Full of brick bungalows and two-story apartments, housing is pretty cheap, and Albany Park is full of amenities like specialty grocery stores, great restaurants, and superb parks. A lack of bars or cafes probably keeps the younger crowd from moving in from nearby Lincoln Square, though. Albany Park is by no means a hip neighborhood, but it is certainly cool.
nabewise