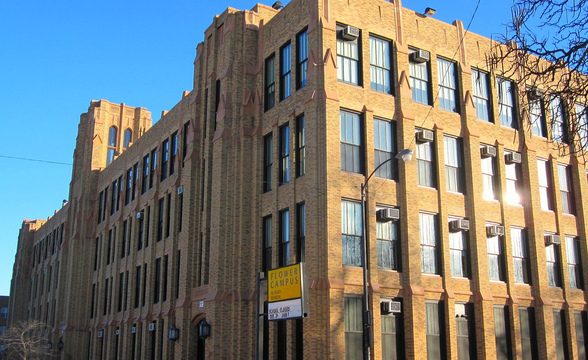 East Garfield Park
Infomation
Handsome brick flats line the streets of East Garfield Park and its pocket nabe Fifth City. East Garfield Park can brag that it's the home of the beautifully landscaped Garfield Park and the glass palace that contains the Garfield Park Conservatory. The Conservatory is an especially nice escape in the dead of winter when it's all too easy to forget the color green. Located due west of The Loop, the Green and Blue Lines provide fast access to downtown.
East Garfield Park, Chicago Data : Neighborhoods & Travel – Score out of 100
TOP ATTRIBUTES
Gentrifying 83
Public Transportation 65
Quiet 65
Blue Collar 65
Parking 60
LOWEST ATTRIBUTES
Shopping 40
Community 40
Safety 38
Families 33
Income 9
East Garfield Park, Chicago Reviews
On Deck for a Change
As with many Chicago nabes that lie west of the Loop and lakefront areas, Garfield park is most definitely on deck to get a "makeover" or in more realistic terms fall victim to gentrification. While it isn't one of the cleanest or safest areas, it plays host to, in my opinion, the most beautiful part of the city: the Garfield Park Conservatory.
My freshman year of college I took a class on Careers in Arts and Culture, and on the first day we took a field trip to the conservatory where they had installed Niki de Sainte Phalle's Niki in the Garden sculpture series. As I wandered through the fern room and the lily ponds (i have a serious thing for flowers), dragging my jaw passed every "Nana" sculpture (I also have an addiction to Niki de Sainte Phalle), I couldn't believe that this huge metropolis that I had just moved to could harbor such a peaceful oasis away from transit and crowded sidewalks. Ever since then I have made it a point to take the longest commute possible to the Conservatory about once a year with a few friends that took the same class with me (and, naturally, have a serious addiction to flowers).
What's awesome
Garfield Park Conservatory, easily accessible from the Green Line
What's not so awesome
Marianne L.
Not Quite "Up-and-Coming"
Though real estate speculators claim East Garfield Park will be the next hot neighborhood, right now it's just plain dangerous. While there are several new construction projects in the area, it's still a sketchy place, full of the usual crowd you can see moping around the United Center area. Gangs, drugs, prostitution, litter everywhere, kids roaming around unsupervised, loud music blasting from beat-up cars…this is not a place to live if you can help it.
Although it has a lot of natural advantages, like being close to the Ike, the conservatory, and beautiful preserved brick and graystone houses, I don't see this area gentrifying for another 10-20 years at lease.
Liz M.
E. Garfield Park is coming up in the world
It's got:
Great proximity to the loop with two El lines
Cheap rent in historic houses
High crime rate/gentrification allergy
Grit and decay
Not a super amount of character
The park and conservatory
Karyn
Struggling on the front lines of gentrification
Seemingly the next step in the war path of gentrification that has been raging west from The Loop, East Garfield Park (EGP) has been listed as one of the top ten up-and-coming neighborhoods in the city, but it's not quite there yet. Real estate speculators consistently find themselves looking at this nabe, only to move on to greener and more immediately satisfying pastures. This is not to say that the nabe is not gentrifying, it is, just a bit slower than other nabes in the area. The housing stock in EGP is impressive to say the least. There are a vast number of graystones and other 19th century housing that can be procured for exceptionally cheap prices.
By far the biggest highlight of this nabe is Garfield Park on the west side. This park is home to the Garfield Park Conservatory, widely considered to be one of the best conservatories in the country. In winter, it provides solace from the cold and drab appearance of the city by offering a whole lot of chlorophyl imbued plants to brighten one's day.
While this nabe is considered up-and-coming, it has work to do. There are very few restaurants and businesses and the crime-rate is noticeably higher than other nabes that have gone through the gentrification battle. However, if you were to buy real estate here, chances are good that in five to ten years the return on your investment will be large.
John S.
EGP's working to improve
Over the last few years, East Garfield Park's received quite a bit of buzz, thanks to one widely-noticed article by Business Week ranking EGP as one of the top Chicago revitalizing nabes. The question now is: "has this place really revived?" The answer is mixed. I'd say yes, it's on its way. Some new development (even cool condos) has popped in the area as of late and the community's excited about giving itself a make over. Understand if you're looking for a home here though that this is a work in progress. If you're interested in investing in real estate and toughing it out over a few years to get a real bang for your buck, check EGP out. If you're looking for some already-cushy living, this isn't the place for you yet.
Vickie W.
nabewise