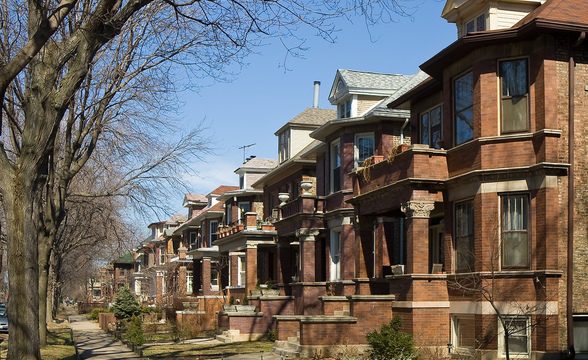 Edgewater
Infomation
Edgewater boasts beachfronts fit for the rich and famous. Seriously, back in the late 1800's, this northern nabe was the top summer getaway spot for Chicago's affluent ladies and gents. The beaches remain now, still spick-and-span, and edged with high rise apartment buildings and condos. Away from the sand, Edgewater is a chummy close community with summer block parties, lovely homes, and the second highest population density in the city. Andersonvillesits in its western portion. Edgewater's only bump is a mild parking challenge—public transit runs smoothly here though, so autos are no necessity.
Edgewater, Chicago Data : Neighborhoods & Travel – Score out of 100
TOP ATTRIBUTES
Public Transportation 82
Empty nesters 80
Green space 79
Community 75
Families 73
LOWEST ATTRIBUTES
Singles 50
Nightlife 46
Shopping 39
Income 23
Parking 21
Edgewater, Chicago Reviews
Multi: Cultural & Faceted
This is the most diverse community I have ever lived in. All sorts of colors, all sorts of incomes. Bordered by the Lake to the east, Rogers park to the north, Andersonville to the west and Uptown directly south. You get fabu gay boys walking teacup whathaveyous to old polish grannies heading to church. Super close to the El, the Lake, and the strip on N. Clark. You get that tucked-away small town feel with access to good food, theater and music close at hand.
Usually fairly quiet, except for the rush of the train, and the occasional yelling from the folks out front of Miss Ollies. But for the most part a very chill, super community oriented place to live. Block parties, screaming kids and yard sales abound in the summertime. Quiet, snow covered everything in winter.
One thing. There are a LOT of potholes.
Jess
Not to be confused with Rogers Park
My first visit to Edgewater, I wasn't terribly impressed. Just south of Loyola, where most of my friends went to school, I realized that I had never been that far north for reasons other than a party or a house show. As a result, I had never seen this part of the city in the daylight and let me say, I was pleasantly surprised at how lively the entire nabe is.
Conveniently located off of the Redline, getting there is easy, but if you're driving you can just forget about finding a parking space. The streets are narrow and densely packed, as is the area itself. I found it much easier to bike up from Lakeview for about twenty minutes. There are some great art spaces popping up around Thorndale and Bryn Mawr, and while many people mistake Edgewater for Rogers Park, it is a pocket of progress in its own right.
Overall its a really great community oriented area. The area is surprisingly more multicultural than one might assume, with many African families residing in the heart of it all. There are great restaurants of all variations from Indian to Ethiopian. The lake is just east of the train and in the summer, the availability of beach space beats trying to find a spot down on North Avenue.
What's awesome
What's not so awesome
limited parking
Marianne L.
Lake Views at Reasonable Prices
If you want a relatively new studio apartment overlooking a the Lake, but don't want to pay the prices of Lincoln Park or Lakeview to the south, then look no further than East Edgewater. Home primarily to retirees and Loyola students, Edgewater is a pretty, safe neighborhood with good public transportation access and lots of undercrowded beaches.
Problems: parking, dense traffic on Lakeshore Drive/Sheridan Rd during Rush hour, a few sketchy rehab centers and halfway houses, some shady characters that drift east from Rogers Park/Devon Ave.
Liz M.
Cote d'Afrique in Chicago
Edgewater is a beautiful classic community on the lakefront with a diverse culture from as far east as the lake to the gorgeous gay enclave Andersonville in the west.
Pros
Ethnically and culturally diverse
Lakefront
Redline
Cheap for this far East
Greenspace
Beautiful houses
Safe space for affluent gays
Cons
Can be expensive
Safety is an issue
Some parts suffer from neglect
Way way far North
Michael
Close to the Lake, far from Civilization (Downtown)
Edgewater is for waiting on a morning bus, going to Jewel after work for some frozen products, heating said frozen dinner, TV, shower, then bed. There is a blip of life in the after-hours scene- but much progress needs to be done before we're a "destination neighborhood."
Mike O.
I lived here for two years, it's the only neighborhood that I've stayed in for more than one year. It's a beautiful neighborhood, close to the lake, nice restaurants in the area, right by the Red Line. What's not to like? Right, the parking. Edgewater is the most densely populated neighborhood in the entire city. Often when I would get home from work it would take me 45 minutes to sometimes an hour and a half to find somewhere to park (not to mention I ended up with over $1200 in parking tickets during my 2 year stay), if you're coming home from a late night after 11 pm, forget it, you're screwed.
Other than that, people there are really nice, it's pretty artsy, and if you don't have a car you're great.
Cristin Z.
nabewise