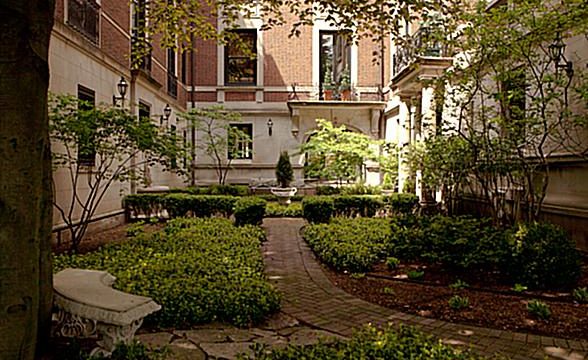 Gold Coast
Gold Coast is an aptly named nabe. A prestigious mix of high rise apartments, condos, and old chateau homes, Gold Coast is located just north of The Loop. Its residents are quite proud of their immaculate community—complete with beachfront, leisurely Lake Shore Drive, elite cuisine, and some of the finest shopping opportunities in the nation (the retail spread is often compared to Rodeo Drive). Their architecture is high-rolling as well: Gold Coast's Charnley Persky House was designed in part by Frank Lloyd Wright.
Lowest Attributes
Seniors
Green space 64
Community 58
Quiet 57
Parking 25
Roy Davis
Gold Coast; the name says it all!

I am in the Gold Coast often for work and leisure, and have always enjoyed this area. The Gold Coast has a world class selection in just about every category there is; restaurants, clubs, retail, high end everything. I am usually in the Gold Coast showing homes for sale or lease, and believe me some of the most amazing properties in the world are located here. There are also more affordable options, although it's definitely not the norm in the Gold Coast. The shopping on Oak St is considered to be on the level of Rodeo Drive in LA or 5th Ave in Manhattan – in fact there are several stores on Oak St that you cannot find anywhere else in the USA. If you love to eat exceptional food, this is also the place to look; the mix of restaurants is incredible, from great neighborhood deli's to five star gourmet's. Parking is a major issue, but there are plenty of garages to choose from. The cost of living is also higher in the Gold Coast than in just about any other area of the city, so if you're looking to pinch pennies, it could rub you the wrong way. Overall, the proximity to the Lake, Loop and opportunity to live close to some of Chicago's most distinguished residents make this area truly 'Golden'.
Marianne L.
Might as well be Platinum

The name really does say it all. Come to Chicago and go in search of the elite, just beeline for this nabe. Situated just north of the Magnificent Mile, the Gold Coast hosts historic homes that hit the multi million dollar range, designer stores, imported car dealerships and of course, lakefront views from fancy high rises. However, there are a few affordable pockets of this nabe for those of us with much smaller incomes near Division and State.

Oh! Who could forget the ever creepy Viagra Triangle? Young ladies, strap on your tightest dress and highest heels if you're in the market for a sugar daddy.

What's awesome

beach, shopping, great restaurants

What's not so awesome

ridiculously expensive, viagra triangle, impossible to drive around
Lissa Weinstein
No Better Place to Own a Poodle

Chicago's Gold Coast is the epitome of fabulous living in Chicago. Its definitely the chicest and most international area in the city.

Where else can you coffee at Public, shop on Oak Street & the One Mag Mile, stop by nearby Green City Market for some organic veggies and then have a margarita at Castaways on the beach… all in one very busy day?

Housing options are just as wonderful. From vintage, pre-war apartments that are often (coop) well located with grand proportions and architecture, but may or may not have parking onsite (209 E. Lake Shore Drive, 1340 N. State Parkway, 1500 N. Astor), to second tier buildings from the 50's-70's that may need some updating, to luxury new construction such as the Elysian, the Palmolive, 50 E. Chestnut, and 65 E. Goethe.

I think of the neighborhood as containing 2 parts, the historical section – from North Ave. to Oak Street, with it delightful walks by the lake, smaller streets, and vintage mansions and rowhomes; and then the newer section (from Oak St to Chicago Ave), with its fabulous see-and-be-seen vibe, designer shops and boutiquey cafes and al fresco dining.

Schools, of course, are well-situated and include the Latin School of Chicago, Chicago Grammar School and Odgen International, to name a few.

Land is at a premier here, so expect to pay top dollar if you'd like to reside in a beautiful single family home. Parking is also at a premium in the Gold Coast. But there are many and various condo and apartment rental options available and plenty of parking to rent.

Top picks? Astor Street for homes. Public, Table 52, Le Colonial, The Original Pancake House, Ashkenaz Deli, RL, Nomi, and The Cape Cod Room for dining & hanging out. Lululemon (workout gear) & Collin of London for Brazilian Blowouts.

What's awesome

People walking well-groomed poodles down Astor Street.
Liz M.
Bleeping Golden…

Ah, the Gold Coast. Where every Chicagoan dreams of living after they win the Powerball or save Oprah's life in a freak shopping accident one day and reap millions of dollars in gratitude (hey, a girl can dream…)

This is a multi-million dollar neighborhood, full of high-rise condos full of high-class folks. Pristine, safe, close to most of Chicago's landmarks, beaches, and the Mag Mile—the only drawbacks are the extreme lack of parking space and the cranky septuagenarian millionaire neighbors.

The neighborhood is home to an area referred to as the "Viagra Triangle": the bars near the intersection of State and Rush where older gentlemen seek to ply the younger, Botoxed hordes of women with overpriced drinks and the promise of a Gold Coast address.

What's awesome

What's not so awesome

Cost, Old People Who Can't Drive
Neel P.
Good as Gold

With a history as rich as its name implies, the Gold Coast District is one of the most affluent neighborhoods in the country. Comprised primarily of expensive town-homes and exclusive high-rises, this glittering community straddles Lake Shore Drive and borders the famous "Magnificent Mile". Gold Coast offers a classic yet eclectic mix of fashion, food, and nightlife. With high-end retail, sumptuous boutiques, trendy restaurants, and quirky bars, there's plenty of worthy distractions around. If you're a night owl, Rush and Division is the place to be, where bars are open till dawn and breakfast is right around the corner. Great food is never hard to find. Restaurants like Carmine's, Tavern on Rush, and Gibson's Steakhouse are classic examples of traditional fare, while more contemporary eateries such as Le Colonial and Tsunami appeal to the more progressive palate. Whether you're in the mood for classic American or contemporary Asian, you'll find a variety of restaurants right in the heart of the Gold Coast District. But amenities like these don't come without a price tag. Perhaps the least charming feature of this community is its rising rent. The Gold Coast is one of the most expensive districts in Chicago- and unfortunately, for renters, the cost of living isn't always proportional to its quality. Unlike the ever-expandingSouth Loop, with its affordable lofts made of glass and steel, the Gold Coast is plagued by older buildings, outdated units, and overpriced studios. But that doesn't dissuade everyone from living here. If you decide to move to the Gold Coast, you can expect to be surrounded by a diverse group of neighbors, from wealthy old women with Fendi bags, to yuppies and their puppies, to the occasional student living in a box-sized studio. People from all walks of life traverse Rush Street every morning. Local attractions include Oak Street Beach, Water Tower, and the John Hancock Building, but you'll need to bring cab fare, because public transportation is limited. If you're looking for an exciting area with plenty of shopping and nightlife, then Gold Coast is the neighborhood for you, but if the price tag is beyond your means, it's always just a cab ride away.
Amanda H.
Gold Coast

The Gold Coast is the wealthiest neighborhood in Chicago. I dont understand how anyone can think this part of Chicago is quiet. It's anything but quiet.
Chicago's Gold Coast Beaches are beautiful, but constantly swarming with people. Little children running around, people playing beach ball… not very quiet. The Gold Coast consists mostly of high-rise apartment buildings on Lake Shore Drive, facing Lake Michigan, but also includes low-rise residential blocks. As you can imagine, a big city is never quiet. If one wats peace, this is not the place to find it.
Diana S.
Chicago's Gold Coast Rocks

The name alone jolts the imagination with images of a gorgeous coastline, beautiful people, and well-groomed dogs. If you agree, visiting the neighborhood you won't be disappointed. A mixture of mansions, row houses, and high-rise apartments fuse the hustle of the city with the resort-like feel of the miles of sand along Lake Michigan.

The neighborhood is often quoted as the second most-affluent neighborhood in the US (after Manhattan's Upper East Side). It's a bit of a dubious claim to fame since the cost of living (or at least renting) an apartment on the Gold Coast is nowhere near the cost of a comparable space on the Upper East. Prices aside, I'd much prefer living on the Gold Coast along the magnificent water views of Lake Michigan with a beach right outside my window than enclosed in a tiny space on the Upper East Side in Manhattan.
Sean M.
Follow the yellow brick road

Ah, the Gold Coast. The wealthiest neighborhood in Chicago. I sometimes like to wander in hopes I am picked up my a sugar momma.

Walking through the Gold Coast is like flipping through a GQ magazine. There are beautiful people everywhere, exotic cars zipping around, and when you're there, you just "feel" successful. If you're a borderline starving musician like me, coming here can be a blow to your self-esteem, but sometimes a blow to your self-esteem is an afrodisiac. Well, not really, but if it was, the Gold Coast would be the new oyster.

The people that live here tend to be pretty wealthy, successful and business-minded. This goes without saying, the neighborhood is extremely safe, pleasant, and a joy to be in, but plan on pulling in the big bucks if you want to live here.

The crowd tends to be older, married couples who have families and are serious about their careers. This is where people who are kicking butt in life aspire to live.
nabewise