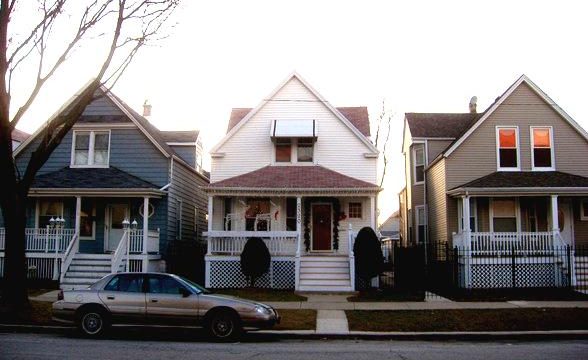 Hermosa
Hermosa is a cute nabe on Chicago's northwest side with streets packed full of brownstones and greystones, along with some bungalows for good measure. This is a densely populated nabe (nearly 27,000 people in an area slightly over one square mile). A couple of nice but smallish parks, and a smattering of restaurants round out this nabe. A Metra rail stop provides quick public transport to The Loopand beyond.
Hermosa Data
Hermosa Reviews
Marianne L.
Hermosa

Located on the west side just neighboring Logan Square, Hermosa is a charming little residential nabe all in its own. The area is largely Puerto Rican and Mexican and hosts a wide variety of great restaurants, but that is about it for visiting entertainment. The most widely known claim to fame is that this nabe is the birthplace of Walt Disney, although the family did not reside here very long before relocating to Kansas. However, the home remains intact.

Like many nabes on the outskirts of the city, Hermosa has a reputation for crime, but that should not dissuade anyone from venturing there.
Ellis C.
Hermosa

With the name "Hermosa" you'd expect there to be a lot of Spanish-speaking residents—and you'd be right! Except the name dates back to before 1889, when the neighborhood was mostly Swedish and German, and it wasn't until the end of the 20th century that Hermosa became mostly Puerto Rican and Mexican. This relatively small neighborhood isn't one of Chicago's liveliest, but it's got a good selection of Mexican restaurants and a few shops, which is more than some neighborhoods can boast.

Hermosa is the birthplace of none other than Walt Disney, whose non-descript childhood home still stands on a quiet leafy street.
John S.
Great food, but an unjust bad reputation

Hermosa seems to have a reputation for being a bit of a violent nabe, but this seems to not really be the case. While there is violence in this nabe at rates slightly above the city average, its not really that big of concern. Instead what you find in this nabe are gorgeous tree-lined streets and interesting brown and greystone housing densely packed together like sardines. This nabe feels kind of like parts of Brooklyn in its density of brownstone housing and relative lack of bungalows—which seem to be the housing unit of choice for Chicago and are widely recognized as such.

Ethnically a hispanic nabe, with the vast majority of residents coming from Mexican or Puerto Rican heritage, Hermosa has a latin flair to it that is its own. According to locals, some of the best mexican and hispanic fair in Chicago can be procured in this nabe from any one of the multitudes of taquerias and interesting restaurants that dot the nabe.