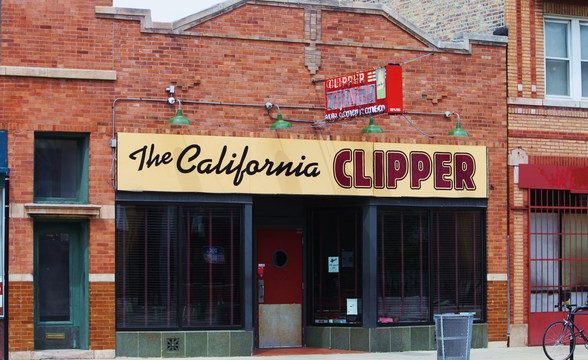 Humboldt Park
Often referred to as Little Puerto Rico, Humboldt Park is one of West Town's quieter nabes. Home to a combination of brick bungalows and apartment buildings, this nabe has dining options scattered all over the place, and amazing recreation and entertainment opportunities year round at its namesake 207 acre park: ice skating in the winter and outdoor concerts on summer nights. This nabe is a great choice for those looking to live in a calmer, less trendy area of West Town.
Data : Neighborhoods & Travel – Score out of 100
TOP ATTRIBUTES
Green space 88
Community 79
Artists/Creatives 75
Pet friendly 75
Gentrifying 75
LOWEST ATTRIBUTES
Families 46
Shopping 38
Empty nesters 33
Seniors 22
Income 7
Reviews
Joseph H.
Humboldt Park is an underrated neighborhood. While lacking the scene and nightlife of nearby Wicker Park and Logan Square, it more than makes up for it in a sense of community. As a center of Puerto Rican life, Humboldt Park feels much more like a "neighborhood" than many others in this part of the city. While the area is gentrifying and hipsterizing, it is doing so relatively slowly. With its exceptionally low rents, Humboldt Park is great alternative for those looking to enjoy the West Town scene without breaking the bank.

The highlight of living in this neighborhood is probably the eponymous park. It's easily one of the best parks in the city. It's huge and beautiful, the perfect place to while away lazy summer days or have a snowball fight in the Winter.

There are a lot of very good ethnic restaurants here, though those seeking something fancier will probably end up exploring other areas. The nightlife is somewhat limited as well. There are a few hot spots, but most will likely end up going out elsewhere. The Blue Line is not too far away, though most residents will probably end up taking the bus more often.

The main drawback to this neighborhood is safety. While the Northeast section (between Chicago and North and Kedzie and Division) is basically safe, going further West and especially South can be dangerous. And while the areas adjacent to Wicker Park are fairly clean and nice, some of the other areas show some obvious signs of urban decay.
Marianne L.
Humboldt Park

While my time in Humboldt Park was not typically spent checking out all of the great restaurants and really taking in the culture that it has come to represent, I did find myself navigating through the expansive park (over 200 acres). One thing is for sure: this is not a place to go in search of the most up and coming joints in the city. This nabe, a pocket of West Town, is quieter despite is gang related reputation and as of late, more and more families are beginning to migrate westward. Unfortunately, the big bad gentrifying nature of big cities has somewhat edged its way in off of North Ave and Humboldt Blvd, but the community is so tight knit that there have been active means taken to slow and even stop the process.
Gregory C.
Humboldt Park if only.

I lived in Humboldt Park for three years and would have stayed but cuts in the CTAmade it difficult to reach. In the Spring, Summer and Fall it can be wonderful as I lived across the street from the Park itself. The Gangs still roam and seem to be active mostly in the Summer. Lots of "harmless" junkies still roaming the area. There are great little grocery stores, the 72 bus is a direct line to the beach in the Summer and cool little bars abound. It would be good to remember the Humboldt Park is a Puerto Rican neighborhood,, so calling them Mexican is a no no.
Stephanie H.
Green Space In The City

Located on the west side of Chicago, the Humboldt Park neighborhood features one of the most impressive expanses of green space in the city. The park itself is more than 200 acres and has multiple tennis courts, baseball diamonds, running trails and open fields that fill with soccer players on summer weekends. The park also has several bodies of water, including (on the west side of Humboldt Blvd.) a small public beach open during the summer season.

Humboldt Park is home to a large, well-organized Puerto Rican population. The main business corridor — known as Paseo Boricua — runs down Division St. between California and Western Aves. and is home to numerous Puerto Rican businesses.

Once known for gangs and violence, Humboldt Park is now a friendly and affordable place for young families to live — although many new residents are probably hipsters displaced by escalating real estate prices in Wicker Park and Bucktown. Wicker Park's businesses and residents spill into the east edges of Humboldt Park — on Division and North Aves. between Damen and Western — and are changing the face of this neighborhood. As you travel farther west beyond Kedzie Blvd., however, the neighborhood's older rough edges are still apparent.

Proximity to the Blue Line's Damon stop (in Wicker Park) and numerous CTA bus lines make downtown easily accessible. The North Ave. bus is a straight shot to the Blue Line at Wicker Park. and the area is only a twenty minute bike ride (on designated bike lanes) to the loop. Street parking is usually plentiful for those with cars.

In addition to the impressive park, residents and visitors alike will enjoy local faves, Maiz (incredible, inexpensive Mexican fare), the California Clipper (cool retro watering hole), and Rootstock (wine, beer and gastro-pub style food) — as well as the many other new businesses making this up-and-coming locale their home.
Vickie W.
Humboldt Park: Community and Beautiful Green
Humboldt Park's Puerto Rican heritage gives this neighborhood an amazing sense of longevity and community, more so than some of the other neighborhoods in West Town that are composed more of singles, artists, and people new to the area. The park itself is one of the most desirable parks in all of Chicago—I can understand why anyone would choose Humboldt Park as their home, if only to have such an amazing green space within walking distance.
nabewise