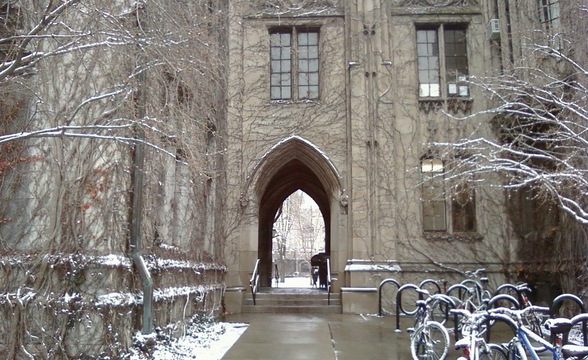 Hyde Park
Infomation
Located on Chicago's south side and bound by Lake Michigan to the east, Hyde Park is most defined by the school it houses—the University of Chicago. Hyde Park is home to many museums; students and professors populate the area's spotted bars and eating establishments, giving this nabe a truly academic mood. The high student population also gives this nabe an abundance of renting opportunities. Hyde Park is generally quiet and calm, all the better for studying. Living in such a knowledgeable locale can certainly help you along in life though—this nabe was President Obama's home before he moved to the White House.
Hyde Park, Chicago Data : Neighborhoods & Travel – Score out of 100
LOWEST ATTRIBUTES
Safety 50
Nightlife 39
Singles 38
Income 32
Shopping 25
Hyde Park, Chicago Reviews
Charming and Studious
University of Chicago claims much of the notoriety when Hyde Park is considered, but this nabe really is a beautiful area to visit. While the majority of the residents are students that come and go as academic years begin and end, the inhabitants who have lived here for years enable the area to continue thriving. Much quieter than other areas of the city, many more people have come to visit post Obama craze due to the fact that he has a home here.
While the area has many historic buildings and houses, the urban renewal has not benefited the permanent residents as much as the University, which owns a large portion of the nabe and continues to encroach on the community.
Overall, there are a few key spots to hit up such as Powell's bookstore, and Promontory Point at Lake Michigan.
Marianne L.
Grad School
Hyde Park consists of basically two populations: those affiliated with the UofC and those that aren't. I went to grad school at the UofC and I loved my time there, but I wouldn't say that the natives of the neighborhood are always pleased about the transient population of students.
Jeremy G.
Boring AND Beautiful
Hyde Park is boring. I lived there for years, and I was ever so glad to leave. But here's the thing, I actually kind of miss it. Sure, it's quiet, everything but Walgreens and the three bars closes by ten, and it is almost impossible to get anywhere via public transportation. It's also beautiful, unique, and has a profound sense and pride of place.
The entire neighborhood seems to revolve around the University of Chicago, and that can be alienating, even for those caught up in it. The U of C is known for being demanding and the feeling that social life revolves around the library doesn't exactly promote happiness. However, if you take a step back, Hyde Park, including UChicago, has great things to offer. The gorgeous Gothic architecture of the campus, for one, never stops being breath-taking. Moreover, the intellectualism promoted by the university may not be for everyone, but it does mean that Hyde Park has some of the best bookstores in the city. My personal favorite, 57th St. Books, is both welcoming and cozy and encourages that feeling of wonder and possibility that only books can bring. For the creatively-inclined, the Hyde Park Art Center offers a variety of options—drawing class was always the highlight of my week. Right next door, Istria Cafe is a perfect place to sit and read or write for a while (their coffee and sandwiches are great, too).
So yes, life in Hyde Park is slower than in other parts of the city, and ultimately, I'm glad to have moved, but it does have some perks. It's harder to find a prettier neighborhood, from the university campus to the wonderful Promontory Point, with its excellent view of the skyline, and there are a plethora of quiet places to read or think. Last but not least, people in Hyde Park are proud of their neighborhood, particularly since the election of President Obama, who used to live right around the corner. Wait staff at the Medici Restaurant now sport t-shirts saying "Obama eats here!" And if it's good enough for the President, maybe Hyde Park deserves a second chance in spite of its shortcomings.
Alex H.
Charming Nabe, Good For Students And Visits
Ask a resident of the South Side about Hyde Park and they'll likely reference the University of Chicago in their response. Ask someone from the North Side and you'll likely get a quizzical look and hear that they've never been that far south and don't know of any particular reason to visit.
There is some truth in both of these impressions. The University owns an extensive amount of property, directly or indirectly employs much of the surrounding community, and students heavily influence the local culture. Because of this you won't find the same kind of shopping, dining, and nightlife that you might in trendier neighborhoods.
However, despite these caveats, Hyde Park does posses a charming character and offers a number of attractions. While the nightlife is limited, a number of watering holes do exist. The best of these establishments is The Woodlawn Tap, located at 1172 E. 55th street, and better known as Jimmy's after the longtime owner. The bar doesn't seem like much just from looking, but its a favorite haunt of both students and professors. This means the conversation is always interesting and you have a chance of catching a Nobel Laureate explaining the finer points of game theory, or at least what he can remember of it after a few pitchers.
Another late nigh draw is the Checkerboard Lounge, located at 5201 S. Harper, home to blues and jazz music 5 nights of the week. Hyde Park is known as a historic home of the two genres in Chicago, but during a gentrification push in the 1960's and 70's the University forced many of the bars and clubs out of the neighborhood. Thankfully the Checkerboard is still up and hopping, and has close connections with the wonderful Hyde Park Jazz Society.
For those more active during the day, there is always the world famous Museum of Science and Industry just off of Lakeshore Drive at 57th. From classic exhibits like the World War II sub and Pioneer Zephyr train to the new Smart Home showcasing the latest in green and sustainable technologies there is always something to see at the Museum. The Oriental Institute on the U of C campus is home to an impressive collection of archaeological finds from the Near East, many of them unearthed by University archaeologists. Film junkies will note that Indiana Jones taught at the U of C, presumably meaning he was a Hyde Park resident, at least between films.
For sunny afternoons check out the the Promontory Point and 57th street beach, where locals go to beat the heat and get great views of the skyline. The lakeshore trail runs right next to both, making it easy to go on a walk, run, or cycle ride. Hit up Hyde Park Produce at Kimbark Plaza first to pick up picnic materials and a bottle of wine. Or take your pick of Thai, Middle Eastern, Korean, or Japense restaurants on 55th street a few blocks from the point.
For those contemplating living in Hyde Park instead of just visiting there are a variety of options. Renting in Hyde Park often means living in a building managed by MACapartments. They own the largest number of buildings and offer apartments in all sizes and price ranges. Be aware that many residents claim their customer service and maintenance departments leave something to be desired. Smaller companies and private landlords may offer quicker service, but also can have restrictions of their own. Vintage and newer construction condos are available for those looking to buy instead of rent. Single family homes can be found as well but they definitely do not come cheap.
Concerning transportation Hyde Park is served by numerous bus routes and public transit options. The #6 bus runs along Hyde Park and Lake Park avenues before running express to Michigan Ave. A Metra line also runs through Hyde Park, providing 15 minute trips to the loop frequently throughout the day and evening. Late night take the #55 bus to the Red Line at Garfield and then to downtown, or vice versa. Be prepared to wait up to 30 minutes for the bus at night though. Pay and side street parking are both readily available as well, and Lakeshore drive as well as 90/94 are nearby.
The people you'll meet in Hyde Park are an eclectic mix of young and old, affluent and lowerclass, students who make it a temporary home, and neighborhood veterans who will give you a history lesson while perhaps pouring out a libation for long lost institutions like the Beehive Lounge, where Thelonious Monk once played. The students range from library shutins to cigarette smoking hipsters to witty intellectuals, with a smaller minority of athletes and frat brothers than other colleges in the city. The neighborhood is relatively calm and quiet, but there can be safety concerns at night, so use common sense.
Overall Hyde Park is an entertaining place with a number of cultural amenities and attractions to offer. If you're looking for a tranquil and peaceful setting to call home, Hyde Park is a safe bet. However for those younger and not affiliated with the university, it's a worthwhile place to visit, but maybe not exciting enough to live in.
Will V.
The brains that run the city
Hyde Park, located just south of the loop, is home to one the best universities in the country, The University of Chicago. If you're looking for the smarties, look no further.
While I haven't had the privilege of seeing all of Hyde Park, I think it is safe to say that the nightlife and shopping here is pretty bland. The reason for this is so that the student's can focus more on their education without getting sidetracked by fun. In all seriousness, the neighborhood is quiet, and suitable for what it is, an education hot spot.
Hyde Park is very affordable compared to other areas of the city. This is great because it is right on the water. Even though this is the case, I didn't feel as safe as I did on the north side of the loop. Mainly because there are less people.
Hyde Park is easily accessible by El or by car. Less foot traffic makes it much easier to get around.
If you're looking to up your IQ, Hyde Park is the place for you.
Sean M.
Students Galore
Hyde Park, home to the University of Chicago, is a mix of quiet, residential streets, restaurants and businesses, and University buildings. It's populated by families, professors, and of course many students. The gorgeous Gothic architecture of the University campus is an interesting accent. While there are few opportunities for shopping, there are plenty of mid-range restaurants in the area.
Washington Park located to the west, Jackson Park to the south, the Point on the shore of Lake Michigan, and the Midway all provide plenty of grass and greenery to the neighborhood. And the 57th street beach is another nice getaway from urbanity. In addition to the University campus, Frank Lloyd Wright's Robie House is an architectural highlight, and the Museum of Science and Industry is also located in Hyde Park. Still, there is relatively little to draw visitors, especially from other parts of Chicago, into the neighborhood.
Hyde Park has several CTA options; it's just a short bus or train ride to the Loop, and there are three bus routes that run just around the Hyde Park area.
Although crime is never too far away, the neighborhood feels very safe. The area is covered not just by the Chicago police, but by the University police as well.
It's an excellent location, with easy access to downtown Chicago, a beautiful view of Lake Michigan, and plenty of historical buildings. And the people are an interesting blend: the quirky, hipster, extremely liberal student body mixed with plenty of families.
Maggie B.
nabewise