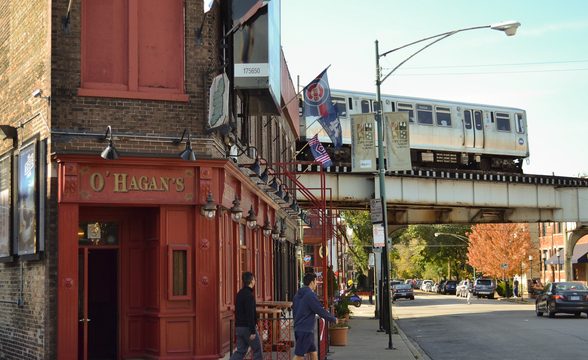 lakeview
The most densely populated area in the entire Midwest, Lakeview knows how to pack its people in tight.This nabe is a mix of busy commercial corridors and dapper residential backstreets. Lakeview is a classic hustle-bustle city spot. It's one of the best places to people watch, and with Chicago pillars like Wrigley Field and Lake Michigan views, it's one of the city's most archetypal nabes. The one thing that's not in abundance here? Parking spots.
Top Attributes
Public Transportation 9.5
lakeview Reviews
Marianne L.
Lakeview

I spent a year living here, next to Wrigley Field actually, and I can't say that I don't still find Lakeview appealing. Some pockets, like Wrigleyville, aren't as great due to the huge presence of drunk cubs fans all year long, but others are far more interesting and livable.

One of my most memorable experiences would have to be Pride Parade that occurs inBoystown in East Lakeview. What I did not expect was the huge spill over fromBoystown to Wrigley, a rare occurrence mind you. I mean when do you see a guy dressed in daisy dukes and suspenders dancing at a sports bar? Seriously, when?

Aside from the obviously variety of people that make up the entirety of Lakeview, there are many more residential areas that almost remind me of smaller city suburbs without the picket fence aspect. Lots of families call this area home, and there is no shortage of parks and access to the lakefront. This is one of the few neighborhoods I've lived in with extremely close grocery shopping options like Whole Foods and Jewel within a block of each other (and my apartment). Unlike posh shopping options in downtown Chicago, you can pop down to Belmont and Clark for some unique and/or promiscuous finds, bookstores and record stores. Or hit up the Southport Corridor for something a little more high end. Either way, its hard not appreciate how vast the area is, you can find something for anyone.
Lissa Weinstein
A Little Boho, a Little Suburban

Lakeview is the area just north of Lincoln Park that is also situated on the lake.

It extends from the lake west all the way to the Clyborn Corridor, and includes lots of little neighborhoods, such as Wrigleyville, Boystown, Southport Corridor, Ravenswoodand Roscoe Village.

I often recommend Lakeview to people who want to live by the lake, but not pay top shelf dollar for a single family home. Lakeview also has varied school options, from Blaine and Burley to Chicago City Day School, Montessori and Nettlehurst to name a few.

Lakeview is as diverse and unique as its many niche streets and sections. Where else can women sunbathe topless as if they were in France?

The housing styles are similarly varied. There are areas near the lake where old historic turn-of-the-century mansions on enormous lots were built and still stand, shoulder-to-shoulder with high-rise buildings from the 60's and 70's. Then there all kinds of low-rises, 4+1's, vintage 2 and 3-flats, exquisite greystone apartment buildings, some grand and some diminutive, and streets lined with beautiful greystone single family homes with good-sized yards – a little piece of old world suburbia with a 10-15 minute drive to downtown.

Lakeview also has a healthy nightlife, so if you want to party, parts of Lincoln Avenue, Broadway and Halsted Street are your place. When selecting housing, make sure you know where the brown line and the red line stop – both for commuting and noise factors.

Fav's? – Landmark Century Cinema, Melrose Diner, Johnny Sprocket's Bikes, Intelligentsia Coffee, Diversey Driving Range & Diversey Tennis Center's Clay Courts.

What's awesome

Beautiful Vintage Greystone homes on oversized lots within a 10-15 minute drive of downtown & Landmark Century Cinema.
Erik C.
The Secret to Parking in Lakeview & Lincoln Park

Lakeview is known for many wonderful things from lakeside parks to street fests to amazing restaurants and bars; parking is not one of those things. Parking has long been the bane of Lakeview residents forced to commute each morning to work. Residents must choose from two options: 1) pay between $150-$200 per month for a tight parking spot located in some back alley or 2) take your chances on the streets. I have the joy of knowing first hand both options.
Paying for parking seems like the adult thing to do for most business professionals in the Lakeview area, but it's not as glorious as you might think. My car was dented and scratched several times by unscrupulous drivers and I spent way too much time attempting to squeeze my car into a tight spot and then squeeze my body out of the remaining 6-inches between my car door and the neighboring vehicle. Nightmares about pay-parking abound, including many stories of midnight tow trucks carting off your car if your parking pass isn't immediately changed by the first of the month. So, I've learned my lesson; I street park.
Many residents wrongly believe that a parking permit must be bought from the city of Chicago in order to park along the streets of Lakeview and Lincoln Park. In fact, no parking pass is required along the streets East of Clark between Fullerton and Belmont. Open spots are especially prevalent along Stockton (local Lakeshore) between Fullerton and Diversey. A skilled parker has only to cruise this stretch of road for ten-to-fifteen minutes in order to find a resident leaving their spot.
Another method frequently employed by daily commuters, like myself, is scoping out the evening parking spots. Evening parking spots like the three spots at Deming and Clark or the two spots at Hampden and Diversey are available between 5:00pm and 8:00am on weekdays and anytime during weekends. When I get home from work, I always check these spots first because they typically move fast.
Street parking is cheap, effective and a little competitive, but beware of temporary signs. Temporary signs go up unpredictably for construction, moving or just because the Alderman hates street parkers. When they are posted, you have 24-hours to move your car from the space or be ticketed $75.00. I make a point of running past my car on my daily jog to check for surprise signs. Also, check for street cleaning signs. Streets in Lincoln Park and Lakeview are cleaned once a month. If your car is on the street the day of cleaning, it will be ticketed and may be towed.
With the proper attention to detail and daily care, street parking is the secret to living with a car in Lakeview. So, stop paying hundreds of dollars to have your car remodeled by careless drivers and start street parking. Here's to happy hunting!

What's awesome

Empty Evening (5:00pm-8:00am) Parking Spots

What's not so awesome

Surprise "No Parking" Signs on Stockton
Liz M.
Young & Trendy Meets Classic Chicago Chic

Lakeview is where Chicago's young, rich, and hip come to play. Yoga studios sit side-by-side with trendy sports bars. The apartments are prewar, the streets are tree-lined, and trash cans are full of with empty Franzia boxes and Urban Outfitters receipts.

Wrigleyville is boisterous, rowdy, and has some of the best nightlife in the city. If you're celebrating a 21st birthday or just want to act like it, you can't do better than a bar crawl.

Rents vary widely and are priced to attract either young couples or large groups of students living together.
LaRay S.
Lakeview – Beauty, Bistros and the Best prices in Town

So you want to live in the city, but don't want to fight for parking. You want quiet, but nightlife, good food and shopping within walking distance. You want easy access to downtown chicago and the beauty of lake shore drive, but still be able to afford something more than a ramen noodle diet. Well my friend, you want to live in Chicago's Northside neighborhood more widely known as Community area 6, due to it bordering West Diversy Parkway, Lake Michigan, Uptown, Lincoln Square, North Center and Lincoln Park.

You will find some of the most reasonably price, yet ample spaced apartments, condos and homes in the Lakeview neighborhood. This is definitely a big bonus, but if you're like me, you want to know "what does Lakeview have to snack on?" Lakeview is home to some of the tastiest bakeries, cheesiest late night pizza spots, and numerous vegetarian friendly restaurants in the city. My favorite, which upon one visit will become your favorite is the hidden gem Zanzibar.

In addition to having it all, there is one element you will be happy NOT to have – and thats all of the noise of downtown chicago. Though you are just moments away from it all, the beauty of Lakeview is the quite nights. You definitely have your share of bars, clubs, parks, schools and all the entertainment you need, the design of Lakeview allows you to have quiet living communities that are walking distance to all your entertainment, culinary and shopping needs.

If that doesn't sell you, maybe being within walking distance to beautiful Lake Michigan will. Come and visit today, and you'll see why Lakeview is by far the best of all things Chicago.
Wales C.
Ok, I can't lie…this has to be one of the top neighborhoods for a 22 male newby-adult being jostled into the rest of the grown-up population. This nabe came as the top suggestion from all of my coworkers when they knew I wanted to be in the city, and I can say I was not led astray.

I'm finding it as almost another incubation stage with plenty of twenty somethings casually lingering here, also unsure of their first steps. Still, there are a lot of parents with young children and schools. I love it, it brings a toned-down, family feel to the neighborhood to counter balance the majority of young singles, like myself, that seek to descend from their dank studios into the midnight air to fatten the purses of local bar owners (plenty of those, you don't have to worry). They keep the place sane and the farmer's market coming every Saturday at Melrose and Broadway for a replenishing ration of veggies and fiber to my beer, pizza, bar food diet. Thank you mother-of-three, thank you.

I'm a quick trip to work in The Loop with plenty of buses/trains, but local residents will grind their teeth when a non-extended bus pulls up to the stop and the stranger sharing the curb next to you is suddenly sharing your trousers due to lack of space on the commute. This invasion of space is really only common on peak commute hours and the occasional cubs game/late night unlucky streak with people coming from the south to Wrigleyville.

The top attraction for a lazy Saturday is the large amount of consignment clothing stores and record shops; again, a counter-balance to the uppity, chic feel of Lincoln Park that is too rich for my blood on most nights.
Danielle
Surprises every day…

I lived on Clark and Belmont for two years while attending DePaul. Had the time of my life but blew all my money.

There's always something going on, you can really feel a pulse here.
Your tummy will always be happy, your ears always pleased, and if there's too much hustle and bustle for you the lakefront will help you clear your mind.
The neighborhood where I truly fell in love with this city. Can't wait to get back on my feet and move back.
Tom W.
Little West Lakeview could be nothing further from its sister pocket nabe, Wrigleyville. While one has a baseball field and sports culture, the other has a little square of grass called Chi Che Wang Park, which has little to no features and few sports. However, this quiet community enjoys a nighlife that flanks it on the borders of Ashland Ave and Belmont.
Deb E.
New Nabe for Trendy Families

West Lakeview is quickly becoming one of the new top spots for trendy Chicagoans to raise a family. It's often compared to Roscoe Village nearby and sometimes evenLincoln Park. In other words, it's a place for a family with a well-established income that's looking to still be a bit 'with it.' While it's quiet here, and there's plenty of options for family-oriented real estate, fine dining and nice bars are close by—a night out on the town is only a quick babysitter call away.
Elizabeth S.
West Lakeview more 'grown-up' than East Lakeview

Lakeview may be known for the boisterous Wrigley Field area, but it's not all like that. I moved to West Lakeview just over a year ago, and I was shocked at how quiet the area was! Granted, its near the more family-friendly neighborhood of Roscoe Village, but its still a huge mix of people. I live in a building with other late 20-somethings and students, but there's also plenty of single family homes in the area, too.

West Lakeview is typically considered south of Addison, west of Southport (where there are some stellar bars and restaurants, like Coobah), north of Belmont, and east of Ravenswood.

The parking, too, is much better over on the West side than in East Lakeview. There's still the perk of resident parking during Cubs night games, but rarely will it be difficult to find a spot, even on the weekends when people from the suburbs tend to flood the area bars.

Even with the quieter atmosphere, there's plenty to do. In addition to bars, such as Waterhouse Tavern, there's tons of grocery shopping with a Jewel, Whole Foods, Trader Joe's, and my favorite, Paulina Meat Market.

Transportation, too, is easy with the brown line wrapping itself around the neighborhood.
West Lakeview may be slightly pricier than East Lakeview, but the location is to die for. It's got everything anybody could want all within blocks. Did I forget to mention Dinkel's Bakery? Because that's here, too, and it's perfect for a Sunday morning treat!
Matthew A.
Lakeview: There's a little bit of fun for everyone

Lakeview is a fairly diverse neighborhood encompassing a massive chunk of the Northside of Chicago. While the area is filled with a large number of twenty-somethings, the area is welcoming to younger students, older professionals, and even families. The neighborhood is definitely known for its openness and bohemian style attitude towards life, accepting new ideas and people to join the community. Lakeview is filled with ethnically diverse dining options ranging from reasonably priced cuisine such as a simple falafel sandwich (Sinbad's) to the more expensive yet tasty options (Socca). The nightlife in the area has everything from gay bars/clubs (Berlin) to comedy clubs and even English/Irish style pubs. One of the best features of this area is definitely the availability to CTA public transit. Lakeview offers the Red/Brown/Purple "l" trains as well as countless other bus options linking you to most places in the city. This is definitely a fantastic place to live in Chicago!
Roy Davis
Lakeview, a great place to live and work!

I lived in Lakeview for over ten years, and worked there for another 6 or 7 years, and both experiences were generally very good. The location is wonderful; Cubs Park, Lake/Beach, Golf, LSD (Lake Shore Drive), Restaurants, Clubs, Theatres, Fun, etc etc. There is a great mix of many different types of folks in the area, and people watching can be addicting in Lakeview. Many of my long term friendships were made in this neighborhood, and it's easy to meet new people if you're open and talkative. The parking is one of the tougher elements of the area, but there are meters, standing zones for passenger loading, and if you are a resident you can purchase the 'zone' parking permit inexpensively (along with guest passes). Whether you are living in another Chicago neighborhood and looking for a new area, or moving from out of town, I would strongly encourage you to consider Lakeview as your new home!
Francoise "Fran" B.
Lakeview – Great Amenities That Come with a Price

Lakeview is a terrific area of Chicago to visit during the day or at night. There's the lakefront and several commercial districts catering to a wide variety of tastes. Wrigley Field where the Chicago Cubs Baseball Team plays is also in Lakeview. There's a variety of grocery and retail stores including a Whole Foods which opened a couple of years ago. With so many commercial areas you might think that Lakeview is pretty noisy, but its amazing quiet once you get on the side streets.

Lakeview has some of the best public transportation options in the city with both the Red Line and Brown Line. It has some of the top rated elementary schools in Chicago including Blaine, Burley, Bell and Nettlehorst. Lakeview also has a wide variety of housing types from lakefront high rises to 3 – 4 unit condos to vintage homes.

All the features that make Lakeview so desirable also make it one of the more expensive areas in the city. As a Realtor I've worked with many clients who would love to buy a home in Lakeview, but can't afford the amount of home they need here. My clients who have bought in Lakeview love it!
Paula C.
Lakeview: a little pick me up.

My friend and I drove from Massachusetts to California a few times, and on two occasions were lucky enough to have a friend living in Chicago to stay with. She lived in Lakeview near Wrigley Stadium and had quite the view. The first night we arrived around 1 a.m. and were starving so she took us to Pick Me Up Cafe, which thankfully is open until 3 am. The friend I was traveling with is vegetarian, I however am not, so Pick Me Up was perfect with both a vegetarian and meat-eater friendly menu. The next day we did some sight seeing which was easily done since the purple, red and brown line all run from the neighborhood, and were coincidentally (and annoyingly while trying to sleep) located next to her apartment. The next morning we left early and having a long drive ahead of us, were in need of large amounts of caffeine. Lucky for us, there is a coffee shop every 2 feet in Lakeview, and no I'm not being facetious. I can't comment on living here other than the fact that my friend loved it immensely, but I can say it's a great place to visit.
Caitlin S.
Lakeview

Hot: Streets and streets of great dining and drinking options.
Not: Loud, drunk Cubs fans and crowded trains.

Why we love it:
Lakeview is a beautiful neighborhood with historic streets, beautiful townhomes, and lots of young families. It's a great place to walk around some friends who are visiting town. With plenty of dog parks, boutiques, brunch joints, coffee shops, and great dining deals every night, it's an ideal place to settle into Chicago. The nightlife is hot almost every night, and the neighborhood knows how to celebrate Chicago's sporting events. With twenty-four hour trains, some overnight bus services, and plenty of taxis, transportation in and out of Lakeview is easy. Lincoln Park and the Lakefront are just a short walk or bike ride away. The Zoo and Nature Museum are close and great for a family-fun weekend.

So what's not to love?:
The price of living in Lakeview is extremely high. Expensive rent for small spaces, and even more expensive, limited parking. Transportation is easy, but often very crowded so expect a cozy train ride into downtown, and to let a train or two pass some mornings. Cubs games bring out the best and the worst in people, so be prepared to deal with loud weekend nights that melt into loud weekend mornings. Also expect to pay a little more for groceries at the local Whole Foods, Jewel, or corner convenience store.

Good Eats:

Cozy Noodle
3456 North Sheffield Ave.
Sun-Thurs: 11am-10pm
Fri-Sat: 11am-10:30
Affordable Thai food with an extremely, excuse the pun, Cozy setting. Enjoy their Cubs game deals, validated parking, outdoor seating, and it's BYOB.

Chicago Diner
3411 North Halsted
(Summer hours)
Mon-Thurs: 11am-10:30pm
Fri: 11am-11pm
Sat: 10am-11pm
Sun10am-10:30pm
Meat Free since '83, this North side staple is a must-stop spot for anyone seeking an amazing vegetarian/vegan meal. Grab a black bean burger, some sweet potato fries and a vegan shake, and you'll be happy you waited the half hour or so for a table. Vegan Baked goods and a great beer selection as well!

Bacci's Pizza
950 West Addison Street
Open late night.
5 dollars for a piece of decent pizza. Its not the best Chicago has to offer, but did I mention it's bigger than your head. The perfect after-the-game stop!

Pick-Me-Up Café
3408 North Clark St.
Open 24/7
Another hot spot for vegetarian dishes, the twenty-four hour café is perfect when dining with vegetarians and meat eaters alike. It gets crowded in the evening so expect service to take a while, but their shakes will make up for it.