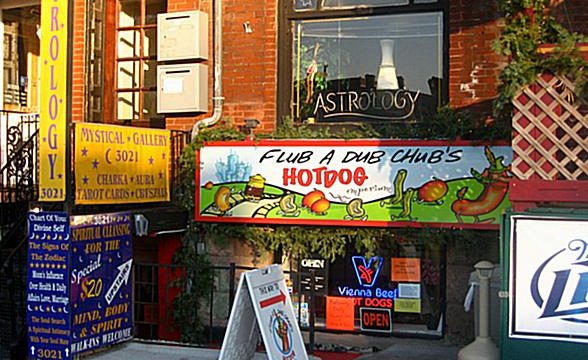 Boystown
Infomation
The most lively pocket of Lakeview (and possibly the entire city!), Boystown's also often referred to as Northalsted or Lakeview East. Boystown is a motley mix of all things eclectic and city chic. Wine stores, unique restaurants, awesome discount shopping, bars that know how to party—all can be found within Boystown's bounds. This nabe is known for its colorful nightlife and an super-friendly crowd that'll accept just about anything you throw their way.
Boystown, Chicago Data : Neighborhoods & Travel – Score out of 100
LOWEST ATTRIBUTES
Income 49
Empty nesters 48
Quiet 31
Parking 25
Seniors 24
Boystown, Chicago Reviews
Bring your A-game
One could guess from the name that Boystown is the center of Chicago's gay community, and they'd be half right. Center on Halsted is a gigantic, presumably well-funded community space and the nabe-within-a-nabe is just a few blocks South of the Howard Brown health center (a critical resource for low or no-income glbt folk).
There's also a bath-house (they still EXIST?) and huge, cavernous dance-clubs for the circuit-set. Boystown is where you'll find "mainstream" gay culture with all of the negative, indulgent aspects that go along with it (you could call me an "alternative" gay, I guess. This is NOT my scene).
Being in Lakeview as it is, it's very expensive but with great amenities. All kinds of shopping, from the king of thrift "Brown Elephant" to designer whatever. There's all kinds of great food everywhere, theatres, an El stop, proximity to Wrigleyville and beautiful churches and fitness centers (there is some confusion between the two, sometimes).
There's some drug activity always going on, but I've talked to several families and seniors who love living here. If you want to live in a gay space but don't have the money or the patience for this type of community, might I suggest Bucktown?
Michael
A Nabe Full of Little Nabes
I never know what officially separates Lakeview and Lakeview East but it seems to me like Lakeview East is really a grouping of smaller neighborhoods defined as one for some reason. The focal point of this area is Wrigleyville and the blocks around the field is definitely its own unique spot. Many locals don't like to refer to where they live as Wrigleyville, because it comes with a stigma of a drunken/party/loud area and during the summer that stigma is pretty accurate. The area around Clark andSheffield Streets is a great area full of a big group of bars and restaurants. Most of them are definitely a rowdier scene full of tourists on Cubs game days but they can be a blast if you are in the right mood. Sometimes the area does get a little dirty and some nights it will be hard to avoid all the drunks on Clark Street, but luckily this doesn't spread too far from the stadium and it is much calmer when the Cubs aren't in town.
Just to the south and east of Wrigleyville along Halsted and Broadway Streets is the neighborhood of Boystown. This area is known for its large LGBT community. I imagine people don't refer to this as a more "official" neighborhood because people are afraid of close mindedness hurting real estate value or some other stupid reason. Obviously, there are a lot of bars and clubs catered toward the gay community here but the area has something to offer for everybody. There are plenty of unique little restaurants and its a great place to walk around and shop. Off the busier streets are the quiet areas where you'll find plenty of quaint streets with nice two and three-flat buildings and single family homes. If you aren't comfortable with homosexuality for some reason, I would say you should open your mind and venture to Boystown someday. It really is an awesome area and there's nothing quite like the Gay Pride Parade anywhere else in Chicago.
To the near west and south of Wrigleyville is what most people would consider the actual neighborhood of Lakeview East. This area is made up of mainly older residential buildings. There's not a ton of park areas but certainly some places to get outside and exercise if you feel so inclined. A park on the lake has a lot of open space and an awesome path with workout stations set up along it. Hawthorne Elementary School also has a great field with artificial turf where you can get some space for sports if you get out there before the crowds. Diversey Harbor is an awesome party spot on summer weekends if you know someone with a boat. And if you don't, there's a driving range and mini-golf course there to check out while you dream about being on a boat.
Most of the people around here are looking for something a little cheaper than Lincoln Park that still has access to downtown on the red and brown lines. Peppered throughout Lakeview are some real tasty restaurants and unique bars. Coopers on Belmont has great Barbecue and a big beer list. DMK Burger Bar and The Counter have delicious burgers. Panes has some killer sandwiches and Philly's Best will hit the spot after Midnight. Matilda on Barry and Sheffield is a fun, relaxed bar with a crazy little dance bar downstairs called Baby Atlas. There are plenty of sports bars around and a pretty unique place I don't have time to explain called Uncle Fatty's. You won't find many trendy lounges, but if you like those you should probably go to Wicker Parkanyway. There really is a whole boatload of different people in this area ranging from college students, to young families, to single yuppies, to hipsters, and a bunch more. The Lakefront area even has some older folks. The diversity of the area really stops it from having a defined personality. It's not quite as nice and "high class" as Lincoln Park and not as cool and trendy as Wicker Park and Bucktown either. It's not cheap by any means but definitely more affordable than some of the areas closer to downtown and Lincoln Park. All in all its a great spot to live for young people looking for a neighborhood with a little bit of everything.
Ryan
Boystown & Wrigleyville all under one roof.
Although most Chicagoans know that Lakeview East is home to both the hearts of Boystown (Halsted between Belmont & Waveland) and Wrigleyville (Clark between Belmont & Grace), many don't realize that they are separated by only one street. TheLGBT & the "we wear suits to work, but are convinced we are still in college" crowd live in harmony unlike anywhere else in the city, which is what makes Lakeview East so unique. Once you get past Wrigley Field and the swarms of Cubs fans that flock toSheffield & Addison from April 'till September (sorry, no October baseball for you Cubbies), you'll see that Lakeview East offers an unlimited number of dining, shopping, and nighttime entertainment options.
Cuisine from every corner of the globe, ranging from Moroccan on Clark to Sushi on, well, every street in the entire neighborhood, can be found close by. There are plenty of stores, both independently owned shops and well-known brands, found in the area and, besides the infinite number of bars that dot the landscape, there are also two major music venues (The Vic and Metro), along with several theaters and improv comedy clubs.
Public transportation for getting around the neighborhood is exceptional and makes life without a car carefree. If there is one downside to living in Lakeview East it is certainly the lack of parking, but with access to both the Red and Brown lines on the El, several major bus lines, and a seemingly endless number of cabs, you'll never miss having to deal with a car.
The people that call Lakeview East home are as diverse as you'll find on the North side of the city and include a wide range of ages, nationalities, and lifestyles. Although there are many young professionals and students, you'll never see a shortage of kids in strollers and older couples walking the colorful streets. It's a very active neighborhood filled with runners and bikers that take advantage of the lakefront bike trail and aim to live a healthier lifestyle Monday through Friday.
If you're looking for a friendly community that shares your passion for an eclectic lifestyle or just a fun night out with friends, Lakeview East has it all.
Max B.
I have a confession to make: I wanted to move to Lakeview because of how cool it was. I spent a year living there, and it was not a let down.
It's a great area for young professionals with disposable income because there is a wide variety of restaurants, bars, and unique shops. There are several thrift stores specializing in vintage fashion, which are great for hipsters. The nightlife is very lively, since the area is located at the corner or Boystown and Wrigleyville. Because of this, I feel like the area would be more difficult for families because though it's fairly safe, it is loud. The majority of the inhabitants seem to be twenty- and thirtysomethings.
That said, the cost of living in the neighborhood is fairly high in relation to other areas. The kind of apartments that can be found for lower prices are not in good condition. My least favorite part about living in Lakeview was that my apartment was right off Belmont (which is one the major, lively streets in Lakeview) and there was no grocery store within an easy walking distance, which definitely made grocery shopping difficult because I always had to take the bus or train.
One of the nice things about living there was how easy it was to get around. The Red, Brown, and Purple lines connect at Belmont, and the Halsted and Broadway bus routes are close by. Also, as the name suggests, Lakeview is along the lake, so it's easy to get to the Lake Path, which is good for people who prefer biking to public transit.
Tracey Z.
Fallen in Love
I have lived in Boystown for a year now, and honestly I have fallen in love with it. There are great coffee shops and cafes all around, local and not so local. Three different grocery stores within walking distance, four including a good walk or a short bus ride. You can get the red, brown, purple line all out of here and great buses on Lakeshore to the downtown area. I feel very safe walking home late at night from going out or coming home from the studio. Everyone is generally really friendly especially when you say hello, or start a conversation.
What's awesome
Restaurants, the amount of them. The location. The people living here.
What's not so awesome
Parking. Rising rent prices. Loud sometimes on the weekend.
Christina D.
Must Love Beyonce
Seriously, if you can't get down with Beyonce, Gaga or any number of diva dance club hits, you'll have a difficult time finding Boystown (at night) appealing. But if you want to go to a nabe where the people are nicer, happier and spontaneously break out in song on Halsted, then come on over!
I lived just a block north of Boystown for about a year and spent most of my days and nights up and down the streets. Whether it was stopping in a coffee shop to get some schoolwork done or strapping on some heels and heading out for a casual night of Musical Mondays at Sidetracks, it is very easy to find something to do along the strip of shops, restaurants and bars.
Parking isn't so great, permits on the surrounding streets and pay for on Halsted but the bus runs regularly and the Redline is close by at Belmont or Addison.
In the summer Boystown really erupts with Pride Parade, Halsted Market Days and various movie in the park events.
What's awesome
nice people, quirky shops, lots of restaurants, close to the lake
What's not so awesome
very crowded, extremely loud at night
Marianne L.
it's RAINING MEN…
hallelujah!
When I first moved to Chicago, I had no idea what boystown was, or that I was about to live SMACK DAB in the middle of it.
Now me, I LOVE me my gays, so living in this hood was great. As the heart of theLGBT community, you better believe this hood is FILLED with pride. It's clean, friendly, and filled with a lot of little local joints that gave it good character. But, I will give this disclaimer, boystown may not always be for the shy or bashful. Don't believe me? Ask my mom, who's eyes nearly fell out of her head, when she ran into a muscley, greased-up man dancing in nothing but jean shorts on the streets.
All in all, this hood has a super warm atmosphere. You can really be yourself and let it all hang out (quite literally).
What's awesome
talk about a friendly neighborhood
Meredith M.
Let's Hear It For the Boys
Yes, Boystown is the center of Chicago's LGBT scene but it's also a lot more:
-clean
–GREAT dining and grocery options
-Fun, upscale nightlife
-Accepting, diverse, and close-knit
…And the annual Pride Parade is one of the city's most-anticipated events of the year, rivaling the St. Patty's Day parade in drunkenness, eclipsing Halloween night in its costumes.
What's awesome
The people, the food, the bars
What's not so awesome
Lakeview East: An Amazing, Technicolor Dreamnabe
Out of all the areas in Lakeview, Lakeview East is probably the most happenin'. To serve its incredibly high population, Lakeview East has tons of bars and restaurants (pick any style cuisine, Lakeview East has almost everything) and shopping options (little boutiques and also Century Shopping Center) and is just as bustling at night as it is during the day. Those with early bed-times beware: bars are abundant and stay open into the wee morning hours.
Getting around here is a breeze. There's tons of public transit options. For environmentally green folk, the area's incredibly walkable, and also bike friendly (go bikes!).
Lakeview East is home to a variety of folks: businessmen, artists, and LGBT alike—the area's also known as "Boystown," and prides itself on being the first officially recognized gay neighborhood in the US. Despite the bohemian vibe, Lakeview East's budget tends to be on the expensive side. A recent survey said that residents inLakeview East spent more money on average than those in bourgeois Wicker Park, and apartments (in good condition) tend to be on the expensive side.
All said, Lakeview East is a bustling, diverse, joyful, and iconic Chicago neighborhood. If you can afford to live here, it's highly recommended.
beatrix f.
Lakeview East; great people, great buildings, no parking
I lived in Lakeview East for several years, and also worked there for several years (different dates). Lakeview East is a unique area, with many diverse things to do and see, people to meet, architecture to explore and boundless fun to be had. It's also one of the toughest parking zones in north america, making tow truck owner's rich, and some car owner's very upset. The thing that makes Lakeview East so unique is the MIX of different, and eclectic, people, shops, restaurants and recreation. I've found you can hang out with pretty much everyone you meet in Lakeview East, and that's pretty unusual in a big city. One of my favorite memories from living there: it was late one hot summer night (12:15am), and I was watching the Cubs on a West Coast trip, which meant they were only in the 8th inning, as Harry Caray announced with Steve Stone. Harry sounds like he's had a few Budweiser's already, and the game is taking forever, so Harry says 'if there's any fans still at my bar back in Chicago, the beer's on me!' I called my buddy who I knew would be watching, and we caught a cab to Harry Caray's Restaurant and drank for free while the Cubs went into extra innings out in LA or somewhere. It was classic Lakeview East to me, because if you aren't watching the Cubs at Wrigley then you're watching them at home when you live there, and Harry hooked us up with some suds on a hot night. The cost and the parking are the two things that make Lakeview East less than perfect, but hey not everyone has a car and money isn't everything, right?
Roy Davis
A happy place that loves some fun
Northalsted is one of the most happening neighborhoods in Chicago. It feels similar to Brooklyn's Williamsburg: a young, hip crowd, lots of living spaces right on top of bars or restaurants, cool food (read: vegan, ethnic, etc.), and a nightlife that rocks whether it's a weekday or a weekend. People here may be cool and know it, but they're also super-friendly and chill. If you're visiting Chicago, this is a great area to spend the day shopping and taking in the sites and then easily transition into a hopping nightlife. For those looking to live here, know that you must be tolerant, and you'll always be entertained.
Vickie W.
nabewise