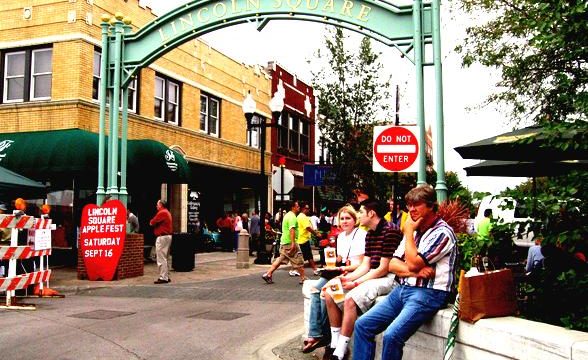 Lincoln Square
Not to be confused with the more grand Lincoln Parkto the south, Lincoln Square is home to, well, home. This nabe is known throughout the city for its small-town appeal. Lively (but not too loud) and community-oriented, Lincoln Square prides itself also on being a place you'll never need to leave. Its public art and annual festivals provide ample entertainment, and a quick stroll around town gives way to a bountiful array of cafes, restaurants, and specialty stores. Lincoln Square also has a wonderful farmers market late spring-fall that keeps evening hours once a week–great for fresh veggie cravings late in the day.
Lincoln Square Data
Lincoln Square Reviews
Greg M.
A great place for urban people

Lincoln Square offers a wide variety of shops and restaurants with a small neighborhood feel. There are plenty of music venues and places to get a drink or some upscale food from Greek to German to Indian and almost everything in between. I myself love the neighborhood as a unmarried guy, but also see more and more strollers around the neighborhood recently. There's plenty of brown line el stops and bus locations. There's not that many permit spots either, so parking is usually not so bad, unless there's a farmer's market or a German festival going on. It's definitely lively, but not loud at night either as most of the bars are not near residential areas or are insulated by trees. There's Welles Park for a nice place to walk as well.
Richard Fox
The Small Town Neighborhood That Could. And Did.

To walk through the square that marks the "spiritual center" of Lincoln Square is to take a walk around someone's idea of Small Town America. An ornate fountain is its unique feature, and serves as a gathering place, on a warm summer night, for musicians and the denizens of the neighborhood. In fact, the blocks of Lincoln Avenue between Lawrence and Montrose in this north side neighborhood have the flavor of one of those European enclaves one might accidentally stumble upon in a ramble around some walled city in Germany. It's got that feel, to me, at least. Between the twice-weekly Farmers' Market near the CTA's Western Avenue elevated train station, and a real European apothecary, locally-owned coffee shops, toy and bookstores, a small (but fine) food market, restaurants and bars co-exist. The presence of national chains is limited, here, to Potbelly Sandwiches and the ubiquitous Starbucks. Real estate prices and apartment rents have risen since the neighborhood was "discovered" by young, urban professionals in the late 1980s, but it still—somehow—retains its small-town flavor.

What's awesome

Not too many chains have taken over. Yet.

What's not so awesome

Too many double-wide baby strollers.
Amanda M.
Lincoln Square won't budge

One of the greatest things about Lincoln Square is that the place isn't going to change! Locals here love Lincoln Square's old world/small village charm so much that they've made a point to get this place landmarked—peace out overzealous developers! This a great assurance if you're looking to buy a home in this area. The charming vibe you love now will more than likely be there for years and years to come.
Marianne L.
Charming is an Understatement

I haven't spent a great amount of time in Lincoln Square, but the time I have was very much enjoyed.

I did a poetry and prose reading with one of my classes at The Book Cellar right in the heart of the cobblestoned area of the nabe. Now this is a bookstore I recommend to anyone who loves books (obviously) and wine. That's right, there's a wine bar in the store which helped to calm my nerves before my reading, at least I think it did. Anyways, there is a definite community as well as European feel to the entire nabe. Tripping over cobblestones, don't be surprised if you see a father biking with his kids close behind, or stop into the neighborhood German restaurant and enjoy a band of old men playing polka for a night.

What's awesome

bookstores, farmers markets, small town feel

What's not so awesome

train doesn't run very late
Samantha R.
Map is…what?

The boundaries of the map for Lincoln Square are bizarre. Lincoln Square itself is somehow not actually in Lincoln Square? That can't be right. They have a photo of Lincoln Square on the page, but the way they split up the neighborhoods on this site, that photo does not actually lie within what this site is calling Lincoln Square.
Elizabeth J.
Love'in Lincoln Square

Lincoln Square, the 'New Lincoln Park'? I think not. Lincoln Square has it's own personality from the beginning. Today it has grown past it's German roots to a thriving yuppy neighborhood. Yes I said "yuppy." Young professionals starting their families have flocked to the area. It is flush with parks, Wells & Horner and is close to the Chicago River's north branch, a joggers dream, a dog lover's playground. Only two miles from the lakefront. It is an outdoorsman's central operating point, while being able to maintain an adult commute to downtown jobs, entertainment, and the airport, (30 minutes to O'Hare or Midway). I for one love the food! French Bisto/Mexican/American/German/Italian/Thai Food/Greek/Irish Pubs, all within a five minute walk from one another!

What's awesome

I can walk to the grocery store, the dentist, the bank, the theater, the pharmacy, the library, the gas station, the park, my church, the train, the bus, the gym all within five minutes!

What's not so awesome

You can know your neighbor or you can not see anyone you know when the festivals overtake the park.