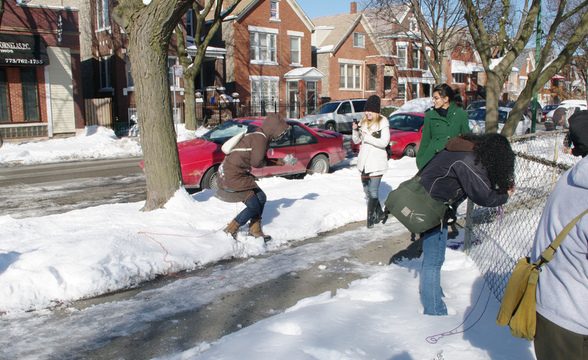 Little Village
Infomation
Characterized by its terra cotta 'bienvenidos' gateway, Little Village is truly a nabe where visitors are welcome, and their stomachs and senses are never let down. Little Village (once known as South Lawndale) serves up some of the city's most delicious, sought-after, and affordable food: from family style restaurants, to food carts, to Pizzerias that were dishing up Chicago Style pizza before it was cool. This friendly nabe with close ties to Pilsen is a must-stop spot for any Chicago visitor.
Little Village, Chicago Data : Neighborhoods & Travel – Score out of 100
LOWEST ATTRIBUTES
Empty nesters 35
Pet friendly 33
Families 33
Seniors 27
Income 6
Little Village, Chicago Reviews
Mexico of the Midwest
Unlike neighboring Pilsen, Little Village has yet to become overrun with hipsters and artists. Instead, the area remains a hub of Mexican culture in Chicago. Located within South Lawndale, Little Village boasts old world charm with a variety of Mexican restaurants, the annual Mexican Independence Parade, and a slew of parks.
The cost of living in this nabe is very cheap, but many are turned off by the location and presence of crime (at night that is).
Marianne L.
a great option for city folks looking to save dough
Little village kinda reminds me of what pilsen used to be a couple of years ago. It's a little bit sketchy still, but there's amazing food and culture here, a great vibe, cheap rent (so important!). New young transplants to chicago that are shocked by city cost of living may want to check this place out. Be smart and be careful though—crime is isolated to certain areas here, but it does happen. Many stars for little village.
What's awesome
cheap rent, great food, chill vibe
What's not so awesome
pretty gritty, a bit of crime
Alex N.
Little Mexico
Definitely the best/most authentic Mexican food in Chicago. A must-see is the El Milagro tortilla chip factory. These chips are delicious, and although you can buy the brand in Jewel or Dominick's, it's really interesting to see how they make them.
Spanish is spoken on the street as much as, if not more than, English. Mexican flags are everywhere and the architecture suggests small-town Mexico, not big-city Midwest. The community here is much more tight-knit than in other neighborhoods and people know their neighbors.
It's generally pretty safe; there are the usual crowd of characters moping around near the expressway so I wouldn't go here alone at night. But it's definitely a great cultural experience, especially if you're craving real tamales.
Liz M.
Uh, am I in Mexico?
This nabe used to be known as South Lawndale. Whether or not the shift in name was an attempt to distance itself from North Lawndale, now known as just Lawndale, is unclear, but I would understand why if this was the case. Unlike Lawndale, Little Village is bustling with activity and life all of the time. This nabe is considered the most Mexican influenced in Chicago and it shows as soon as you set foot in it. Hundreds of Mexican restaurants, delis, and shops greet the senses like a freight train, running over you and smashing your mind into believing you are in Mexico, even if for just a moment. The second largest hispanic parade takes place in this nabe every September to celebrate Mexican independence day, and it draws crowds by the thousands. Cultural heritage is alive and well in this nabe, the residents are proud of it, and it shows on every block.
Zachary Walker
nabewise