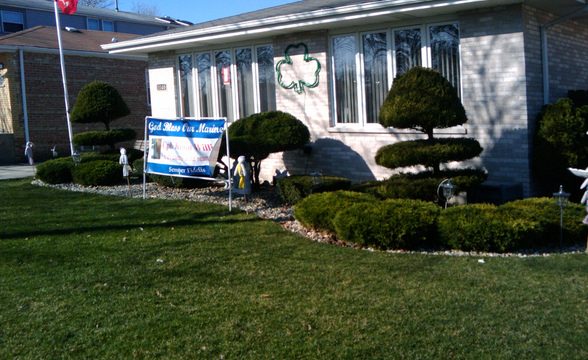 Mount Greenwood
Infomation
Like its surrounding outer-Chicago nabes, Mount Greenwood is much more of a suburb than a city. This little nabe on the southwest side's borderline is a community-oriented place where tradition thrives—think nabe-wide events and bars decked in sports memorabilia from local schools. Mount Greenwood is primarily residential (real estate ranges from old bungalows to two-story modern homes), and boasts beautiful Mount Greenwood Park: lots of green space, a playground for kids, and even an ice skating rink.
Mount Greenwood, Chicago Data : Neighborhoods & Travel – Score out of 100
LOWEST ATTRIBUTES
Nightlife 50
Singles 50
Dining 50
Shopping 33
Income 23
Mount Greenwood, Chicago Reviews
A City Worker's Dream
The main thing that holds Mt. Greenwood back in several categories is it's size. The technical limits of the area as well as where people would consider the borders to lie are debatable. Most people that live in Mt. Greenwood would tell you it extends from 103rd south to 115th street, Pulaski east to Ridge Country Club and the cemetery. In the north we also include Tally's Corner (the closest thing to a gated community on the south side) St. Xavier, Brother Rice and Mother McAuley (University and two single sex high schools). On the west side we include St. Casimir Lithuanian Cemetery and Marist High School (co-ed).
The area is highly residential, built more for people to live rather than do anything else. Residents outsource everything from nightlife to groceries. But when your rival is Western Ave in comparison to 111th Street and the only grocery store that technically falls within your borders is Family Pride, you can begin to understand why. Since the area was made for city workers, every family has a car, which makes it extremely easy to get to Beverly or other neighboring nabes. Residents don't really need Mt. Greenwood itself for much else outside of a house and a school they can walk to.
That's one thing this nabe has in spades. There are four grade schools that teach through 8th: three public, one private Catholic. Although it's technically in Evergreen Park, many residents choose the alternative private Catholic grade school, Queen of Martyrs. There are three high schools: one all girls, one all boys, one co-ed. We even have our own University. If you wanted to you could feasibly go to school your entire life within two city blocks.
I've lived here more than half my life, and I've seen some efforts to improve the neighborhood. A few new buildings and businesses have gone up in recent years. St. Xavier now dots the residential areas with off-campus academic centers. Mt. Greenwood Park has recently had an amazing facelift. The times are changing and I feel society, in general, is becoming more open minded and tolerant, but Mt. Greenwood was built in the 50s. The like mindsets may still need a little extra time to get with the program.
I wouldn't come here to shop unless you were looking for an Irish Catholic keepsake. Restaurants are scarce, but there are a few gems. La Fiesta makes a killer margarita. Tata's has super sweet pizza sauce and they're BYOB. For restless singles and recent college grads who have yet to flee the nest, downtown and the north side aren't difficult to get to. Although the Red Line is off limits on the south side, unless traveling in mass hoards, the Metra in Beverly is usually pretty accommodating. There's always the Orange line if you're in a hurry.
All things considered, Mt. Greenwood isn't bad. It's just a little dated. But if you want to live close to the burbs, still live in Chicago, want to raise a family and have an Irish Catholic background, you'll fit right in.
Mary S.
A Haven for Irish Families
Mount Greenwood is a very traditional Irish-Catholic neighborhood. It has a reputation for being one of Chicago's safer nabes: there's a large police and fire fighter presence. The safety here, the abundance of schools, parking spots, and the bungalow-dominated real estate make this a place almost entirely composed of families. It's also one of the less diverse areas of Chicago—when they say Irish Catholic, they really mean it. If you fit into the given norms in Mount Greenwood, chances are you're going to stay. This neighborhood's tendency towards longterm residences makes its housing market a bit limited. People don't leave here often, and once a home goes up for sale, it gets purchased fast. If you're interested in moving here, be patient, diligent, and act fast when opportunity presents itself.
Deb E.
nabewise