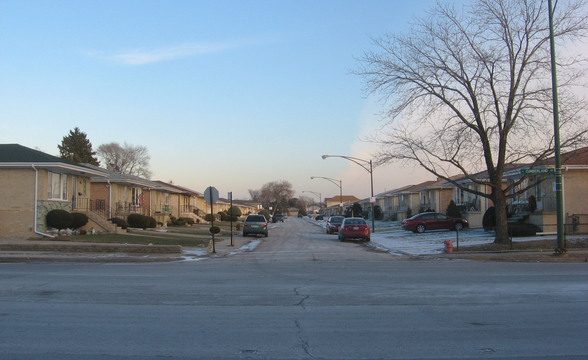 O'Hare
Infomation
Although it shares its name with O'Hare International Airport five miles to the west, O'Hare's no dreary transit hub. O'Hare rests in Chicago's northwest corner, 14 miles from The Loop. Thanks to the Des Plaines River and numerous woods in and around the area, O'Hare is by far the city's most nature friendly nabe. O'Hare's woods give way to pristine residential stretches complete with winding streets, large backyards (some even trail off into the woods!) and both single and multiple family housing options. O'Hare is home to the super-isolated pocket nabe Schorsch Forest View—the most woodsy of all the areas in O'Hare.
O'Hare, Chicago Data : Neighborhoods & Travel – Score out of 100
LOWEST ATTRIBUTES
Singles 40
Dining 40
Nightlife 30
Shopping 25
Income 23
O'Hare, Chicago Reviews
Hardly Urban
Hardly any sense of Chicago is left when you make the trek northwest to O'Hare. Mainly associated with O'Hare International Airport, this nabe does have one thing that the city does not: a ridiculous amount of greenery. So for the families who work near or at the airport, and enjoy the (relatively) uncontaminated air, this is a great little area. On the other hand, the area is just a suburb, and like most suburbs, there are office parks, strip malls and a sweet happy hour deal at Chili's.
Marianne L.
Middle Class Northside Suburb
Pros:
-Safe, great for commuters, family friendly, tons of green space, near the airport
Cons:
-near the airport (planes constantly overhead), houses are ugly, boring (unless you want to lurk around airport hotel bars), residents can be cliquey
Liz M.
Ok, I gripe so much about Chicago's dearth of trees. Well, here they are! What am I complaining about!?
The further North on Milwaukee/the Kennedy, the more you feel like you are receding back in time toward the early '70s until you terminate at O'Hare, one of the nation's busiest airports. I imagine living in this area would be… exactly like living near an Airport. It might be a good option for families or people who work at one of the many, many, many towering office parks in the area. Otherwise…
Michael
The bungalows to the east of Schiller Woods are blessed and cursed by O'Hare Airport.
The existence of an international plane hub created the need for the Schiller Woods park, which is one of the city's best. This stretch of woods is a home to herds of deer, likely the only you'll find in Chicago. The park has a big field, a hill, and a manual pump that dispenses spring water. Also, it's perfect for those who have the need to travel a lot of the time for work.
On the flip side, being next to an airport means noise. Overhead traffic can cause headaches, but I do think that any irritation would dissipate over time.
Tom W.
O'Hare just isn't chicago
O'Hare really in the neighborhood for all Chicagoans who, well, don't really want to be Chicagoans. As far away as you can get from downtown while still being considered part of the city, O'Hare's natural surroundings are uber-woodsy—an abundance of trees and green that's impressive not only in the outskirts of Chicago, but anywhere in the midwest. If you want to press on into an even greater outdoors, just make the short commute to O'Hare intl airport.
Vickie W.
nabewise