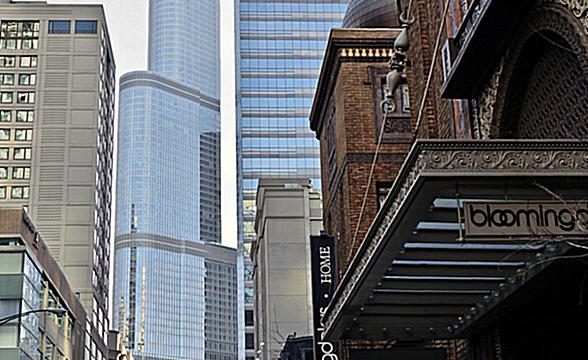 River North
Infomation
Known as a go-to-live nabe for those working in The Loop, River North manages to pull off serene urban living. This nabe swaps the mansions and homes popular in other parts of Chicago for apartments and condos, its most famous being the two sky-high honeycomb-shaped Marina Towers, which overlook the lovely Chicago River. You can find your fair share of culture and one-of-a-kind items here as well—there are art galleries and antique stores galore.
Data : Neighborhoods & Travel – Score out of 100
TOP ATTRIBUTES
Public Transportation 91
Dining 91
Income 87
Empty nester 85
Shopping 78
LOWEST ATTRIBUTES
Quiet 46
Families 40
Community 36
Green space 32
Parking 16
River North Reviews
Lissa Weinstein
Life is Sweet in 60654

River North is the one neighborhood in Chicago that reminds me of a slice of New York. Its one of the few hoods in Chicago that is gritty, chic and trendy all at the same time.

What else do you expect from a neighborhood that started as a warehouse area, converted to the largest art gallery district o/s of Manhattan, and then developed posh McMansions & sleek designer high rises to boot? All in the shadow of Chicago's loop, Merchandise Mart & financial district.

Reasons to love living in River North? Plenty of beautiful condos, town homes & single family homes plus galleries, antiquing, interior design studios, fab new restaurants, dance clubs & only a 5 or 10 minute walk to work in the loop. Bonus is Park 511, a new 6900 sf playlot on Kingsbury with green space, a doggie park, river walk, summertime farmer's market, free movie nights & water taxi's to Michigan Ave. and Union Station.

Hot areas for Single Family homes – Kingsbury Estates on Kingsbury, Superior, Hudson & Huron – feature large 10-12,000 SF homes on 35' wide lots with some of the best per SF pricing on the Near North side. Town home options include the nearby City Club -25 3200 sf gated town homes (these sell briskly w/strong demand for town home style living. Read: sfh's options are fewer & $$), Kinzie Park, another gated community by the East Bank Club has town homes, mid-rise & high-rise. There are also some great 4-unit low rises & modern condo high rises such as The Montgomary, Superior 110 (1/4 & 1/2 floor luxury residences) & 510 W. Erie (a Lucien Lagrange designed condo building).

Fav eats – The Artisan Cellar (hidden gem at the Mart), Chicago Cut Steakhouse, Frontera Grill. Next on list to try – the Slurping Turtle.

What's awesome
Park 511, Luminaire, Ligne Roset, Lightology, and Topolobambo/Frontera Grill.
Marianne L.
RIver North

If you want swanky Prix Fixe dining and oversized night clubs, come to River North. It is the epitome of Metropolitan life as one would imagine in Chicago. The prices are typically high to rent in any number of high rises that run along the river and up to Chicago Ave, but the area itself is charming with a pinch of pretention.

Art Galleries, gourmet grocers and of course businesses populate the majority of this nabe, but there are a few affordable spots to check out if you have the time to wander around. During the day its pretty congested with people trying to get down to the loop or over to Michigan Avenue, but tourists don't typically realize that it exists (really that anything exists off of the Magnificent Mile).
Liz M.
Chicago-Style Chic

Arguably the least touristy part of the Loop, River North is full of art galleries, trendy bars and restaurants, and of course, expensive high-rises. By day, the streets are packed with well-heeled businesspeople. By night, Chicago's elite head to famous clubs like Excalibur or Soundbar. It gives visitors a taste of urban, cosmopolitan life in Chicago, and offers convenience, safety, and sleek architectural vistas to anyone who can afford to live there.
Michael
You can practically smell the money. I used to walk dogs in this neighborhood and I had to search far and wise for any meager patch of grass. I coveted grass. There's plenty of things that people can covet here, I guess.
If spending a bazillion dollars on a haircut makes you feel really good about yourself, you have found your home. Otherwise run for the hills (you will get really tired of running!).
Vickie W.
Swanky Nightlife for Folks with Dough

Who doesn't love walking across a river on their way to work? River North is located next to The Loop, just across the Chicago River. While many folks would love to call River North home, its awesome location keeps residents a bit restricted to those who have quite solid incomes. The salary barrier here keeps the crowd a bit more on the mature side. With the abundance of swanky restaurants and bars in the area, you'll definitely find people that know how to have fun—some of them them ay be tourists, but you probably won't spot any underage college students trying to sneak a beer.
Chipp N.
My First Home in the Big City

I moved to Chicago back in 1994 and lived in River North above Bar Louie. That was waaaaay back in the day when Cabrini Green was just down the street, you were as likely to see a drug deal on the street corner as a cold, gray day in winter. Now the "Comfort Zone" nightclub is replaced by a lighting store. And arts and crafts and galleries are all over the place.

I always liked this neighborhood for its proximity to Michigan Ave. and the Lake, the Brown Line running its Western border, the short walk to work in the loop, etc. And the way that it has evolved has been great to watch, though I'm no longer living there. Bar Louie, however, has stayed a constant.

I moved back later in life and lived in a high-rise in the early 2000s. It was a different experience, though only a few blocks away, and it was amazing how much things had changed in only six years. And everytime I go back it seems like its moved forward again and again. Although my perspective has now changed as I have a family and am older, I can say that it was a great place to live as a single person working in the Loop.
nabewise