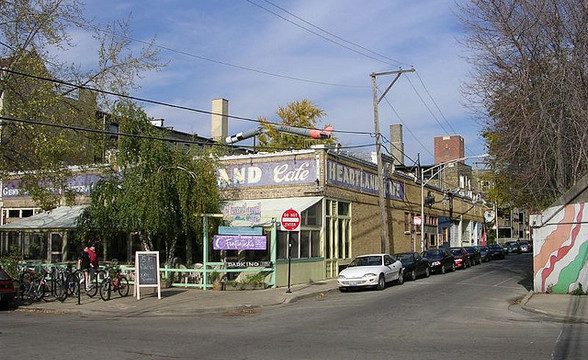 Rogers Park
Harmoniously diverse and the northernmost nabe in all of Chicago, Rogers Park is known as place where it's easy (or at least easier) to find city real estate that fits your needs. Highlights here include abundant parks, dreamy Lake Michigan beaches (about a 10 minute walk away from anywhere in the nabe), and regal Loyola University. Commercial venues here consist mostly of mom and pop shops and restaurants and a few student dive bars. Ditch your car here (parking's a problem) and ride downtown on the red line—you're guaranteed a seat, as Rogers Park is one of its early stops. Urging for suburbia? Take the red line the other way to Evanston just to the north.
Data : Neighborhoods & Travel – Score out of 100
TOP ATTRIBUTES
Pet friendly 80
Public Transportation 80
Dining 70
Students 65
Singles 63
LOWEST ATTRIBUTES
Seniors 45
Families 40
Shopping 38
Parking 27
Income 14
Rogers Park Reviews
Michael L.
Rogers Park: A Neighborhood of Variety

I live in an apartment in Rogers Park on the north side of Chicago. It is the northernmost neighborhood within city limits, and is also considered the most diverse neighborhood in the city of Chicago, and one of the most diverse in the United States. It diversity extends not just to ethnicity, but to economic status, age, and style. In a city like Chicago, that has a bad reputation for unofficial segregation between its neighborhoods, Rogers Park is a breath of fresh air. One can walk down Sheridan Road and experience people, restaurants, and stores from literally dozens of cultures and backgrounds, including Thai, Indian, Ethiopian, Polish, Italian, African-American, Mexican, Caucasian, and an untold number of influences from various African, Asian, European, Carribean, and Central and South American countries.

Diversity is measured in other ways, such as the fact that a good part of the neighborhood is dominated by Loyola University of Chicago, a private, Catholic University. Meanwhile, there is low income housing and senior citizen housing just blocks away, as well as many single family homes on quiet, tree-lined streets. There are also small sections of gay communities, as well as distinct artist communities, such as the Glenwood Avenue Arts District. Some apartments are small and inexpensive, while many are brand new condominiums and luxury apartments, such as the Morgan at Loyola Station.

There are a handful of chain establishments, such as CVS, 7-11, and fast food restaurants like McDonald's and Chipotle. However, the bulk of the businesses in the neighborhood are private establishments with a Mom and Pop vibe to them. For each 7-11 there are 3 or 4 independent convenience stores run by families from many different countries, each of which will cater to its regulars' needs. For each fast food chain, there are a pair of unique greasy spoon diners in the truest Chicago style or ethnic restaurants. There are a several bars, which 3 or 4 of which cater mostly to students, and the rest to mostly locals. Affordable prices are the norm, considering the neighborhood is equally full of students, artists, and low-income families. One especially interesting spot is the 400 Movie Theater, which just underwent renovations and remains one of the most inexpensive theaters in the city.

There are a few small parks, as well as open beach access at every street north of Loyola University. Non-profit groups are working to open the beachfront south of Loyola, stretching to Lakeshore Drive, to the public. The neighborhood can seem dicey at night, and gang-related activity is not completely uncommon. However, there is a noticeable police presence, as well as Loyola's own security vehicles. It is a very safe place to walk around during the day.

Public transportation is very easy. There are multiple Red Line stops in the neighborhood and several bus lines that will bring you south to downtown or north toEvanston. The commute is especially easy because buses and trains are not crowded yet when you board them that far north in the city.

Notable Hot Spots:
—The New 400 Theater 6746 N. Sheridan Rd: Has new movies at affordable prices, and even sells alcohol at select times.

---

Grill Inn- 1422 W. Morse Ave: Local grilled/fried food joint with a huge menu is growing rapidly in popularity

---

Pratt Beach- One block east of Sheridan Road, has plenty of space for swimming, activities, and even a long lighthouse pier that provides a great view of downtown Chicago

---

Hamilton's Bar and Grill-6341 N Broadway: Caters to students, professors, and locals. Good place to grab some wings, some beers, and a game on TV.

---

There are so many more independent restaurants that cannot be listed here. Enjoy walking around and sampling some unique and diverse grub.
Tracey Z.
I initially moved to Rogers Park in August of 2008 as a function of being a student at Loyola University Chicago. At first, I did not have any particular fondness for the neighborhood, other than the fact that it was convenient for school and close to the beach. However, since graduating from Loyola, I have stayed in Rogers Park and probably will continue to do so because the area has many decent apartments for affordable prices, which is great for recent college grads, and Rogers Park also boasts a lot of character. The diversity and affordability makes it an under-the-radar, hip place to live, but without the pretentious attitude.

Rogers Park is becoming safer and cleaner due in part to Loyola's efforts to improve the quality and safety of the neighborhood. New businesses and restaurants are starting to come to the area. Due to the racial diversity of Rogers Park, there are many ethnic eateries, from Ethiopian to Thai cuisine. Though the nightlife leaves something to be desired because the majority of the bars are either a bit seedy or cater mainly to (occasionally underage) college students, being located along the Red Line makes it easy to head south to more exciting bars.

As the northernmost neighborhood of Chicago, it can be an inconvenient location if you work downtown, but it can also be nice to be away from the bustle and noise of busier neighborhoods. The proximity to the Red Line and the number of bus routes make it easy to get downtown or north to Evanston.
Marianne L.
Rogers Park

I'll be honest, Rogers Park and I have had a love/hate relationship for a few years now. I mean, we're still on pretty good terms but at times I just feel like my needs aren't being completely taken into account, and it hurts. All discrepancies aside, I do have to admit that riding up the lakefront path, which ends at the Loyola Campus, there is a certain charm to the nabe. On one side you have the university and all that comes along with it: students, jesuits, bookstores, bars and the like. On the other hand, there is Devon in which you can gorge on the most delicious of Indian fare or check out the shops. Overall, the nabe is pretty chill during the day, at night however parts of it can feel a little sketchy. But hey, the redline runs right through it and as long as you're not too far gone to maneuver your way into the station, you're good to go.

What's awesome

Devon, lakefront, Heartland Cafe

What's not so awesome

far from downtown, sketchy
Kristyn A.
My All-Time Favorite Neighborhood

Rogers Park is a real gem, and while I agree with other reviewers that it has its moments of, shall we say, lagging nabe safety, its other eclectic, hard-to-come-by-in-Chicago features far outshine its grittiness. Did I walk alone at night there? Heck no! But would I walk alone at night anywhere, in any neighborhood? That's a big, resounding no! Any city can be unpredictable and that's always something I keep in mind. I don't expect to be safe anywhere, so I take the necessary precautions.

I've heard that Rogers Park is the most diverse nabe in the country, boasting large Mexican, Pakistani, Indian and East African populations. I lived within walking distance of a Middle Eastern market, a Mexican/Eastern European grocery store (what a combination!) and a weekly farmer's market with a plentiful selection of organic and artisan products. I can't gush enough about the way this diverse community interacts: small business abound and locals support them!

Aging hippies, unpretentious creatives, engaged citizens, Chicago natives, young families and busy students live in Rogers Park. There are studio spaces for artists everywhere, grungy, lovable dive bars like the Red Line Tap and the Oasis, some of the most amazing Indian and Mexican food you'll have the opportunity to taste and public beaches, parks and playgrounds within walking distance from anywhere in the neighborhood. Commercial and residential space is mixed here, which gives every corner a unique flavor. There are the brick walk-ups you find everywhere in Chicago, but they're tempered by colorful Victorian-style, single-family homes and even some more modern high rises.

Street parking is a nightmare; I saw a lot of busted windshields and bruised bumpers around town. But the benefit is that the buses on Chicago Avenue and Clark Devon Streets, the Red Line and the Metra all converge in Rogers Park. You don't need a car here. It's a little far from downtown and inconvenient to get to southwestern neighborhoods like Logan Square and Pilsen, but you're close enough to Boystown,Andersonville, Wrigleyville and any other nabes off the Red Line that you can satiate any need to dig your heels into Chicago's more urban centers.

It seems that every weekend in the summer there's another street fair in Rogers Park. It gives the neighborhood a big, block party feel when it's warm out and local artists convene to sell their stuff. There's always a community project going on here, from murals to parades and community gardening.

And did I mention the cost of living here is significantly lower than many other neighborhoods in Chicago? You just can't beat Rogers Park.

What's awesome

Grocery Stores, Restaurants, Public Beaches, Creativity, Local Flare, Dive Bars, Location off Red Line

What's not so awesome

Safety, Distance from Downtown
Bill Morton
Rogers Park character

Rogers Park can be defined by it's character. It is what we know and love about Rogers Park. It is the personality and spirit of where we live. Examples could be the residents, the beaches or even the cobblestone street on Glenwood Avenue.

Take for instance, the local businesses. Quest Network Services is our local computer service shop and internet cafe. The owner, Kris Luck, has been in business for over 16 years. Over the most recent of 11+ years, his shop has been located in Rogers Park on Sheridan Road between Chase and Sherwin Avenues. Our neighbors rely on Quest for everything from communications (internet, postage and fax services), technology (laptops and PCs for sale and computer networking services) and community (community events in Quest's 1920's Parlor, host of the Rogers Park Chamber of Commerce, movie nights and meetup group location).

Tweedle Press is our local letterpress print and design shop. Owner, Nina Interlandi Bell creates eco-friendly wedding invitations, stationary, gift tags, coasters, posters, business cards and bookmarks. Nina originally was a home-based business owner who expanded into a small shop at 6928 N. Greenview Avenue, one block West of the Morse red line station.

Caribbean American Bakery at 1539 W. Howard Street offers the finest Jamaican Style baked products in the Midwest. In addition to beef patties, hard dough bread, bulla and totoes, owner Michael Humes also offers his specialty, jerk cuisine.

Rogers Park is also noted for it's community activism (awareness/vocalization/blogging) and participation in community organizations (Rogers Park/West Ridge Historical Society, Willye B. White Park Advisory Council and more).

I chose to live in Rogers Park over a decade ago and never regretted my decision to move here. I would recommend residency in Rogers Park to people of all ages and lifestyles. You are welcome here!

What's awesome

I love our neighbors, local businesses and community organizations. Many are community activists who are looking out for the best interest of our home. I also appreciate lakeside living in Rogers Park and the beaches and parks. Our community is very pet-friendly. The neighborhood is very walk-able and beautified in the early 1900's with significant architecture.

What's not so awesome

Street beautification often gets attention before the greater issues of public safety and infrastructure in Rogers Park. I am not a fan of the 49th ward Alderman's imprint on our community.

Most of our newer developments lack character and beauty. Many new constructions are beige eyesores that resemble a shoebox.

Every one of our movie palaces have been destroyed and what is left of our architectural treasures is regularly in danger of demolition.
Tawnee C.
From the Eyes of a Loyola Student

I have lived in Rogers Park during the school year since August 2008, and I have seen it through the eyes of a student. Rogers Park is known as the most ethnically diverse and multicultural neighborhood in Chicago, and that description couldn't be more accurate. Jewish shops sit cozily alongside Indian grocery stores. Everywhere you look, people with a range of skins colors and styles are living together peacefully and cooperatively. The diversity of Rogers Park is its strongest and most defining feature. If you are looking to live in a truly integrated neighborhood and rub shoulders with people from different countries and backgrounds than yours, you should call Rogers Park your home!

The only downside I can see to this great neighborhood is that it doesn't always feel like the safest place to live. It is well known but still worth repeating that loitering around an El stop in the early hours of the morning is a good way to get yourself mugged or worse. However, such safety issues are not only a Rogers Park problem. You run that sort of risk in any Chicago neighborhood, even Lincoln Park, and Rogers Park is nowhere near the most unsafe neighborhood in Chicago. Chances are that if you are aware of your surroundings, especially at night, you will have no problems here, only an incredible living experience you will never forget.

What's awesome

Diversity, Multiculturalism, Student Culture

What's not so awesome
Michael
The furthest North you can go and still be in Chicago, Rogers Park is a quiet, college-centered nabe with a lot of diversity.

Pros
Loyola
Greenspace/lakeshore
Red line
Gay/lesbian
Multi-ethnic
Diverse food

Cons
Remote
"bubble" feel
Some spots underdeveloped
Can be expensive
Not much nightlife
Liz M.
Life on the Edge

Rogers Park is a neighborhood with farmers' markets in the morning and the occasional drive-by shooting at night. It's a place where your next-door neighbor is as likely to be an honors pre-med student as a strung-out junkie (although really, what's the difference?). You can walk east through the beautiful Loyola University campus, bumping into Jesuit priests, or West down Devon Ave, boasting a Hindu temple, a mosque, and some of the best Indian takeout this side of the Atlantic.

As a Loyola student journalist and Chicago native who frequently reports on issues in community, I think the area can be summed up in two words: identity crisis. As Loyola continues to buy and lease more and more property around campus, locals feel as if they're being pushed out. They frequently clash with the large and occasionally rowdy student population, who stumble home from the two campus bars However, the university's expansion has ultimately made the area safer. Safety is a big concern and there have been at least three gunshot deaths in the past three months alone. This is not an area where a young woman can walk alone at night. Unless you enjoy playing video poker by yourself or drinking beverages out of brown paper bags, there is no nightlife outside of Loyola.

Relative to the rest of the city, the neighborhood is relatively inexpensive. Just a quick 20-minute ride away from downtown on the 147, the neighborhood is slightly cheaper than the more upscale Wrigleyville or Lakeview while still boasting lakefront beaches and vintage apartments. The diversity of the area also means surprisingly great dining options. Sushi, Indian, North African, Thai, and greasy spoon restaurants are abundant, and most have prices that fit a student budget.

The bottom line is if you're looking for an inexpensive place near the Lake and are willing to compromise a bit on personal safety, Rogers Park is a great option.
Jera D.
Oh, Rogers Park…

I would be hard pressed to find a neighborhood in Chicago that is less pretentious, more affordable, as close to the lake and as diverse as this spot. As north as north can be without being not-Chicago-anymore, Rogers Park has a comfortable charm worth looking into.

When I first moved here 3.5 years ago, I had a beautiful studio apartment on the third floor, huge east-facing windows, hardwood floors, walk-in closet, bathtub and a shower, a separate kitchen and pay laundry in the basement for only 495 a month, utilities included. The building was on a quiet street, a 5 minute walk to the el in one direction, and 10 minutes to the beach in another. Mind you, I had to hunt for that gem, but in Chicago, it doesn't get much better than that.

I mentioned the el (that's "elevated tracks," for those not in the know), and that's an excellent option for transportation. The Clark bus runs north and south all night long, although, I always expect to wait a long time for it. If you own a car and you decide to live here, I would sell it and buy a bike. Just saying. People call this place Rogers No-Parking for a reason. There's hardly ever any parking, and just when you think you've found some, it's permit parking.

There are dozens of awesome restaurants, corner stores, grocers and churches. Right now I live down the street from a predominantly Latino Catholic church with lovely church bells on the hour, and a friendly, smiley Krishna temple which gives me the warm fuzzies every time I walk past.

The children I live with have no shortage of parks to play at. Just west of us is Indian Boundary park with a huge sprinkler on a concrete courtyard that children splash and play in all Summer long. The actual playset is all lumber and creative ups and down and ins and outs, and HUGE. I hear that it was designed from scratch, years ago by a neighborhood committee. There are tennis courts and trees and lovely paths throughout this huge chunk of green space. I love it there.

The Glenwood Ave Arts District is a lovely stretch along the elevated tracks where there's a Theatre where they perform plays for growed-ups and children. There's a charming little hole-in-the-wall bar called Duke's, an adorable recently-expanded gay bar called The Glenwood, The Red Line Tap where you can hear many local rock bands play and, of course, The Heartland Cafe.

The Heartland Cafe deserves its own paragraph. A historical part of Rogers Park, they have a general store inside, specializing in fair trade goods from purses to incense. They sell jewelry, candy, music, books, soaps, hard to find magazines… lots of good stuff. You may have already gathered that this might be a hippie-type establishment, and you'd be right. They have a little bar inside they call The Buffalo Bar, and the restaurant has three sections: indoors, screened-in porch, or classic al fresco. They have a weekly spoken word open mic and frequent performances. The food has never been bad to me. They sell tasty veggie-friendly fare, but also, buffalo meat. They're not cheap, but they're not terribly expensive either.

The beaches here are top notch with a concession stand run by the Heartland Cafe, a playground, lifeguards, picnic areas and a bike path. Yearly at the beach, there's a festival called "Artists of the Wall," where people can pay for a plot on the long stretch of concrete seating area and paint their own little patch. Each year, around Father's Day, it's painted white, and they do it all over again. It's a blast.

And, okay… there are places in Rogers Park where I do not feel safe. There are places where I feel I might not choose to be alone after dark, but the funny thing is, all you have to do is walk a block over and resume in the direction you were headed. These rough areas are small little islands in a great big sea of awesome.

The neighborhood is overall friendly, loaded with happy children, up-and-coming, run by entrepreneurs, loaded with things to do, and most importantly, especially these days, CHEAP.