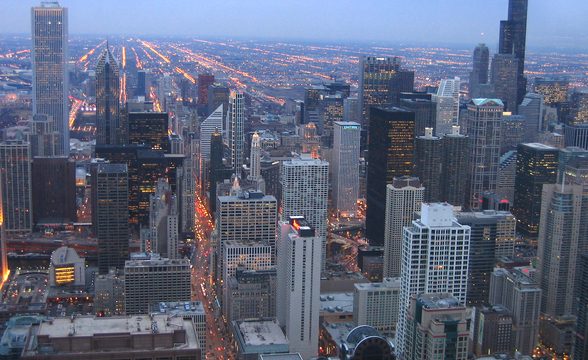 The Loop
Infomation
Commercial center and heart of the city, The Loop's hovering high rises house Chicago's heads of finance and government. Taking its name from the L train tracks that circle the area, this nabe is the place to go for mainstream entertainment: want to see an opera, ballet, play, or big concert? The Loop's the place to go. In the mood for shopping? The Loop's retail district plays second only to Chicago's famous Magnificent Mile. 319 acre Grant Park, a.k.a "Chicago's Backyard" is located here as well. The Loop's sovereign spot among Chicago's nabes creates quite a crowd, though—expect a flood of tourists while you walk these streets.
Data : Neighborhoods & Travel – Score out of 100
TOP ATTRIBUTES
Public Transportation 10
Shopping 89
Exclusive/Prestigious 77
Public Schools 75
Dining 75
LOWEST ATTRIBUTES
Seniors 29
Quiet 25
Families 23
Community 17
Parking 8
Reviews
The Loop
The "heart" as many say of Chicago, I lump The Loop into the group of areas that I don't visit unless I need to. Not that it isn't wonderful, because it is, but not a place to live by any means. This area is the iconic skyline, and while there are stunning buildings, festivals, works of art, cultural institutions and such, there's an empty feel to downtown after night hits.
It really is what people think of when they imagine Chicago, as it should be. However, when the work day ends, downtown slows down to a glacial pace that isn't ideal for many to reside.
What's not so awesome
shuts down early, tourists, pricey
Marianne L.
Love the Loop
The Loop is the iconic center of Chicago and what locals mean when they refer to "downtown". So nicknamed because of the "loop" made by several el lines around the area, it's where you'll find most of Chicago's historic, artistic, and commercial attractions, as well as some of the tallest skyscrapers in the world. Most of Chicago has a down-to-earth attitude and often feels like a big small town, but the Loop is a cosmopolitan, awe-inspiring place that reminds you that you're in one of the biggest cities in the world. It is glamorous, expensive, beautiful, fast-paced, and always alive. It's impossible to really "see" Chicago without spending time in the Loop.
People that would enjoy this area are tourists, or anyone who wants to feel like a tourist for a day. New York transplants feeling homesick will appreciate the glamour and big-city feel. Shopaholics can find everything from huge department stores like Bloomingdale's ("Bloomie's" to locals) to haute fashion boutiques (think Chanel, Prada, Hermès).
Liz M.
It all depends!
The Loop is a completely different neighborhood during Monday through Friday from during the weekend. It's bustling and busy when everyone is here working. On the weekend, it's much much quieter unless you're near one of the shopping sections.
What's awesome
What's not so awesome
Again, it depends on if you're working here or living here. I would think that living here, so many places being closed on the weekends would be a not so awesome aspect.
Heather
Chicago's face, if not necessarily the heart
When people from out of town think of Chicago, the Loop is what they think of. It's the center for business, shopping, the theatre district, libraries, colleges, tremendous public parks and museums. For those of us who live here, the loop is maybe where you work or transfer to a different El line. I don't ever come here when it isn't necessary, but I won't grumble when my family or friends from out of town want to take those boat-borne architectural tours (take the architectural tour). There's always something for even jaded, too-cool to bother west-siders like me to do. I don't know who in the world would want to live here, though.
Michael
Business, culture, history, tourism, excitement— the Loop has it all. This area is full of possibilities for everyone… If you are prepared for it.
For those of us who live in the Chicagoland area, the only reason to visit the Loop is for work or special events. This area, during the rush hours of the week, is extremely packed with cars and people. Here is a typical image: 9 o'clock in the morning on a Monday. The rush of the people coming out of Union Station is overwhelming. Black suits, black briefcases, black coffee. Monotonous except for the few young people and families who clearly don't know the term "speed-walking." The sound of car horns and business-people on their cell phones. The smell of the river upon exiting the dark, sweaty train station. The image of a sea of suits in unison down Madison Street.
The vision can be overwhelming to some, but to those who work in the Loop, these images, sounds, and smells are home. This fast-paced environment provides comfort to those who enjoy the atmosphere. The people, while seemingly intimidating, are actually quite friendly. The weekend atmosphere in the Loop is not quite as intense. A hotbed for tourists, this area provides culture and fun for any age, any time of the year. Whether you enjoy architectural tours down the Chicago River or revel in trips to the Goodman Theater or Joffrey Ballet, the Loop has entertainment for all.
If you live in the Chicagoland area, don't be overwhelmed by the intensity of the Loop. The options of entertainment are endless. Be a tourist in your own city for a day!
Lizzy F.
Touristy Loop
Although many believe the term "The Loop" comes from the elevated "L" trains that do indeed form a loop around the downtown area, the name actually comes from the route of a streetcar that served Chicago in 1882.
Today, the Loop is basically Times Square, Midtown, and Wall St/FiDi rolled into one neighborhood, albeit in Chicago. Easy walking distance to Grant Park and Millennium Park, this is definitely a great option to stay if you're visiting Chicago for a few days.
If you're looking for a place to live, I'd recommend more residential nabes like Hyde Park and Gold Coast.
Diana S.
Hectic and alive
This area is what makes Chicago Chicago. The tall buildings, swarms of people, and institutions of global finance converge to give the city its feel. On the surface, it seems to be a very similar experience to New York, but the distinct Chicago style emerges on closer inspection. The Merc and related infrastructure put Chicago into a distinct class of its own. I work in this neighborhood, so most of my experience in the neighborhood itself is centered around lunch at the fantastic restaurants here and navigating the slow moving hordes of tourists that don't seem to understand that everyone else has jobs to attend to. For the most part I pass on the substantial entertainment offerings, but I can see the outdoor festivals in Grant Park from my office. Many of my younger colleagues live in the New Eastside area and assure me that the nightlife and party scene is quite active.
I don't know if I could ever tolerate living here, but, as a place to spend a lot of time in, it is a lot of fun.
Will v.
Be at home in the heart of it all.
This is a poorly-drawn neighborhood area, as it lumps together some very different areas. But across them all you'll find great living that's convenient to anything in the city. All the transit options converge here, so you can get to/from anywhere.
You'll see all sorts of interesting things from filming major movies to the President-elect's motorcade to parades to the President's helicopter.
One downside to this area is the influx of tourists, and worse the festival-goers. The hoardes attending Taste of Chicago, Blues Fest, Lollapalooza, etc. can be annoying but are avoidable. And the rest of the year we have the best backyard in America.
Brock R.
nabewise