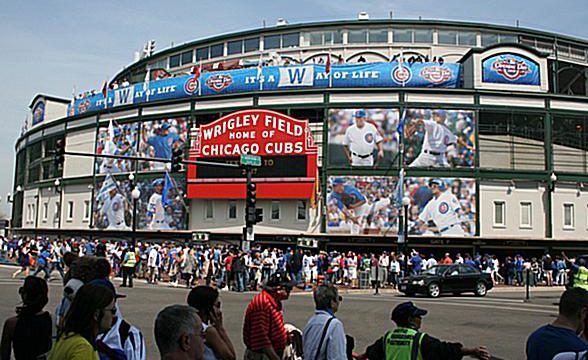 Wrigleyville
A baseball fan's delight, this Lakeview pocket nabe is home to Wrigley Field and its shops, restaurants, bars, and residents readily embrace all things Chicago Cub-themed. Many buildings even host Wrigley Roofs—rooftops filled with bleacher seats perfect for viewing sold-out cubs games. While it's a bit more All American and beer-oriented, Wrigleyville still maintains the same charming brownstone, tree-lined, and relatively calm streets that Lakeview's known for when it isn't game day.
Wrigleyville Data
Top Attributes
Public Transportation 7.8
Wrigleyville Reviews
Marianne L.
Go Cubs Go, if you're into that kind of thing

I had the pleasure (and misfortune) to live in Wrigleyville just off the Addison Red Line for a year while I was in college, and it definitely caters to a college student in every way. While it is relatively small, mainly comprising of Wrigley Field and a few blocks surrounding on either side, the entire area is pretty lively particularly during baseball season.

Aside from the field, Clark street that runs along the west side of Wrigley boasts a slew of sports bars for a solid couple blocks so if you can't haggle your way into some bleacher seats, take your pick of any number of places. In the year that I lived just a block east of the field I frequented a few places, but forget about trying to get ahold of anyone on your phone in a three to four block radius during game time.

The residential parts of Wrigleyville are nicely kept condos and a few homes, and there is no shortage of tenants. As for me, I can handle the area during the day, but once nighttime hits, I'd rather circumnavigate Clark Street than dodge and duck swinging arms and spilled vodka redbulls.

What's awesome

drink specials somewhere every day of the week, summer festivals, reliable bus and train transit

What's not so awesome

Game day crowds, any night from Tuesday to Sunday is really congested
Lissa Weinstein
Gotta Love Baseball

Love baseball? That may be a key ingredient to lovin' Wrigleyville. I happen to love baseball (& i hate to admit this, but its cellular field that I adore! There's nothing quite like it on the planet unless you're going to a good tennis match for me).

Wrigleyville is that part of Lakeview that get's its name from Wrigley Field, where the Chicago Cubs play ball. Housing in this area is mostly condo and apartment rentals, but there are also really good options for single family homes too. Public transportation is great (better than driving), with the red, brown and purple line all stopping here & plenty of bus lines as well.

Landlords love Wrigleyville because the apartments are always fully rented; so investments in Wrigleyville multi-units have long been considered to be prime real estate holdings.

Parking and driving should take into account game days and nights, but the rest of the season is a bit more of a breeze.

The east side of Wrigleyville is set on the lake, with recreational drive and some of the best bike paths, softball and tennis courts in the city.
Meredith M.
Baseball, Bear….and more Baseball

If you don't like these three "Bs", don't even THINK about setting food in this hood. Whether the cubs are winning or losing (unfortunately it's usually the latter), Wrigleyville will be alive and kicking. There doesn't even have to be a game going on for the people in this nabe to celebrate. If your looking for good times with (generally) good people, you've found it…just don't scream "GO SOX!!"

This nabe is filled with casual sports bars of all shapes and sizes, tasty restaurants for any palette and people for DAYS. If you like being in the center of the action, this is the place to be.

What's awesome

What's not so awesome

if you have a fear of crowds…DANGER!
Bryan
Wrigleyville

Wrigleyville seems to run on the baseball played at the ivy incrusted field at its epicenter, where it derived its name. From April to September – and maybe one day, October – the streets of Wrigleyville are packed with people attending Cubs games, going to bars or doing both. During a game the sound of bats cracking and crowds roaring can be heard for miles around, while the smell of beer and brats fills the air.

Although the Cubs and Wrigley Field are the center of attention, Wrigleyville also has quite the nightlife. Clark Street, for example, just west of Wrigley Field, houses a plethora of restaurants and bars including The Cubby Bear, Sluggers, the veggie heavy Pick Me Up and Goose Island, a nationally acclaimed brewpub and brewery. It is also home of iO Theater, which provides some of the best improvised comedy around. Notable alumni from iO include Tina Fey, Mike Meyers and Chris Farley. And just a few blocks north is the Metro, a premier music venue that hosts a variety of emerging acts.

Wrigleyville is considered an affluent neighborhood. However, you will find a lot of college grads or students. It is also possible to find a cheap place to live. Just call up Chicago Apartment Finders. They'll hook you up. Overall, it is great neighborhood to live. That is, unless you're a White Sox fan.
Michael
Baseball! Brats! Beer! Everything you expected!

I don't completely hate Wrigleyville. Around the outskirts of the lousy, lazy money-grubbing misery factories that generate around any major sports franchise (go Cubs, btw.) there are some good places to eat and shop. For some reason there's a type of neighborhood where like eighteen "smoke shops" all crowd next to one another on the same street and you get that here a little. There's all the Cubs nonsense, but one should expect that. I too, enjoy the experience of going to a baseball game. Every once in a while.
But I like to visit. Biking West on Addison is actually quite charming. I would not ever in a million years go out drinking in this neighborhood, though. Sports bar after sports bar after "Irish" "pub". But that's just not my culture. If you've got some dough and love competitive sport, it might be great to live here. Don't let me sass you. Wrigleyville is kind of cool, actually. Just don't tell anyone I told you that.
Oh and the overlap with Boystown is amazing to behold. Rich sissies and jocks living together in harmony is very cool.
Tom W.
It's not for everyone, unless you consider yourself a sports-loving extrovert. One can get all he wants from baseball with The Cubs, hot dogs, pizza and beer, then the next day burn off those carbs with a 15-mile jog along the lake. The people in Wrigleyville are birds of a feather who dress alike in blue,red, white, but the surrounding areas celebrate a diverse a range of lifestyles.

If busy streets and sports fanfare isn't your thing and you'd like more of an artsy community, then I suggest you check in and around the area of Belmont Cragin andBridgeport.
Amanda M.
Not a Baseball lover? You may have some issues here

Ok, here's the deal: Wrigleyville is awesome, and incredibly charming when you get into its residential areas, but if you're not a big sports fan, or you have a young family, you may find yourself a bit, er, irritated. It's difficult to find a bar in Wrigleyville that doesn't have a tv in it (although there's plenty of classy establishments blocks away in the rest of Lakeview). For families, the area right around Wrigley Field can be too nuts on game day—too much foot traffic, too much beer and noise, etc. If you're not a big cubs fan, I'd recommend checking out a different section of Lakeview. If you are, well, welcome to paradise.