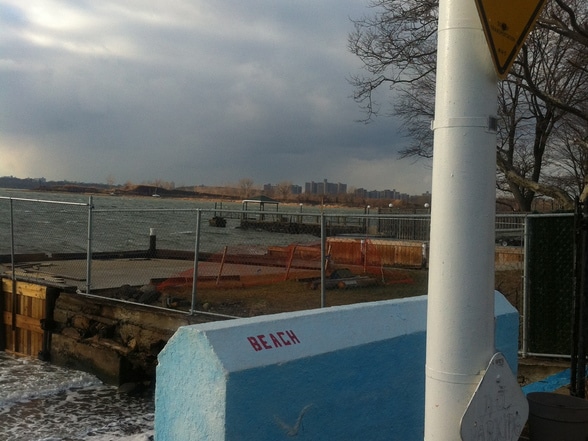 City Island, The Bronx
by nabewise
Infomation
A clearly incongruous outcropping of coastal culture, City Island is located on the Bronx's eastern side. City Island is populated by bungalows, beachfront houses, marinas, and yacht clubs. It's also established itself as the de facto capital of New York seafood restaurants. Residents commuting to Manhattan, when not driving, typically take one of the two rush hour express buses into the city.
Top Votes – Score out of 100
Dining 93
Clean 81
Families 80
Community 78
Safety 78
Lowest – Score out of 100
Seniors 57
Singles 56
Shopping 47
Public Transportation 31
Income 19
Top Reviews from Travel Rentals Neighborhoods
Wanna go on vacation? Within NYC? Just for the Seafood? Try City Island

I kind of feel sorry for this nabe. I mean, look at it. It's cute, peaceful, has the vibe of a tiny Hudson Valley town, and has, hands down, the most ridiculously awesome seafood on the cheap I have ever had. So why do I feel sorry for it? Because it's in the freaking Bronx. Which is sad, since so many people will never see this little slice of awesome in Long Island Sound. To add insult to injury, not only is this nabe in the Bronx, it's way the F up in the Bronx. Accessible by bus from the Bronx, if you are coming from Manhattan, or god forbid, Brooklyn or Queens, expect a lengthy journey to get up here (don't even bother if you live in Staten Island).

So, is the journey worth it? In a word: yeah, kinda (ok, so two words). City Island's seafood is worth the journey, and it's interesting to see such an aberrant part of this great city, but it's a serious journey via mass transit (if you have a car, it's a game changer). According to Hop Stop, from my house in Stuyvesant Heights, it's a two train, two bus journey, taking a little over two hours. It's a serious journey, to say the least. But the food might just be worth it on a special occasion if you are feeling super adventurous.

What's awesome

The food, the cute houses, the peaceful vibe, the ability to forget for a hot minute you are in the FREAKING BRONX

What's not so awesome

uh, it's in the bronx, waaaay the hell up in it too…

Zachary Walker
Sincerely,

Dear City Island,

I miss you. I've missed you for a long time now, and there is little I feel like I can do about it, now that you are so very far away. I remember the first time we met; it will be 10 years ago this spring. Driving down from Mount Vernon I doubted your existence… a little slice of New England in the Bronx, I'd been told. Yeah right. I"d like to see that.

Crossing over the aptly named City Island Bridge my breath was taken away. Could this be true? Masts? Lobster shacks? A small main street that looks like it belongs on Cape Cod? It was love at first sight.

But after our first night together at the Black Whale I knew this was real; this was forever. We'd sit together on the patio, sipping sangria, trying a little of this, a little of that, lingering over dessert before I'd walk lazily back to my car, dreaming of when I'd see you next.

Then I moved. There was a new house. A new job. Eventually a marriage and a toddler and now I'm missing you more than ever.

As the weather gets warmer I find myself wishing again for those long sun streaked evenings on your patio… a drink in my hand… the cares of a long day full of misbehaving students and standards driven instruction melting away like a ball of vanilla ice cream over the top of a soft, warm brownie…

If only I could figure out some way for us to meet again… if only for an evening…

Yours forever,
Christi

What's awesome

The Back Whale, The ambiance, Feeling Like You're Not In The City

What's not so awesome

It's so far away from Peekskill!

Christi O.
Feels like you left the city: City Island's an NYC vacation

I just took a day trip here last week and had a wonderful time. City Island's big rep. is that it's absolutely nothing like the rest of the Bronx and it truly lives up to that. More reminiscent of a small New England town (it felt very Boston), City Island's filled with adorable homes (think white picket fences) and a cozy main stretch of kitschy businesses and SEAFOOD spots all over the place.

We dined at a casual seafood place and had an awesome time—decor felt very 90s, we didn't spend too much cash, and walked away feeling monstrously full of lobster and oysters. Score!

We were warned many times that mid-January is NOT the time to go visit an island known for its sunshine and summer fun, be we ignored the advice and went anyway. I have a special spot in my heart for desolate NYC winter spots, but this def. was not it—even in freezing cold and wind, City Island maintained its charm (although I admit we spent more time driving around than walking). Will be sure to come visit again in the summer and smell the ocean!

I think every New Yorker should check this place out at some point—was a joyride. I emphasize the "ride" though—getting here by public transit is a day-long trek. A car is truly necessary.

What's awesome

charming like nowhere else in NY, amazing (and sometimes affordable!) seafood, feeling like you left the city

What's not so awesome

car's necessary to get here

Katie P.
Seaport of The Bronx

…So proclaims the sign across the classic drawbridge leading you from the mainland to this tiny jewel in the Long Island Sound.

City Island is a small island located within the borders of the Bronx that is famously known as a fishing village in New York City. Marinas and expert boaters abound, and the island has a long history of ship-building.

There are lots of things to see on the island, including a nautical museum, several gardens, historical homes, boutiques, and art galleries. Homes are small and charming, streets are quiet, and the air smells of fresh sea-salt.

But City Island is most famous for its dining. There is a multitude of seafood restaurants to choose from on the island, from small shrimp shacks at the end of the Island to world-class establishments with al-fresco dining. You will not leave this neighborhood hungry.

Public transportation is tough, as there is only one bus, the Bx29, linking the island to the mainland and the 6 train at Pelham Bay Park. It is not a 24-hour bus, so a car is your best friend on the island. There is a ton of nightlife, from restaurants with ample bars to local bands playing in various venues along the main strip.

The public elementary school on the island is quite good, though there are no middle or high schools. The nearest public secondary schools are in Co-Op City. There are also no hospitals on the island, making emergency response times a bit of a concern. There is a library, firehouse, and post office, however.

City Island has a strong and vibrant small-town community and is best visited in early spring or late summer, when the crowds have thinned

Amelia Z.
City Island = <3

City Island is the greatest thing since sliced bread for anyone that lives in the Bronx. From my house City Island is a 5-10 minute car drive at the max. however for anyone else trying to get over to this is awkwardly place paradise it's pretty out of the way. City island looks like a mini vacation spot with dozens of seafood restaurants- which are all home to amazing seafood.

Some places I'd recommend: Lobster House (my friend works here and on the 4th of July you can come here, enjoy some seafood, and witness the firework show over on Orchard Beach), Crab Shanty, and Lobster Box. There is also a great dessert restaurant in the center of the town, and you'd miss it if you aren't looking out for it, it's called The Black Whale. Whale has some great food options, but is best known for having an awesome dessert menu. Also near The Whale is a small ice cream shop that I come to in the summer, suffer through the damned City Island traffic to get to, called Lickity Split.

Well know that I mention it I guess I should talk about something I do not like about City Island. THE TRAFFIC. City Island is tiny. I'm almost positive there are about 2 buses that run along the route and there is ONE 1 UNO road that runs in and out of the town. City Island Avenue, on any given summer day/night, is probably one of the layers in Dante's Inferno. The traffic along this street is unbelievable and sometimes unbearable. One night I decided, with some friends, to go eat at the Lobster Box (closer to the end of the island) and what should have taken us a 15 minute drive from my house to the restaurant took 45 minutes all because of the congestion on the avenue.

But aside from that City Island is a great nabe. It's easily accessible to those who lives in the Northern/Eastern parts of the Bronx (like me) and even close to some residents of Westchester County. The area is great for raising a family because of the cute, suburban feel to the area. OH and bonus for living here? You also get your own little piece of the nabe's private beach, and the homes here are beautiful!

What's awesome

Lobster House, Lobster Box, Crab Shanty

What's not so awesome

Helen C.
I worked on a boat for a few years and whenever I am feeling anxious about being stuck on land I take the bus over to City Island to breathe in the salty air and watch people eat. City Island is perhaps best known for its food, but I appreciate it more for its air. It's clean.Paul
I LOVE visiting City Island! People always come for the food (and trust me I love the food!) but there's so much more to it! The community is great. The people are artistic, creative, and unique. It's also a very tight community that fights hard. I saw on News 12 Bronx how hard they fought to keep their firehouse open.The neighborhood is quiet, clean and beautiful and there is plenty to do! Art galleries and stores abound. It gets crazy crowded during the summer months though because of all the visitors. And forget about coming here on Mother's Day, the restaurant traffic backs up all the way to MY neighborhood!

Josie M.