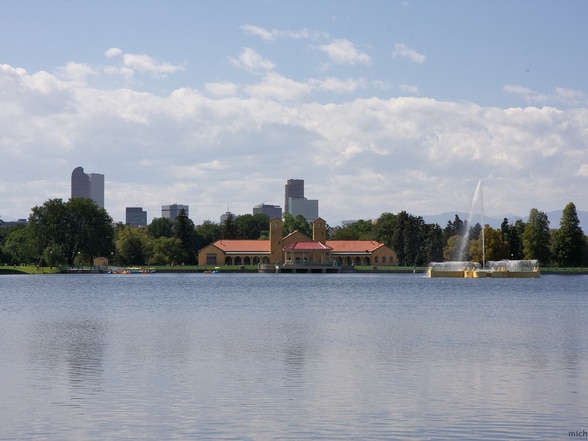 Home to the Denver Zoo and Museum of Nature and Science, City Park sure packs a lot between its tree-lined borders. Looking for weekend activity? This urban park has got you covered: take a paddle boat out onto Ferril Lake or enjoy an afternoon concert in the warm summer air—whatever your fancy, City Park provides the best in outdoor recreation. Although more park and less housing, this nabe's few residential blocks are quite appealing, possessing quaint brick cottages and immaculately kept lawns. With its abundant activities and postcard view of Denver's skyline, City Park is certainly a local favorite!
City Park Data
Lowest Attributes
Public Transportation

4.4
City Park Articles and Reviews
Learning, Fun, Everything!
Ok. I? LOVE monkeys. And the Denver Zoo? Has an AMAZING monkey and ape house. As you stroll through the Zoo you can see all manner of exotic animals and also some of the local wildlife as well. Big Horn Sheep, Grizzly Bears, and my personal favorite: Prairie Dogs. Yep. I said it! I love me some prairie dogs! They're cute, they bark, and they carry the Black Plague. Ok, that part's not so cute, but THEY are!
Just down the way you'll find the Museum of Nature and Science. As you enter to purchase tickets you stand under the gigantic Tyrannosaurus Rex skeleton. The gift shop is large and extensive. They have IMAX, Native American displays, animals (stuffed and skeletal), and Egyptian Mummies. There is also a rotation of shows that move through. I have visited Body Worlds and the Titanic exhibits here and countless others.
The Park itself is large. It has a couple of lakes, picnic areas, and nice paths. There's a golf course, too! If you're into that.
The homes in this area and brick bungalow style and highrise condos. Parking can be a nightmare on weekends, especially in the summer. And when you go to the zoo make sure you go as soon as they open so you can see the animals up and about!
What's awesome
MONKEYS! And all that other stuff
What's not so awesome
Parking is questionable on the weekends and make sure you lock your car and take valuables out!
Niki G.
Want something to do? Head to City Park.
Where else can you spend a day examining dinosaur bones, marveling at exotic moneys and picnicking in the park? Thinking of taking a paddle boat ride on the lake? City Park is the place to be. With over 330 acres of lush green space, stunning views of the city, two lakes, a golf course, several playgrounds, historical fountains, a zoo, and a museum, it is no wonder that the residential space in this nabe is minimal (only two blocks wide in fact).
With free community events going on throughout the year, such as Jazz in the Park, Tour de Fat (New Belgium's quirky beer fest) and free days at the Nature and Science Museum, it is easy for any tourist or local to fill their calendar with fun in City Park for very little cost.
Bordering the park, the residential area of this nabe includes a mixture of recently sprung up high-rise condos and historical homes. As to be expected in a nabe with such sought after views of city, the real estate is prime, and pricey at that. I, myself, prefer to rep the benefits of the park, while living comfortably only two blocks away, in City Park West.
What's awesome
green, pretty, lots happening
What's not so awesome
closest restaurant and shopping options are on Colfax or in City Park West
Christine S.
this place is the park!
city park is mostly the park itself—just a little bit of residential blocks. the park here is one of the main highlights and stars of denver, tons of green space to relax, hang out with the puppy or hubby, visit the zoo, enjoy summer concerts. i would very much love to live right on the park, i would just spend every minute outside!
Lynn S.