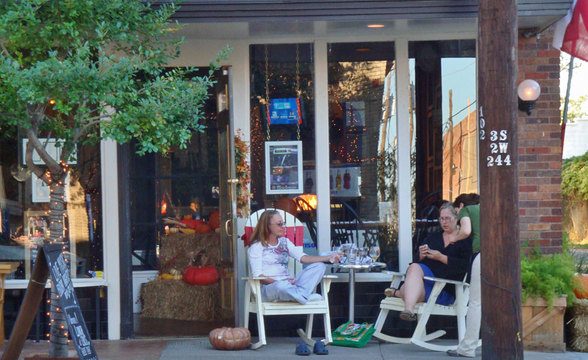 Bishop Arts District
Just two blocks wide, the Bishop Art District is a small pocket in Oak Cliff that offers the finest in Dallas eclectic charm. Café culture and warehouse-turned-vintage shops are the order of the day, and giant wall-sized murals give the streets a gleefully bohemian feel. The residents and visitors of this nabe tend to drift towards Deep Ellum as the sun sets, but when the party's over, many folks are happy to call the BishopArts District home.
Bishop Arts District Data
Bishop Arts District Reviews
Katana H.
The Bishop Arts District has Old World Charm

The Bishop Arts District is composed entirely of about 50 independently owned businesses. This collection of companies sells a wide array of services and products in closely-knit boutique shops. Every 1st Thursday of the month, the shops have a wine walk which allows you to walk to each boutique to continue your unlimited personal happy hour for only 5 bucks.

Visitors of the Bishop Arts District may enjoy fun finger foods to home cooked dining in the area. Gloria's, Cafe Brazil, The Soda Gallery, & Zen Sushi are just a few local restaurants in the area providing quality nourishment for foodies alike.

The Bishop Arts Market is a family friendly street market hosted by the old world buildings in the area of the 1920's. This food and music event permits vendors to sell their specialty items in the nostalgic mood and charm of the neighborhood.

What's awesome

Unique specialty shops selling products you wouldn't be able to get anywhere but the internet.
Steve R.
Quaint and delicious

The Bishop Arts District is a small but welcoming nabe just outside of Downtown, a favorite hangout for local bohemians and free-spirited artists. Here you will find a wealth of boutiques and restaurants crammed into the space of about two blocks. My favorite part by far is the diverse variety food options. You'll find everything from Brazilian to Greek to Thai – every meal I've had here has been simply incredible. The Bishop Arts District is also home to several big art festivals which showcase local talent and again, offer amazing food.

I haven't done much looking at the homes here – they seem to be mostly single family houses that aren't too remarkable, however they are within walking distance to many cool amenities. From what I understand, the areas outside of this nabe's borders are still a bit questionable, so I'd probably rather treat this nabe as a destination rather than a place to live.

What's awesome

An overwhelming amount of independent shops and excellent restaurants

What's not so awesome

Directly outside the nabe can be a little sketchy, and sometimes it can be positively crowded
Meredith L.
Fit for the Free-Spirits & Hipsters

I can't believe I just discovered this little gem in Dallas. I'll admit, it's a little terrifying getting to this Nabe. But once you are there, you feel as if you have stepped in a magical place with yummy restaurants, eclectic boutiques, and a radiant vibe. But beware: one step outside the Bishop Arts District's borders, and you get a pretty clear view of the ghetto.

When the weekend hits, the trendy Dallasites make their way from their uptown lofts to enjoy a delish dinner in the Bishop Arts District. Quite a eclectic mix of people though. While walking down the street, you are likely to see tatoo-cladded hipsters on one side, and lacoste polo-wearing prepsters on the other.

What's awesome

Good food & shopping.
Cool vibe from colorful brick shops and restaurants.

What's not so awesome

No place to live. Sometimes its even sketch walking to your car late at night.
nabewise