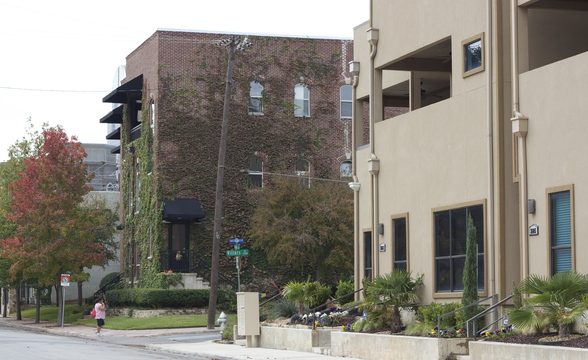 Bryan Place
Infomation
Bryan Place is a community unto itself. Nestled just above downtown, the area's historic homes and pristine streets make for one of the city's most picturesque neighborhoods. Residents pride themselves on being warm and closely acquainted, and can often be seen enjoying the greenery of nearby Exall Park. Lying within walking distance ofDowntown and the Arts District, Bryan Place is truly one of Dallas' best nabes.
Bryan Place, Dallas Data : Neighborhoods & Travel – Score out of 100
TOP ATTRIBUTES
Safety 83
Empty nesters 79
Singles 75
Community 71
Dining 67
LOWEST ATTRIBUTES
Quiet 50
Parking 50
Families 50
Seniors 44
Income 14
Bryan Place, Dallas Reviews
For all ages
Minutes away from Downtown and across the freeway from Uptown, Bryan Place is a suburbanesque nabe in an excellent location. There is a cool mix of architecture here – many historic houses and nice-looking apartments, some of which have impressiveDowntown views. A good number of modern condos and apartments have gone up in the past few years, revitalizing Bryan Place even more. Exall Park is an added convenience, ideal for morning jogs or walking the dog. I would consider this an ideal place to live for both families and young people – it has a calm, relaxed atmosphere while close to some of the greatest destinations inDowntown Dallas.
What's awesome
Great location, nice variety of homes, family friendly Steve R.
Hidden Away
This nabe is something of a hidden treasure in the Downtown area. It's a suburb-esque block of land that's within walking distance of everything cool to do in the inner city. The homes are more or less beautiful and well-maintained, and families walk the streets with strollers in tow. There's diversity, however – gay couples are not an usual sight here, nor are younger professionals. Bryan Place homes are pricey, but the convenience to downtown can't be beat, and the access to the
DART
train is unparalleled. Exall Park is awesome. I would definitely live here if I had the option.
What's awesome
Suburban comfort while still being able to walk to downtown Samuel A.
nabewise