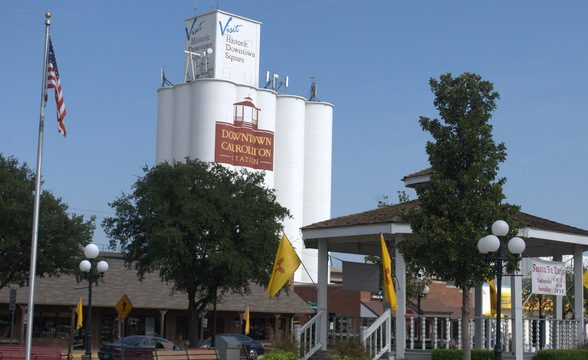 Carrollton
Carrollton is a separate city from Dallas in both government and charm. Carrollton hosts a town square with local shops that help preserve the small town feel here. A newly opened DART train station makes this nabe one of the very best suburbs for public transportation, with rides to both downtown and north Denton available. Above all else, Carrollton offers quiet streets and a cozy, comfortable nature.
Lowest Attributes
Public Transportation 3.3
Carrollton Reviews
Steve R.
Carrollton: All-American town

If you've ever been to a suburban town in Kansas, Carrollton will look very familiar to you. This nabe has a classic, midwestern look to it, complete with water tower. Many people both live and work in Carrollton, as it's home to many businesses and headquarters (including Woot.com). There are also plenty of smaller communities within the town, so finding a solid group of neighbors shouldn't be too hard.

Residents here either live in older, one-story abodes or ridiculously large mansions. Carrollton has everything that a large suburb should: parks, schools, a golf course, a Target…with the added recreation options of lakes and streams. Perfect for families and older residents, Carrollton is a quintessential American town.

What's awesome

Very family friendly, lots of amenities spread throughout

What's not so awesome

Pretty generic – you won't find many unique or independent businesses here
Samuel A.
Little Boxes On The West Side

Strip malls, box stores, chain restaurants, blasé residential streets – for better or worse, it's just another suburb of Dallas.

What's awesome

Relatively close to major thoroughfares.

What's not so awesome

Blander than plain oatmeal.
nabewise