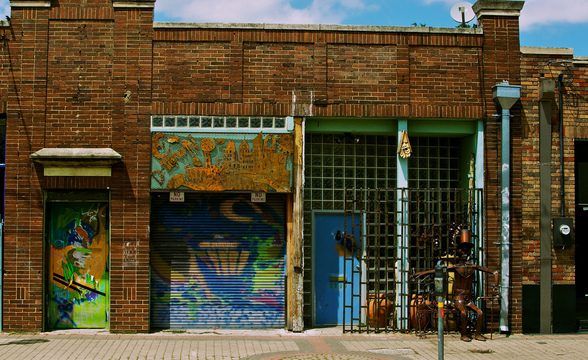 DEEP ELLUM
Infomation
Deep Ellum has been a hotbed of musicians and creative types since 193. Eclectic characters fill the bars and venues of this nabe at all hours of the day. Deep Ellum offers the kind of streetwise urban charm that can no longer be found in the glitzy renovations of Downtown and Victory Park. Locals flock to a plethora of local live music options and incredibly unique clubs in this fun and hip nabe.
DEEP ELLUM, DALLAS Data : Neighborhoods & Travel – Score out of 100
TOP ATTRIBUTES
Nightlife 86
Singles 79
Dining 69
Pet friendly 64
Gentrifying 54
LOWEST ATTRIBUTES
Green space 25
Income 22
Empty nesters 17
Families 14
Seniors 14
Deep Ellum, Dallas Reviews
The Liberal Hipsters
Deep Ellum is a fun place to go to get away from the fast passed life of the uptown style. It's a great area to mix and mingle with people that are more "arts" oriented. I fully enjoy visiting Deep Ellum on a regular basis, and I feel that more people should join this scene. Not only are the people friendly, but they are accepting. This is not usually found of those from Deep Ellum trying to mingle with the Uptown crowd. Give it a try, and find out for yourself.
Trey S.
Dallas' Entertainment Destination
Deep Ellum is a vibrant, soulful nabe with a rich history. Dating back to the jazz and blues boom of the 20s and 30s, Deep Ellum hosted such legendary artists as Robert Johnson and Bessie Smith. Bustling clubs and a colorful nightlife were distinguishing factors of Deep Ellum back then, and still are today. The prevalence of music venues, art galleries, and bars make this a prime location for young artists and musicians of all kinds.
There are many apartments and lofts available, if you want to live near the action and close to Downtown. From what I've heard, it's not too cheap ($700-800 on average), unless the place is really grungy. But like many people who frequent Deep Ellum, grunge is not really minded – it's just part of the atmosphere.
Deep Ellum has had its ups and downs, notably around 2006-2008 (when many places were closing down and there was a spike in crime). But since then, many new bars and restaurants have opened up, revitalizing Deep Ellum and once again re-establishing it as Dallas' most active nightlife scene.
What's awesome
Great atmosphere for all kinds of musicians – check out [email protected] and Sons of Hermann Hall
What's not so awesome
Still not the safest place at night
Steve R.
A Snippet of Austin
Deep Ellum is the closest Dallas comes to Austin. It's full of weirdo's, hipsters, musicians, hippies, and artsy folk. It has a magical feel that attracts a large crowd of eclectic people. The younger hipsters love to visit Deep Ellum to feed their inner artsy-ness.
This nabe is the center of all live music in Dallas. At night it is humming with all kinds of tunes. During the day, you get a perfect picture of the brightly colored murals painted on almost every free space. And don't forget to look for the tall robot sculptures that add to Deep Ellum's artistic flare.
For a great price on apartments, you can enjoy the perks of living right next toDowntown Dallas, but with a rad twist of Deep Ellum's eccentric vibe.
What's awesome
Food for your eyes – there's art everywhere!
Hole-in-the wall restaurants
Live music
What's not so awesome
Can be sketch at night
Meredith L.
The Original Source of Dallas Culture
Any Dallas native will mention Deep Ellum when asked to describe the most unique parts of the city. Comparable to Austin's 6th street, the area has numerous small venues, restaurants and bars that cater to mostly young, eclectic tastes. Its location in downtown gives it a distinctly urban feel, making it a great place to escape the sprawl that defines the metroplex. While difficult parking and somewhat high prices would make it difficult to visit here regularly, Deep Ellum offers distractions that can be found nowhere else in the 214 area.
What's awesome
Solid choice of live music, bars off the beaten path, 24/7 dining
What's not so awesome
Gets sketchy after dark
Samuel A.
Mini Food Tour of Deep Ellum Dallas
Flavorful Fusion Foods
Lemongrass Bistro is the perfect way to wine and dine in Downtown Dallas. Their Asian dishes with French influence were created to promote good health for its patrons. "It obviously starts with a fresh & healthy fare, but then goes deeper than that", says Khoa Nguyen, owner. The restaurant strives to create an intimate, memorable experience with their attention to detail. A favorite among locals for their spring rolls, Lemongrass guarantees a high quality dining experience.A Favorite Among Locals
A popular restaurant serving all American eats has claimed their stake in Deep Ellum as well, by the name of Twisted Root Burger Company. Two culinary chefs frustrated with the lack of a choice burger began this company after 3 years of hard work and planning. This specialty burger restaurant serves unique meats such as venison, elk, ostrich, emu, buffalo, antelope, lamb, & veggie burgers for herbivore friends. Named the Best Burger Joint in America by Burger Business 2009 and winner of the 2010 Dallas Observer Reader's Choice Award for Best Burger, Twisted Root is a neighborhood staple.Classic Italian Fare
Enjoy true Italian flavor with no passport. Jay Jerrier built a fire pit pizza oven in his backyard and was trained by Neapolitans from Associazone Verace Pizza Napoletana to create what we now know as Il Cane Rosso. Pizza begins with the dough, which is made from imported Italian flour, never-frozen, and made in-house. Their personal mission to bring authentic Neapolitan pizza to Dallas is accomplished.
What's awesome
The fun of artsy nightlife is bustling over in Deep Ellum. Eclectic loft art shows, nightly live performances, & 24/7 eats keep the city busy.
Katana H.
CULTIVATE REAL DALLAS
Walk the streets of Deep Ellum and try not to feel cooler, more hip or more connected to Texas. Not the snobby, Uptown, "I'm better than you because I have money" vibe, but the "Hey I'm going to mismatch and its going to be way cooler that way" vibe. To chill, grub, tattoo, listen to amazing live music or simply people watch, Deep Ellum is the secret of Dallas that is coming back to life.
What's awesome
Walking the streets and taking pictures as if it were your job.
What's not so awesome
Bums that try to get in your photos.
AMBER
nabewise