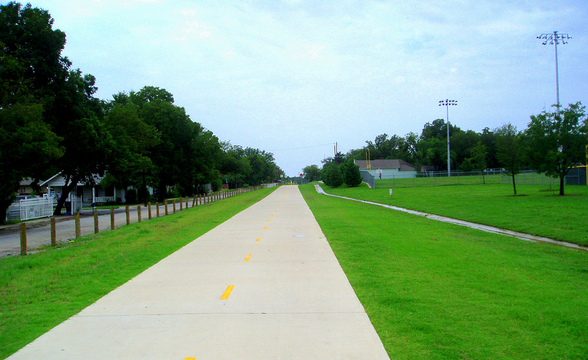 East Dallas
East Dallas is a major region of Dallas—it contains a whopping 26 nabes! Ever since folks started settling here in the 1960's, this area has played a large role in the history of Dallas. Although the residents of East Dallas are not quite as flashy as North Dallas, they still enjoy a comfortable (and more funky) life. Common interests in this nabe are community get-togethers, festivals, live music, protecting the environment, and the preservation of historic homes. East Dallas is also home to some of the most well-known nabes of Dallas:Deep Ellum, Fair Park, Lakewood, Lower Greenville,Old Lake Highlands, and Swiss Avenue.
East Dallas Data
Lowest Attributes
Public Transportation 5.0
East Dallas review
Paige T.
Funky fresh

Just my two cents but I think most people would agree – East Dallas is the coolest part of Dallas. There are tons of historic neighborhoods and cool old houses, awesome places to hang like Lakewood, Deep Ellum, and Lower Greenville, and overall just really awesome people.

East Dallas is also pretty family friendly, even if the schools aren't as famously good as in North Dallas. Families can take their pick between small, community-centered nabes like Lakewood Heights or larger suburbs like Mesquite. Schools, churches, and amenities are scattered throughout all of East Dallas.

But the real draw of East Dallas is its love for the funky and cool. You'll find lots of young, hip, artsy people on this side of town, so if that's your scene, head over to East Dallas pronto!

What's awesome

Lots of cool historic houses, awesome places to hang out, appealing to singles and families alike. Plus it's got White Rock Lake!

What's not so awesome

Maybe not as wealthy as North Dallas, but so what?
Meredith L.
Step Right Up Families!

These folks, they have a lot of neighborhood pride. After all, there are some pretty awesome and historic nabes in this umbrella of a neighborhood.

Lots of families live in East Dallas. It has everything you would want in a community – friendly neighbors, safe areas, lots of grocery stores, highly involved parents, good restaurants, and beautiful parks with playgrounds.

While the public schools are ok, lots of upper-middle class families choose to send their kids to private schools. Like churches in the Bible belt, there are private schoolsEVERYWHERE!

There are cool eateries here. If you are in the area, try Hypnotic Donuts, Legal Grounds, Twisted Root Burgers, or Mi Cocina.

And you can't visit East Dallas without making a stop at White Rock Lake. One word: beautiful!!

What's awesome

All the above! It's a great nabe!
nabewise