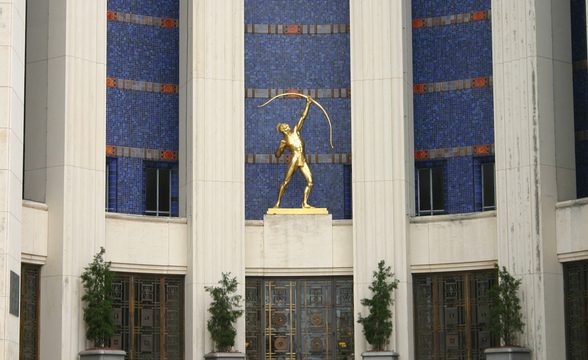 Fair Park
Filled with Art Deco pillars and wide open esplanades, Fair Park represents the Dallas of years' past. In October, the area bustles and booms with the delights of the Texas State Fair, and the Dallas Music Hall ensures a steady flow of visitors year-round. Since Fair Park hasn't been hit by Dallas' construction boom, homes here maintain an older, vintage vibe. The businesses of downtown are close by, as are the entertainments of Deep Ellum.
Fair Park Data
Top Attributes
Public Transportation 4.4
Fair Park review
Paige T.
Cool attractions, ugly apartments

I'll echo what some others have already said: Fair Park is a great destination for many, but not a good place to live. On the border of super-hip East Dallas and super-ghetto South Dallas, Fair Park tends to feel more like the ghetto. There are scattered apartments that look abandoned and rundown, along with many empty fields that have a sketchy kind of feel.

That said, there are a lot of cool things to give Fair Park credit for: its long history (the Dallas State Fair dates back to 1886!) and authentic Art Deco architecture (a result of the 1936 Texas Centennial Exposition), to start. And of course, Fair Park is also home to many museums, live music shows, and a summer amusement park. So while there is definitely a lot to do here, it's definitely not a place to call home.

What's awesome

Fun place to hang out in summer

What's not so awesome

It's still in the ghetto and is in need of much restoration (which should be on the way soon)
Meredith L.
Warning: Stay in the Fair Grounds

Fair Park – it's famous for the annual State Fair of Texas: home to the best fried food you'll find in America. When it's not preparing for or hosting the annual event, Fair Park is home to numerous festivals and events.

But step anywhere outside the limits of Fair Park, and you'll find yourself in the ghetto. With small, rundown houses and bits of trash littered on the ground, it's not a place you would choose to call home.

What's awesome

The Fair – one of the best events in Texas

What's not so awesome
Really sketch outside the fair.
Samuel A.
Old Meets New Meets Hood

Fair Park is somewhat of a bastion of old Dallas charm. Its namesake complex is a beautiful trove of Art Deco architecture and WPA relics. Even while the State Fair isn't going on, walking around the fairgrounds is a great way to spend an afternoon or an hour before seeing a show at the Dallas Music Hall. Speaking of which, if you're a Broadway junkie, you'll be in this neighborhood quite a bit, as most of the major show tours still come here.

This nabe is home to the Gexa Energy Pavilion (aka "Smirnoff" to Dallas natives), and every night there's more than a fair share of traffic going into the area to see big-name acts like Rush and Ke$ha. Concertgoers tend to come early and leave loudly.

Fair Park is a lovely place to visit, and you will inevitably come here to experience the smells and sights of the State Fair if you live in Dallas for any period of time. But you will only ever visit. The neighborhood itself is really rough, with rampant graffiti, unloved houses, and the occasional trash filled lot. After a long day at the fair or an evening at the theatre, you don't have to go home, but you can't stay in Fair Park.

What's awesome

Beautiful architecture, plenty to see and do, great food at the State Fair.

What's not so awesome

Unsafe at night, loud, inconvenient access
nabewise