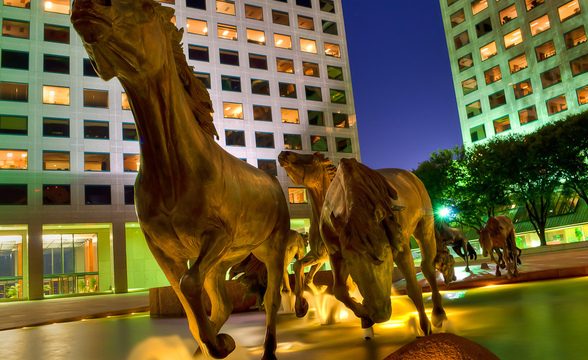 Irving
The commuters who fill Dallas' freeways each morning are likely headed towards Irving. Home to numerous large companies and the University of Dallas, Irving takes up a massive portion of the Dallas metro area. This nabe contains a mix of high rises, suburban smatterings, and the occasional wide-open lot. New developments dot the landscape, and upscale housing complexes are aplenty.
Irving Data
Lowest Attributes
Public Transportation 3.3
Irving review
Paige T.
Comfortable living in Irving

Irving may not be the most interesting place in Texas, but it's certainly got a lot to boast about. This town is home to tons of business and a thriving student population (University of Dallas).

Las Colinas in Irving was one of the first master-planned areas in the US, but what's more interesting to me is the huge Mustang sculpture in the middle of it (tourists love that thing). Homes in this area can be really expensive though. South Irving can be more industrial and more affordable as a result. Basically, any kind of home you could want will probably exist somewhere in Irving, you just have to explore.

What's awesome

Lots of new modern homes and plenty of business. Check out North Irving for more of the newer stuff.

What's not so awesome
Samuel A.
Trade Offs

Irving is a tale of two cities. It's easy to cast it as just another patch in the endless Dallas sprawl (which it is). But the nabe features a slew of institutions and areas that help make it stand apart from the rest of the metroplex.

First and foremost, Irving is home to business. Several high profile companies (Exxon Mobil, Research in Motion, the Archon Group of Goldman Sachs) are headquartered in the city, and tall office buildings resultantly dot the landscape. In combination with the Las Colinas development, it has become quite easy to establish an affluent life in this western section of Dallas.

The nearby University of Dallas provides the city with 3200 additional residents every autumn. While their influence on the area is appreciable, Irving is not exactly what one would call a "college town" – the alluring shops and bars of Dallas proper are only 13 miles away.

If a job or school brought someone to Irving, they would find themselves in a relatively nice, friendly part of the city. But for outright living, one could find better convenience closer to the city at comparable prices.

What's awesome

Lots of places to live, clean, everything seems newish

What's not so awesome
nabewise