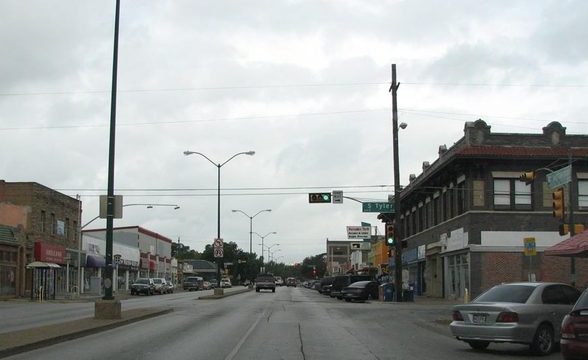 Oak Cliff
One of Dallas' oldest nabes, Oak Cliff features a variety of sights and sounds found nowhere else in the city. From industrial avenues to stately boulevards, from low-rise apartments to impressive estates, Oak Cliff has it all. Despite struggling with a reputation for grit, the neighborhood has been steadily improving over the last decade. As the rest of Dallas is revitalized and rebuilt, Oak Cliff is sure to see a boom of construction and development over the next few years.
Oak Cliff Reviews
Paige T.
The Ghetto OC

Oak Cliff certainly has a negative reputation, that's for sure. Parts of this nabe are downright scary: crime, gunshots, poverty. People compare it to Compton, but just like in LA, sometimes reputations get blown out of proportion. Sure, Oak Cliff can be ghetto, but it's got some nice areas too. Kessler Park and Bishop Arts District are some of the coolest nabes in Dallas, and they're in OC. Other areas aren't necessarily dangerous, just kinda shabby (pick up your trash!). Your best bet would be to just drive around and explore, if you're looking to live in this area. It's definitely affordable. 😛

What's awesome

What's not so awesome

Rundown, unsafe in areas, crime
Meredith L.
Nabe of Diversity

Uhh…not so great. This nabe is kinda sketch and full of ethnic people. It's got a lot of run down houses, untended to yards and beat up cars. And it's in Oak Cliff-which doesn't help too much. It's just one of those nabes that you think: gross.

On the flip side, housing is cheap!

What's awesome

What's not so awesome

Sketch, Unsafe, Gross, Dirty, Bad Shopping and Restaurants
Samuel A.
The Danger of Reputation

Oak Cliff has something of a bad reputation if you've grown up in the suburbs of Dallas – it's the hood, or so you're told.

Now, granted, Oak Cliff does have its tough sections. You could make the argument that most of Oak Cliff is essentially a rough place to live and not many people would debate you on it.

BUT…

Bishop Arts is in Oak Cliff. So is Kessler Park. Both are nice-ish areas.

Come and see the place for yourself. Don't let the negative hype entirely dissuade you.

What's awesome

What's not so awesome

It's synonymous with "rough" in Dallas.
nabewise