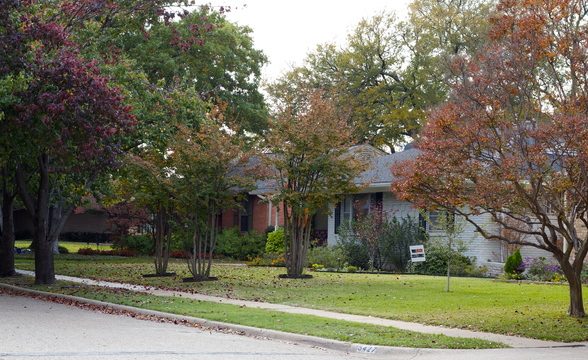 Ridgewood Park
Infomation
Ridgewood Park is a quiet nabe full of one-story houses built in the 1970's. Just west of White Rock Lake, east of Highland Park, and north of Lakewood, this area offers a quick commute to great shopping, scenic views, and superb dining. Humble homes and a slower pace of life attract people seeking a break from the hustle and bustle often found in Dallas.
Ridgewood Park Data : Neighborhoods & Travel – Score out of 100
TOP ATTRIBUTES
Quiet 91
Parking 88
Empty nesters 85
Seniors 81
Clean 75
LOWEST ATTRIBUTES
Singles 50
Nightlife 50
Income 34
Dining 33
Public Transportation 33
Ridgewood Park Reviews
Dean B.
Sense.

Ridgewood Park contains a lot of empty-nest type folks who don't want the bustle of living in more popular Dallas suburbs but still want convenient access to the city.

The streets of this nabe are quiet and secluded, with midsize sedans lining the curbs and trees that shade them. Normal folks live here, the kind of everyday people that eat at a "nice place" every once in a while and wonder what's playing at the local cinema. There's some wealth here for sure, but all in all, this is a pretty sensible kind of place to live in East Dallas.
Meredith L.
Keepin' it slow, safe, and simple.

This nabe is just plain quite. Except for the buzz from minorities shopping at the bigtime chain stores at the nearby Medallion Shopping Center, this nabe is hush hush. In fact, when I was over there snapping a few shots to add to NabeWise, a granny (with rollers still in her hair) cautiously came on to her porch to see what I was up to. It's nice she was checking to make sure I was no stalker, but sheesh!

It's also a nabe filled with older couples living a simple life. The biggest flare in this nabe is their gardens – residents love to show off their gardening skills!

What's awesome

It's a quiet, simple nabe with a bunch of older, white, middle-class people.

What's not so awesome

Eh, there are plenty other options of cool nabes to live in if you are looking for something more hip and happening. i.e. Lakewood, Old Lake Highlands, or Glencoe Park
Steve R.
If you love Target…

Ridgewood Park is a residential East Dallas neighborhood benefiting from proximity to White Rock Lake and the entertainment of Lakewood. Its modest midcentury homes are popular with 20- and 30-somethings, and the local park offers a convenient place to take a stroll. Another reason to choose this nabe is its desirable local amenities, including an Albertson's down the street and a Kohl's and Target on the northern border. Charming houses, abundant greenery, and advantageous location make Ridgewood Park a positively attractive place to live.

What's awesome

Convenient shopping down the street, picturesque residential streets

What's not so awesome

Some empty lots/construction along main roads, could use more local businesses
nabewise