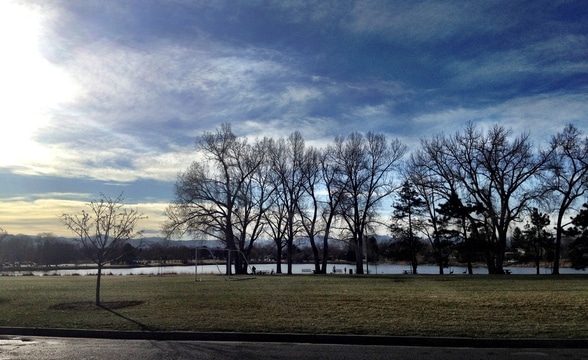 Athmar Park
A suburban nabe in southwest Denver, Athmar Park is truly the land of bread and honey when it comes to recreation. This nabe boasts three parks designed for any and every athlete's dream (soccer, softball, tennis, even trails for bikers and runners). Water-lovers will be pleased here as well with this nabe's 2 small lakes and eastern border along the South Platte River. Once you're tuckered out from all that action, make your way home to one of Athmar Park's many bungalow homes and get some peaceful shut eye—this nabe's definitely on the quiet side at night.
Athmar Park Data
Lowest Attributes
Athmar Park Articles and Reviews
Athmar Park is dominated by a strong, newer Hispanic and Latino population. However, its architecture and parks seem steeped in tradition. The modern residents inhabit old, brick ranches and bungalows you can picture in a 1950's neighborhood. Dotting the residential areas are a number of parks and playgrounds. People bike around Hurston Lake, or play games of basketball on the courts nearby. Little kids run around as their parents follow dotingly behind with strollers or scooters.
Athmar Park's clear demographic of families is interesting considering its history (and present) of crime, but cheap cost of living, a great sense of community, and a slew of schools serving the area balance the negatives for quite a few people.
PS: Niki is right; the pho is awesome!
What's awesome
cost of living, food options, cultural blend
What's not so awesome
crime
Lauren D.
Charming Surprise
Athmar Park is a place in Denver that not many people know of personally. The park itself is of a modest size and the lakes are rather small, but it's a place for families to hang out on a sunny weekend. Ducks and other water birds make this are their home and can be seen frolicking in the reeds.
The homes in this area range from charming abodes dating back to the late 1800's to simple ranch styles from the 1950's and more modern fare. However, they have mostly stuck to the original housing. The schools may not be noteworthy but the library has some great after-school activities including a great art program.
With a large hispanic/latino community there are naturally a large number of ethnic restaurants. Surprising, though, are the number of asian restaurants. If you're craving a true dim sum this is the place to go. Looking for some authentic pho? Head this way.
What's awesome
The park, ethnic foods, after school programs at the library
What's not so awesome
crime, especially graffiti.
Niki G.
Athmar Park: a surprising site.
As a long time Denver resident, the Athmar Park nabe has never really come up on my radar. I am familiar with it's western border, of course, South Federal Blvd has a reputation for offering up some of the cheapest, ethnic eats in Denver and my cravings for pho are not a joking matter. I had no idea, however, that beyond this busy boulevard was a quiet nabe with some remarkable views.
The houses in this nabe are not large but there are lots of them. They sit, side by side, in a suburban type manner, with a little grass in front and perhaps an attached garage on the side. The nabe is situated on a hill, so as you drive through it, scenic views of downtown begin to pop up all around you. There is a large Latino population here which adds a vibrant feel.
Also, don't forget to make a stop at Huston Lake Park. Although not as large are Washington Park, it is much calmer and you might even catch a moment alone if you time it right! It seriously is a hidden gem. Quiet and serene, it's the perfect spot for a picnic by the lake or a run with your mutt and the amazing mountain views are an added bonus!It's important to point out that there is a more industrial side of this nabe on it's eastern border, next to the South Platte River. Railroad tracks, along with factories, accompany the Habitat Park and Vanderbilt lake and are an interesting mix of industry and nature. I'm not as fond of this area as I am the residential space around the Huston Lake Park. There is a trail along the river, a baseball field and some large green spaces but it seems a little misplaced with all the factories surrounding it. It is also right next to the freeway which, in my opinion, isn't really where I want to sprawl out on a blanket and enjoy the scenery. Overall though, this nabe surprised me quite a bit and is worth a closer look.
What's awesome
What's not so awesome
Industrial area along the South Platte River
Christine S.
typical suburb plus nice water spots
for the most part, this is a really quiet area, doesn't feel like city at all. mostly bungalows and ranches—everything looks pretty similar around here but most everyone's done their own gardening and things in their front yards, so it makes all the properties here a bit unique.
There's a big latino population here (as in many parts of Denver). like i said, for the most part, it's relatively quiet , but i do know some ppl that have had issues with loud neighbors (having parties, etc.). for the most part though everyone's respectful and calm. There are lots of parks around here too and some small lakes—always a plus for runners, people with kids, and such.
I think the lakes are actually one of the things that takes this area from mediocre to pretty nice.
Jenn H.
nabewise