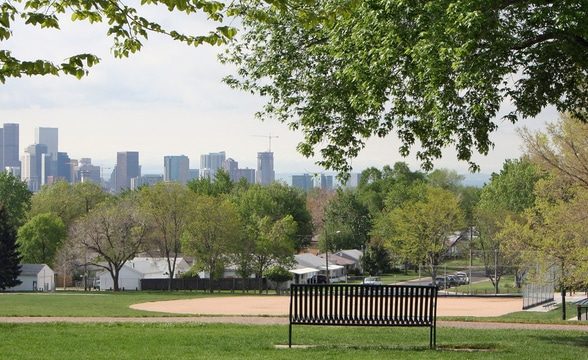 Chaffee Park
Often referred to as North Denver along with neighboring Regis, Chaffee Park offers laid-back living just five miles away from Downtown. Modest, unadorned houses make up this mostly-residential nabe, accompanied by a local park and nearby amenities. If you feel like taking a day trip, Chaffee Park's proximity to I-70 makes it easy to traverse the Denver area—talk about convenient!
Chaffee Park Data
Lowest Attributes
Public Transportation

2.5
Chaffee Park Articles and Reviews
Chaffee Park isn't really anything special. If you want close access to I-70 (although it makes a lot noise), or the chance to raise a family in cheap housing, then this is your place. However, that's really all Chaffee Park has to offer. Its only entertainment is Zuni Par, which provides a solid place for a ball game with the kids or a walk with your spouse. The majority of the population is Hispanic (like much of Denver), so the community is generally close and eager to lend a helping hand.
What's awesome
community, Zuni Park, access to the city
What's not so awesome
Waiting With Bated Breath
This is a nabe with the feeling of impending gentrification. The houses are smaller, the prices are lower, and in many regards is ripe for the plucking. Its proximity to nabes that are currently in the first blush of revitalization makes it a perfect target for the same treatment.
High on residency and low on intersting restaurants and shopping, it will be interesting to see how the gentrification takes shape. If you're willing to to put up the capital and put in the elbow grease you could become one of the first to bring this nabe to its full glory. Fortunately it's close to downtown but not so close that the constant buzz of excitement hums in your ear.
What's awesome
On the cusp of changing its stars
What's not so awesome
lack of restaurant options that aren't chains
Niki G.
So-so, but could soon become so-much-more.
Like the former reviewer stated, it is important to distinguish the park (Chaffee Park) and the nabe (Chaffee Park). They are close to each other, no doubt, but not one in the same. In conjunction with much of North Denver, this nabe is bound to receive an upgrade in the near future. I'd definitely keep a watchful eye out. Currently though, it's quiet, pretty cute, experiences low-crime and low housing cost and is overall, a fairly mediocre nabe.
What's awesome
right next to a lot of trendy nabes, Zuni park, has potential
What's not so awesome
have to visit nearby nabes for restaurants and retail
Christine S.
the other chaffee park
great little neighborhood. i think it's confusing because actual chaffee park (like, a park park, not a neighborhood) isn't located here, but there is a nice little park here called zuni park that has good facilities (like basketball courts) and it's great for families. it's mostly small homes here, but they're really well maintained, good looking, and some are even quite colorful. nice spot if you're looking for a kind of suburban area that's still close to downtown areas (you'd have to drive to them, though).
What's awesome
a nice little park, affordable homes, family oriented
Lynn S.
nabewise