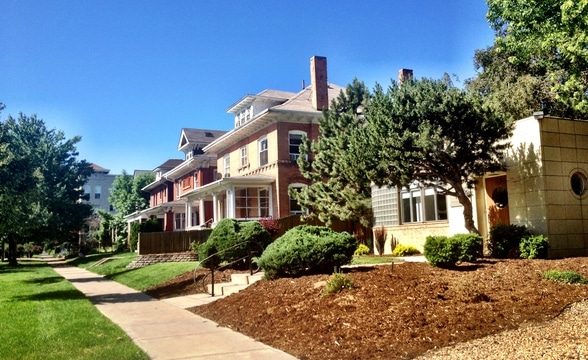 City Park West
With the winning combination of Uptown on its western border and City Park on its eastern side, City Park West has all the attributes of a busy urban nabe with the peacefulness of the park just minutes away. Home to hopping happy hours, trendy urban style lofts, and historic Denver buildings, this nabe is full of character and charm. Residents of City Park West will find themselves at the heart of the East Colfax nightlife and places for pleasant strolls by the light of day. Lower rental prices and close proximity to downtown make this nabe a top choice for Denver's young professionals.
City Park West Data
Lowest Attributes
Public Transportation

4.5
City Park West Articles and Reviews
Sweet Spot
City Park West is close to so many things. It has the benefit of being mostly residential but with a few little sweet spots that are enough to soothe your happy hour needs and still get you home in time for Grey's Anatomy.
Cute little victorian homes are nestled between high rises and more modern fare. Restaurants are fairly close by and varied in their offerings. It's close to City Park itself and if you're willing to you can make a day of the Zoo and Museum of Nature and Science, with a picnic in the park in-between.
Since I don't get to this area on a regular basis it's always a nice little surprise when I remember how much I do actually like it.
What's awesome
What's not so awesome
City Park West: Not to be over-looked!
Last summer I was having panic attacks on a daily basis and City Park West saved my life. All my furniture was in storage, I was scouring craigslist daily and I was looking at an average of 2 rentals a day with absolutely no luck. Everyone in Denver seemed to be looking for a place to live at the exact same time. People were putting down deposits before even seeing apartments, I was turned away from dozens of places without even a glance in the door, and if I wasn't the first to call, then tough luck! It seriously felt like some kind of race and I was losing, badly.
I saw myself in Baker, or possibly North Capitol Hill but I had no idea that my future home was somewhere I might not even have looked, had I not been in such desperate measures. Isn't it funny? How life can plop you down in the perfect place without you even knowing it? I feel very fortunate to have found City Park West and here are a few reasons why: As a young professional in my late twenties, I can appreciate a mellower nabe. City Park West is laid-back, friendly, has some great dining options (wonderful happy hour spots), coffee houses and even a few awesome bars. Housing very much predominates the area and like North Capitol Hill the options are extremely varied (i.e I live on the top floor of an old Victorian apartment building across the street from a more modern mid-rise). It's quiet, near the park and in an incredibly beautiful part of town. If you are looking for a relaxed atmosphere within the city, come say 'hi' in my nabe, City Park West.
What's awesome
intimate and quiet, happy hour, beautiful, near City Park, affordable housing
What's not so awesome
nightlife leaves a little to be desired
Christine S.
Hotspots & Hospitals (hopefully not in the same night!)
Situated between Uptown and City Park, City Park West is a happening place with the peacefulness of the park just blocks away. Some of the most beautiful historic buildings in Denver can be found in this nabe right next to the large modern complex of Presbyterian-St. Lukes Medical Center and St. Joesph's Hospital.
With access to Denver hotspots located on 17th Street and East Colfax, residents of City Park West enjoy an eclectic mix of restaurants and happy hour deals such as Pasquini's, Parallel 17, and Limon. You may find yourself drinking the night away at local legendary bar on East Colfax,The Streets of London, where people with a strong affinity for Mike Ness and Social Distortion might find something to their liking on the jukebox.
What's awesome
I totally agree with the last review, The Thin Man Bar is a super fun joint with lots of good people and often times host to local music artists such as John Common.
What's not so awesome
Various vagrants that wander the streets of East Colfax and the northern streets of the nabe at 20th and 21st.
Alyssa A.
Big Park, Little Stress
Arriving to work on time, running errands, and taking a break when the work week is over is easily done when you live in City Park West. Never ending development is consistently seen throughout this neighborhood with new creative businesses and new ways to make City Park West one of the most desirable neighborhoods to live in.
Downtown Denver is just a mere 5 minute drive away. This neighborhood is far enough to be secluded and be considered neighborly, but close enough to city lights to have easy access to all the hot clubs and bars downtown.
The reason why this neighborhood was given its name was because City Park is on the East side of the neighborhood. Home to one of the most beautiful parks in Colorado, City Park not only offers the best views of downtown Denver but also is home for the Denver Zoo and The Denver Museum of Nature and Science located right in the middle. A perfect way to spend a day with the family or loved one.
The style of homes seen in this neighborhood are refreshing and unique. The neighborhood itself is one of the oldest in Denver containing many historic brick buildings that once were homes or businesses. There is a mix of trendy apartments and old fashioned homes that make City Park West exclusive.
17th Ave. is a popular street for many trendsetting bars, restaurants, and boutiques. Parallel 17 is one of many popular dine in spots that has won many awards for their outstanding menu and ambience. For coffee lovers like myself, you can find 3-5 notable cafes that offer a great cup of coffee depending on which corner of City Park you're in.
A great place to live but also a wonderful place to visit, City Park West has made an impression on me and one that I won't forget.
What's awesome
What's not so awesome
Occasional traffic Friday nights
Shelby R.
nabewise