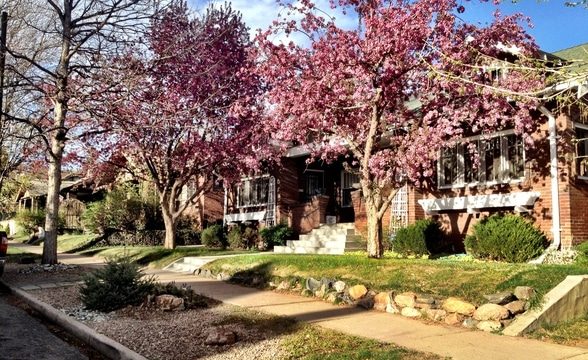 Congress Park
Residents of Congress Park enjoy beautiful tree-lined streets, historic Victorian homes, brick bungalows, and proximity to some of Denver's hotspots like the Botanic Gardens and the Fillmore Auditorium. Minutes from happenin' hotspot Cherry Creek, Congress Park has a more relaxed atmosphere. With a small town vibe, awesome community feel, and trendy bars and music venues located on its northern border, this Denver nabe is city living at its best!
Congress Park Data
Lowest Attributes
Public Transportation

5.3
Congress Park Articles and Reviews
C'mon Down!
Congress Park is a beautiful example of how Gentrification works. Most of the homes have been refurbished and updated to the nth degree on the inside and restored on the outside. Cinsisting of houses, apartments, duplexes, and condos it has so many options for different kids of living that almost anyone can live here comfortably. If you have the money, that is.
It's not exactly super expensive but this kind of history comes with a price tag- especially if you're looking for a move-in ready home. If you're willing to put up the capital and some elbow grease, though, it's not too bad.
While it has its own park it is also butted up against Cheesman Park and the Botanical Gardens. Congress Park, itself, has a large playground where little ones can be seen toddling along in apt curiosity and a large pool. There is also an elementary school with extensive playgrounds a few blocks away.
Sidewalks are large with grass separating them from the actual street which makes this nabe ideal for long walks with the kiddos and family dog. Biking on the side streets would be dangerous as most of the parking here is on the street itself, however there are bike lanes on the more dominant streets (or as I like to call them the number streets).
Smaller, family owned stores and restaurants dominate the commercial aspect of the area making it a little more expensive but worth it if you don't want to drive very far. There are bars and lounges in the area as well but don't get as raucus as bars in other nabes. The area is extremely gay friendly and is now starting to trend even more toward families.
What's awesome
Established neighborhood with beautiful historical homes. Pet friendly, gay friendly, good eats and shopping.
What's not so awesome
Street parking can be a nightmare.
Niki G.
If it's not right here, it's probably near by…
If you are blessed with a green thumb, then Congress Park just might be your perfect nabe. Lots of foliage, walkable sidewalks, front yards and detached garages, create a welcoming environment for any family, single or empty nester. Walking distance from the highbrowed Cherry Creek nabe, Congress Park is a little more subtle and relaxed, and in no hurry to show off it's pristine lawns (even though it might easily win a face off on 'Curb Appeal'). It's hard to talk about Congress Park without mentioning the obvious, it's park. If you're good with crowds and don't mind the echo of screaming children, the Congress Park pool is by far one of the best places in Denver to escape the summer heat. All jokes aside, the absolute best thing about this nabe is it's extremely central location. A quick drive will land you right downtown, a short walk will take you to some of Denver's greatest shopping and a fast peddle will have you roaming around many of the cities finest parks, restaurants and attractions. If you are looking for a quaint down-to-earth nabe, Congress Park just might be your place.
What's awesome
location, small-town feel within the city, nabe pride, independent shops and local businesses in the area
What's not so awesome
older nabe, nosier by day than by night, sometimes 'too' quiet
Christine S.
Congress Park: Cute to the Bone
In Cheesman's backyard, the Congress Park nabe is close to the park and shares claim to the Botanic Gardens, but is somewhat more residential and a bit of an off-shoot of the Cherry Creek nabe. As the sprawl of Cherry Creek develops, Congress Park is reaping the benefits of people with a lot of money looking to be close to the Cherry Creek nabe which has the greatest reputation for wealth and luxury.
Situated between East Colfax and 6th Avenue, Congress Park, like Cheesman is also dotted with lots of Denver brick bungalows and historic single family homes as well as a variety of options for studio apartments and condos.
Like the Highlands nabes, Congress Park has a rich history, evident by the older homes and mature trees that give this nabe a small-town vibe. You get the sense that residents of this nabe take pride in their community and work to maintain its beauty and appeal.
What's awesome
Historical preservation and a real investment in encouraging community growth and development.
What's not so awesome
nabewise