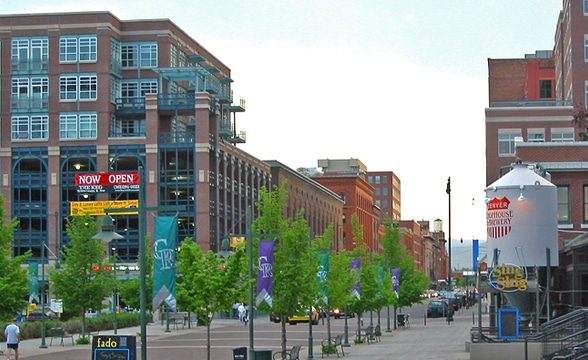 LoDo
Welcome to bright lights and the big city! LoDo is the buzz and you're at the center of it all in this Denver nabe. From ballparks to ballrooms, the hustle and bustle of the daylight hours gives way to party central when the sun goes down. Residents of LoDo know how to work hard and play hard. With close proximity to shopping and restaurants on 16th Street Mall, easy access to public transportation, and views of Denver's skyscrapers, LoDo is the place to see and be seen. You can't help but feel you're a part of something BIG in this hip nabe.
LoDo Data
Lowest Attributes
LoDo Articles and Reviews
Funky Culture and Theatre
Lower Downtown Denver (LoDo) is a melting pot of entertainment for both the young and old. From raucous nightclubs to serious theatre there is no better place to find the fun you're looking for. Denver Center for Performing Arts holds a large array of dance, theatre and concert for any taste. Off-Broadway shows routinely circuit through and bring out the glitz and glamour.
Pubs and eateries are in abundance in the LoDo area and offer a large variety of cultural flair. From the Samba Room where you can enjoy the sultry music of Latin and South America to Fado where you can raise a pint of Guinness to your new found old friends, people who are adventurous in foods and drinks can find whatever they are looking for… or didn't know they were!
During the day you can walk the 16th Street Mall and find all manner of touristy or unique items. Food is plentiful and available at every turn on the mall and a train will take you from one end to the other for free.
As you walk around the LoDo area you can enjoy the architecture and art on display in windows. Larimer Street between 15th and 14th has some really interesting and unique stores that are fun to either walk into and actually shop or just window shop.
Getting to and from LoDo can be easy or a nightmare depending on the day and/or time. Parking is just as unpredictable and can be expensive if there is a big event going on. But it is worth the effort to go!
What's awesome
Besides pretty much everything?
What's not so awesome
Parking can be expensive and hard to find and there are can be a large number of homeless along the 16th Street Mall particularly at night.
Niki G.
Where history and elegance meet the vibrant and unique.
If you are looking for a place to hang with friends, family or a hot date LODO is the place to be. Named for the lower downtown Denver location it holds, LODO boasts a wide array of entertainment options for people of all ages. Day or night, LODO offers its patrons a vivid, unique and character filled atmosphere. With countless bars, restaurants. clubs and more to choose from there is never a dull moment. No matter what mood you are in, there is something for everyone to do in the Mile High gem.
What's awesome
What's not so awesome
Overcrowded bars
Christine I.
LoBro
While by day this nabe tends to host a variety of businessmen and tourist, once the sun goes down, LoDo, short for Lower Downtown, turns into a whole different animal. A tiger, perhaps. What do I mean, you ask? Well, here let me explain. LoDo does not have the most sound reputation. In fact, when you mention the neighborhood to my friends, a collective 'ugh' is heard. Don't get me wrong, I've been before, and I know I will be there again, but there is something a little, well, bro-ey, about this place. If you are a woman, prepare to be ambushed; if you are a man, prepare to see some interesting wardrobe choices. Are you starting to get a mental picture here? Good. The last time I took part in the LoDo nightlife experience, I was bought a shot that tasted similar to a Werther's Original candy. How this perfect stranger knew exactly what I wanted, I have no idea.
All bashing aside, this nabe really does have a lot to offer. A sports-lovers dream, it is ripping at the seams with sports bars and venues— most notably Coors Field, home to the Colorado Rockies. About a million restaurants and shops line the pedestrian-friendly 16th Street Mall, and the mall ride allows for easy transportation, to and from, in case your feet start to ache.
When talking real estate, you will not find any adorable bungalows in this nabe. LoDo is city living. Lofts and high-rise condos mostly…and make sure your wallet can handle it. This place isn't cheap!
What's awesome
a lot of shopping and restaurants (note: if you want to get away from the chain eateries head to Larimer Square on 14th and Larimer St.)
What's not so awesome
bros, tourists, crowded streets
Christine S.
The Meat Market
Home to some of the most notorious Denver bars and clubs, the Lodo night life has to be experienced at least once. Whether you are just turning 21, going out for a bachelor or bachelorette party, or simply looking for a night of dancing, almost everyone who grew up in Colorado has found themselves celebrating SOMETHING in Lodo.
During daylight hours, Lodo is host to Rockies baseball games, lots of shopping, and businesses contributing to the Denver economy.
With hip lofts, penthouses, and apartments above historic office buildings, Lodo is a pricey place to live, but if you can afford it an exciting place to be.
What's awesome
Baseball games, Fado's Irish Pub and Sing Sing's Piano Bar.
What's not so awesome
Creepers, various drunken altercations.
Alyssa A.
How LoDo Can You Go?
Unfortunately, not very low. But despite the rising costs of living, LoDo has something magical to offer anyone who is merely visiting. There is quite literally a plethora of bars and clubs that reside on the "strip" that is LoDo. It is a very exciting place to be on holidays and especially Friday and Saturday nights.
Blocks away from 16th street mall, Coors Field, and the train station there are endless amounts of sights to see here. There are also the old creepy hotels that are forced to share the streets with the lively sports bars that are spread about.
There is also some fine dining to be had though you're more likely to grab food from chains than any authentic type restaurants.
It's great for the younger crowds because all of the places that are geared toward nightlife. The lofts are great…if you can afford it!
What's awesome
What's not so awesome
Homeless life down the street
Anastasia C.
nabewise