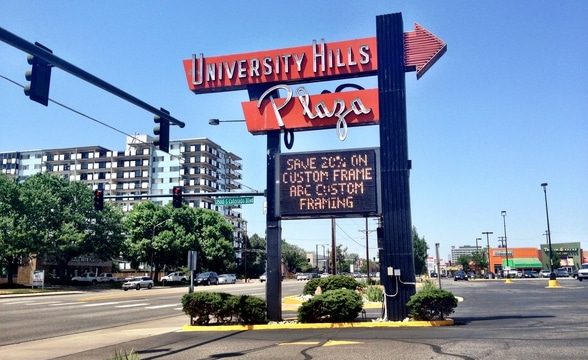 University Hills
Nestled snuggly between high-class Hampden South and college-class University, University Hills is a scholastic minded nabe that takes tending to its well-kept brick homes seriously. Kitschy door-knockers adorn their happily inhabited homes' entrances while welcome mats greet your feet at their thresholds. Peppered with park space and bordered by I-25, there's plenty to do and places to get to in conveniently located University Hills.
University Hills Data
Public Transportation

5.8
Lowest Attributes
University Hills Articles and Reviews
University Hills is the ideal Denver suburb. The wide, smooth streets gesture openly to parents eager to teach their kids how to bike. The grass lawns are perfect for tossing a Frisbee to Fido. Trees span over the ranch houses, shading porches and patios. Plus, each year, the University Hills Neighborhood Association hosts a picnic rivaled by none. Everyone knows each other and while it's quiet, it's a quaint place to raise a family for a reasonable price.
What's awesome
What's not so awesome
Some commercial appeal and decent houses.
I venture to this nabe to visit Sunflower Market every couple of weeks. It's a pretty great Trader Joe's type grocery store and has some killer sales that are worth occasional dreaded drive down Colorado Blvd. It's a little "out there" for my taste, especially if you travel a lot within the city, but it might be a good option for people who want to hop on the highway quickly seeing as it's bordered by I-25.
The houses are all over the spectrum…big, small, old, new, but are mostly middle of the road. Nothing too showy, nothing too impressive. There is a cute little independent theater called Chez Artist that has been around forever and still has the old school theater seating (i.e. no elevated floors here). They play unique films that you can't find at Regal or AMC down the street.
What's awesome
Sunflower Market, Chez Artist
What's not so awesome
kinda far from the good stuff
Christine S.
Mixed Emotions
Parts of this nabe are great and well tended. However, the closer you get to Hampden the less love you feel. It's strange that the lushness of the northern part of this nabe is so over-shadowed by the more downtrodden feel of its southern part.
I'm not a fan of chain link fences and there are several in the southern part. The nice privacy fences are saved, apparently, for the area that feels like it's more affluent. I fully realize this is a personal choice but there you have it.
That being said. This nabe is ideal if you commute and don't want to sit in traffic when some idiot causes a wreck during rush hour. And it happens a lot on the stretch of I-25 this nabe borders. Since the new sound barrier wall was put in this nabe is a lot quieter than it was 10-15 years ago.
What's awesome
nice parts, great for commuting
What's not so awesome
right off the highway, parts are not so well tended
Niki G.
nabewise