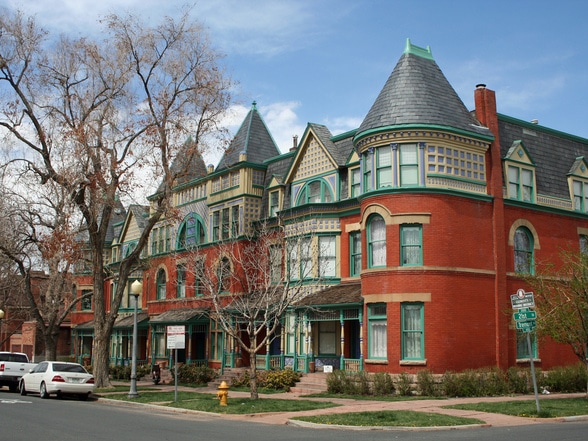 Famously called the "Harlem of the West," Five Points is a nabe packed with historic architecture and vibrant venues. Though it has experienced its ups and downs throughout the decades, locals are happy to report that Five Points is back on the rise, made evident by an influx of unique new businesses and a popular annual jazz festival. Residential areas have been replenished with modern updates while still preserving the nabe's original Victorian charm, making it an increasingly desirable place to call home. With its rich history and great location near LoDo and the Central Business District, Five Points is an under-the-radar nabe waiting to share its new vitality with the rest of Denver.
Five Points Data
Lowest Attributes
Five Points Articles and Reviews
Five Points is the oldest historic district in Denver, and it has a lot to show for it. The Harlem of the West used to be black, but it has now changed to a primarily white area. Concerts abound, culminating in one of the largest Juneteenth Festivals in the states. Five Points is loud, crazy, and fun.
It wasn't always that way though. Five Points went through a transformation thanks to its business district, and has now been brought back full force. There's a delicious, new coffee shop and tenants in the old buildings who bring them back to life.
Five Points went through a rough patch, but it's back full force and full AWESOME.
What's awesome
Moving Up
Having lived in the Denver area since I was a wee little lassie, my parents often used the Five Points area as a story of caution. Well known for its downtrodden appearance and rumored gang and drug activity in the 80's and 90's, Five points has a much richer history the further you retreat into the past. Jazz greats made Five Points a stop on their way between the Mid-West and West Coast. It became known as the "Harlem of the West" because of the huge draw for jazz lovers.
In 2010 big renovations began. Store fronts began getting a face lift, homes were renovated and "flipped", loft-syle homeswere built and bring out a new element to the previously weary nabe.
Five Points is close to the Lower Downtown action that young Denverites crave. A new sense of community has been breathed into the area and brings a bustling, exciting feeling as you walk down the street. Specialty restaurants beckon and shops welcome you into their embrace. Some locations are still waiting for their Prince Charming to come in and whisk them into the ball, but things are really moving along at an awesome pace!
What's awesome
New, exciting restaurants like "Snooze" offer specialty dining. Victorian era homes are being brought to their former glory. Close to LODO.
What's not so awesome
Still not up to its potential. Some sketchiness still abounds.
Niki G.
Five Points: getting there…
Five Points has a lot of soul. It's colorful, diverse and is one of Denver's oldest historic nabes. Formerly known as the "Harlem of the West" this nabe was a safe-haven for African Americans who were discriminated against and pushed out of other areas in Denver during the 1920's-50's. During this time a rich musical influence was established due to several famous Jazz musicians touring through— Billie Holiday, Miles Davis and Duke Ellington, to name a few. Today, an annual Jazz Festival is held in May, paying tribute to it's musical past.
Drugs and crime began infiltrating the Five Points nabe sometime after the 1950's and it's reputation went from culturally rich to shady and slummy. Buildings were abandoned, businesses closed and the paint started chipping off the beautiful Victorian homes. There it sat, for way too long, in total neglect.
Now. Today. Thankfully, Five Points is starting to see some love. Although not totally made-over, rebuilding projects, new businesses and a flock of new residents have really turned things around for this nabe. Several abandoned buildings still remain but the crime has decreased quite a bit and it's no surprise that a new light is being cast on this once run-down part of town.
What's awesome
light rail into downtown, rich history, diverse, cheap housing, up and coming
What's not so awesome
crime, abandoned buildings, still a little run-down in spots
Christine S.
Five Points Fear Factor
When I find myself trying to explain to my father that I'm staying with a friend in Five Points he cringes and asks me if I really think that's a very safe idea?
He has a well-founded fear that I think was really a legitimate concern in the past. But I think if my Dad gave Five Points another chance he'd actually find that the this nabe has really changed a lot from the reputation it has come to hold.
That's not to say the Five Points nabe is the safest place in the world, but it has definitely been developed into a trendier part of town with lots of investment into re-building and attracting a new type of resident while quite possibly pushing out the old.
Because of its close proximity to Lodo, Coors Field, and downtown, lots of old buildings in the Five Points nabe have been restored or destroyed in favor of upscale condos. Some of the most beautiful old Victorian homes can be found right next to a run down shack.
What's awesome
Unique homes, up and coming reputation and close to Coors Field for Rockies games.
What's not so awesome
Safety is still a legit concern.
Alyssa A.
Hot Spot of Denver
Five Points has been a hot topic of discussion for the past couple years. Within this past year, more activity has been seen here than any other neighborhood in Denver.
For the longest time Denver natives like myself were told to never go to Five Points by their parents because back then it was a pretty risky neighborhood to hang out in. Since I didn't wear my jeans to the ground or talk with slang with every fifth word that came out of my mouth, I wasn't accepted by the cool kids.
With a little love and appreciation over the past year or so, Five Points has now become a whole new neighborhood located just north of downtown Denver. It is a hot spot for hipsters so beware of plaid shirts and fixies in your right hand mirror. Don't let the beard scar you, they don't bite.
There is a lot of character in Five Points. It's harder and harder to find a variety of interesting people in one neighborhood, but in Five Points there is a surplus of creative people who are all trying to make it big in Denver. You'll find aspiring artists, young entrepreneurs, and your occasional bum trying to persuade you he deserves a minute of your time.
Most people in Five Points either live in an industrial warehouse with their own art gallery or they're in a traditional old fashioned home that screams Colorado history.
Five Points is continuously restoring and innovating. It is a great neighborhood to meet younger people over a drink at one of the many small unique bars that Five Points has to offer. Many small boutiques and businesses are establishing their home in Five Points for the unique atmosphere and for the high demand in popularity.
I enjoy visiting Five Points when I can. Try to catch an art show if you have the time, you'll find the newest and hottest artists show off their work in one of the numerous galleries in the neighborhood.
What's awesome
What's not so awesome
Walking alone at night
Shelby R.