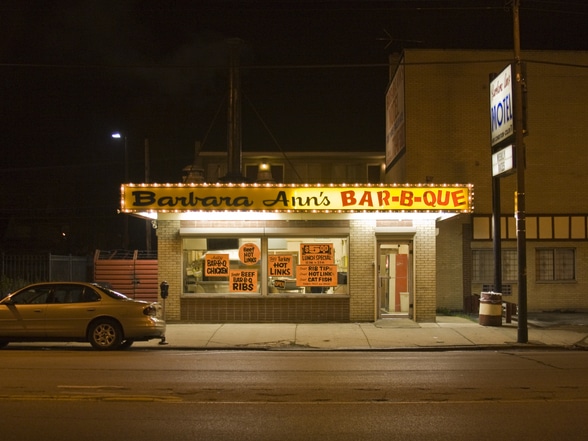 Greater Grand Crossing
by nabewise
Infomation
Named for a once-hazardous intersection of two major rail lines, Greater Grand Crossing (or just Grand Crossing) is still influenced by its eponymous railroad junction. One line is now the Metra Electric line, and I-90 follows the route of the other. Denser, though similar in character to its neighbor to the south–Chatham–Greater Grand Crossing contains a great many brick two-flats and a smattering of bungalows. Whether it's barbecue or vegan you're after, this nabe has some of the best restaurants for miles around. Greater Grand Crossing includes the pocket nabe of Revere, which just received a brand new youth center
Greater Grand Crossing, Chicago Data : Neighborhoods & Travel – Score out of 100
TOP ATTRIBUTES
Dining 75
Public Transportation 67
Parking 67
Shopping 58
Community 58
LOWEST ATTRIBUTES
Green space 50
Seniors 43
Empty nesters 43
Families 41
Income 11
Greater Grand Crossing, Chicago Reviews
Great Family Living
Greater Grand Crossing has managed to avoid many of the effects of rough economic times, unlike many of its neighbors, and has maintained its middle class housing beautifully. Blocks upon blocks of well-kept bungalows mark the streets and family run restaurants dot the area. This nabe is well known for having some of the best food in Chicago. Families of all ethnicities make up the population of this nabe, which seems to be a friendly one, especially if you have a family in tow.
Zachary Walker
Frog wars, hot links, and carob-peanut icecream!
I know local history lessons don't interest everyone as much as they interest me, but the story of how Grand Crossing got its name is too good not to share. Back railroad boom in the middle of the 19th century, the Lake Shore & Michigan Southern Railway had cut off the Illinois Central Railroad south of Chicago. Frustrated, the ICRkidnapped a guard and laid track right across the LS&MSR in the middle of the night! This was actually not uncommon at the time, and these railroad battles were known as "frog wars", after the railroad intersections, or "frogs." Anyway, it wasn't long before a terrible collision occurred, killing 18 and injuring 40. The neighborhood was named Grand Crossing when developer Paul Cornell realized he couldn't name the community after himself as there was already a Cornell, Illinois.
And the neighborhood today? Cottage Grove and 75th Street may look a bit grimy, but turn down a side street and you'll find well-maintained apartments and the beginnings of the Bungalow Belt. Also, Grand Crossing has the some of the greatest restaurants this side of the loop, including, interestingly, the two best barbecue joints in the city (Uncle John's and Barbara Ann's) and one of the best vegan joints in the city (Soul Veg).
Ellis C.
[/vc_column_text][vc_separator color="mulled_wine"][/vc_column][/vc_row]